I had a serious craving for Mexican food last night. Good thing it's quite easy to satisfy those Mexican food cravings here in Southern California. We have little Mexican fast food shacks, you see… pretty much every mile or so down the road. They're quick and they're good and they're a little bit greasy, but most of them serve up fairly awesome, authentic Mexican grub for a low price. As a result, these Mexican food shacks are inundated by those of us addicted to frequent diet-busting binges. Rolled tacos with guacamole, carne asada burritos, fish tacos and carnitas tacos are the favorites in our family. But when it comes to enchiladas, I usually make them at home. Our latest favorite: Creamy Chicken Enchiladas.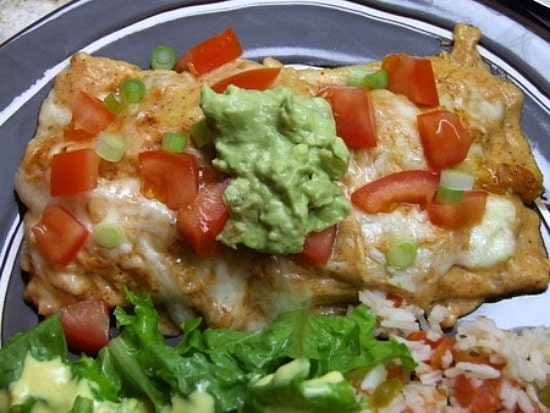 This is an easy, easy family-friendly recipe. It's rare that I make something so simple.  Usually I overdo it and spend most of the day cooking away.  This was the one-time-this-year that I'll allow a can of creamy condensed soup to approach my pantry. Usually I avoid those soups with dramatic abandonment.  You can also use a roasted chicken from the grocery store to save time for this one, and your meal will be ready in about an hour.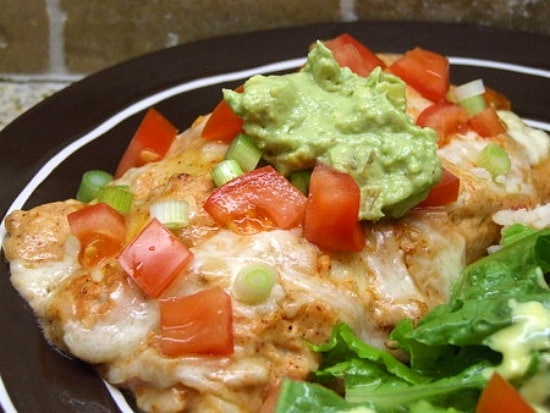 Back in college, there was a Mexican food place (Roberto's) that was open 24 hours. I can't tell you how many times my roommates and I were there in the middle of the night eating things one should never eat at 3am. I shudder thinking about all of the empty calories that were consumed in that period of my life when my metabolism was a bit more capable of handling it all. I likely damaged said metabolism beyond repair with all of that Mexican food.
Nowadays, visits to Mexican food shacks are few and far between… mostly they're instigated by a craving for it after a long day at the beach. But I do make quite a lot of my own healthier Mexican food at home. These enchiladas- though not really all that healthy-  were gobbled up by my family, who requested that I actually make it a second time one of these days.  I typically don't repeat recipes very often, but I'll consider for this one…
This recipe can be found here: Creamy Chicken Enchiladas