Research on suggested decor for a Cuban dinner party turned up using bright, art-deco colors, dark wood, and/or rattan with freshly cut sunflowers or other bold-colored flowers as centerpiece.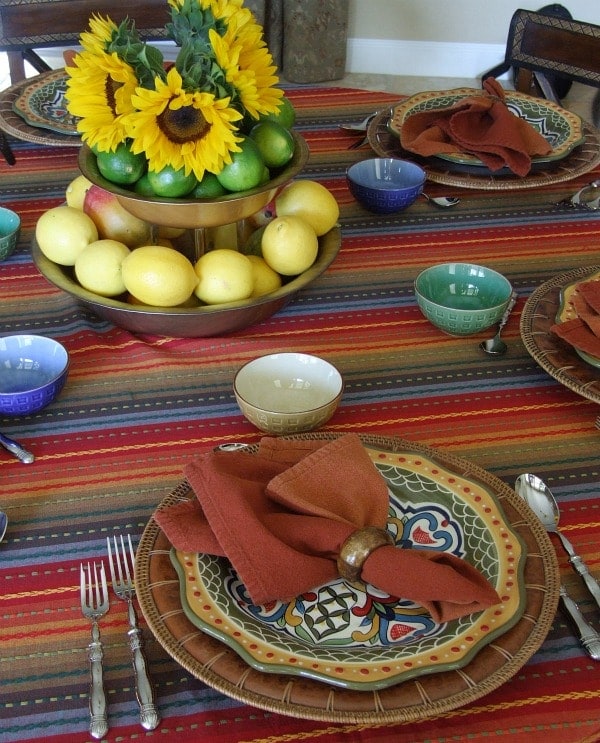 Cuban food is a fusion of Caribbean, Spanish and African cuisines. Cuban cuisine has almost nothing to do with Mexican cuisine, but rather is more similar to the food of the Caribbean region. Rice and beans are a culinary element found throughout Cuba. Black bean soup is common, as are plantains, yucca, guava and simple salads & main courses of pork or beef. In coastal areas of cuba, crab is another common staple. And the Cubans have their version of Tres Leches Cake.
Use all or some of the recipes below to create a Cuban-themed dinner party. Double or triple the recipes to reach the desired serving sizes. Give recipe links to your dinner party participants so that they can contribute to dinner, or prepare all on your own. I tend to over-plan and have included lots of recipes for this party. Pick and choose which ones you like best, or use them all! For recipes with photos, click on recipe titles below. Guava paste & queso blanco can be found in Latin American markets or well-stocked specialty markets.
FEATURED BEVERAGE:
Mojitos
APPETIZERS:
Guava Paste & Queso Blanco on Crackers
Fried Calamari with Spicy Mayonnaise
Plantain-Wrapped Crab Cakes with Avocado Aioli
Yucca Fries with Cilantro Mayonnaise
MAIN COURSE:
Sangria-Roasted Pork
Vegetable Paella
Avocado & Onion Salad
DESSERT:
Tres Leches Cake
Click below for a printable copy of the Cuban Dinner Party menu.
cuban-dinner-party-menu
For a fun activity during dessert, we had everyone take a 'quiz' on their knowledge of Cuba. Print out the quiz (& answers) in the .pdf file below, and be sure to have a prize for the guest who obtains the highest score!
cubaquiz