This recipe has been featured in a post on The Recipe Girl blog: Cuban Dinner Party Menu. This dish is gluten free adaptable– please see notes below the recipe.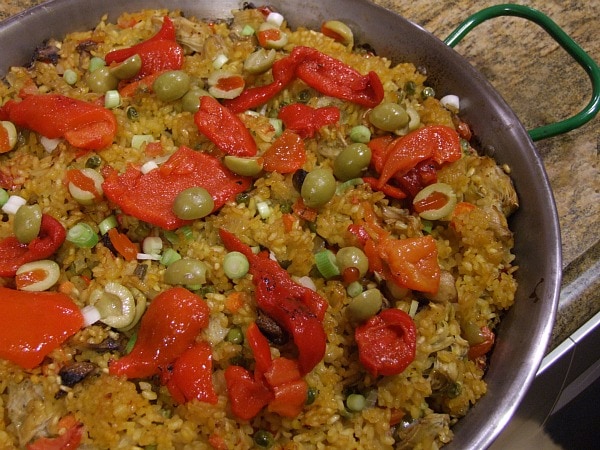 Yield: 8 servings
Prep Time: 30 min
Cook Time: 45 min
Vegetable Paella
There are a lot of great flavors going on in this paella recipe...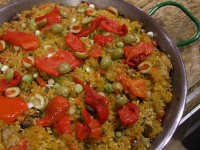 Ingredients:
8 ounces mushrooms, quartered
1/2 cup + 2 Tablespoons olive oil, divided
3 cloves garlic, chopped
1 cup diced onion
1 medium red bell pepper, diced
1 medium green bell pepper, diced
1 pound uncooked Valencia or Arborio rice
1 teaspoon saffron, crushed
1 1/4 teaspoons salt
3 cups vegetable broth
1 (9 ounce) package frozen artichoke hearts, thawed
1/2 cup diced carrot
1/2 cup frozen petite peas
1 medium tomato, seeded & diced
1/3 cup sliced pimiento-stuffed olives
1/4 cup sliced green onions
1/4 cup roasted red bell pepper, cut into strips
3 medium lemons, cut into wedges
Directions:
1. Preheat oven to 400°F.
2. Sauté mushrooms in 2 Tablespoons olive oil over medium-high heat 2 to 3 minutes or until soft and light brown; set aside.
3. Heat remaining oil in a paella pan or 12-inch ovenproof skillet, and sauté garlic, onion, and peppers 8 minutes or until soft. Add rice, saffron and salt, and stir until rice is coated with oil. Add broth, and bring mixture to a boil.
4. Cover pan with aluminum foil, place in the oven and bake for 8 minutes. Stir in reserved mushrooms, artichoke hearts, carrot, peas and tomato; cover and bake 8 minutes more. Remove foil, and bake 8 to 12 minutes more or until heated through. Remove from oven, and top with olives, green onions, roasted pepper and lemon wedges.
Tips:
*If you are preparing this recipe as GLUTEN FREE, just be sure to use a brand of vegetable broth that is designated as GF. Most pimiento-stuffed olives are GF, but best to check those too.
5 Responses to "Vegetable Paella"
Leave a Comment