We always serve lamb on Easter. For some reason, it just feels like the right main dish for a spring holiday. Some folks feel that a spiral ham is easier to pick up for a large crowd.  If you'd like to serve ham instead, you can use the rest of this menu and just substitute the ham for the lamb.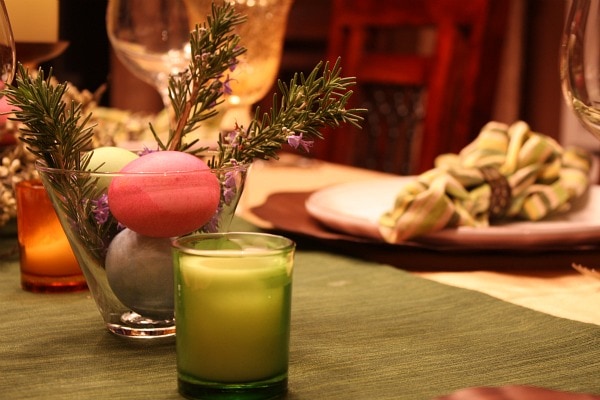 For easy centerpieces, I colored eggs and tucked them into glass dishes with fresh sprigs of rosemary from my garden, which coordinated nicely with the rosemary featured in the recipes.
For recipes with photos, click on titles below to print. This dinner menu serves 8.
Appetizer:
Bacon- Balsamic Deviled Eggs
Bread:
Olive Oil & Rosemary Rolls
Side Dishes:
Green Beans w/ Caramelized Shallots
Lemony-Salt Roasted Potatoes
Main Dish:
Rosemary & Garlic Leg of Lamb Roast
Dessert:
Lemon Truffle Cake
Click here for a printable .pdf copy of the Easter Dinner Menu:
Easter Dinner Party Menu
For organic, grass-fed lamb (the most wonderful lamb that you'll ever taste), order it from Lava Lake.  I highly recommend.