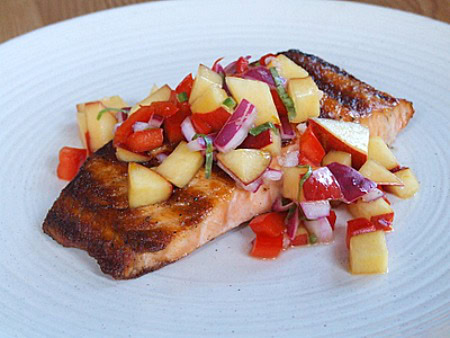 Grilled Salmon w/ Nectarine- Onion Relish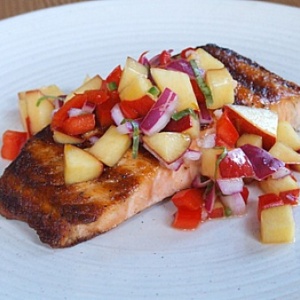 Nice light dinner. Perfect for summer with freshly chopped ripe nectarine.
Yield:
4 servings
Prep Time:15 min + chill time
Cook Time:10 min
Ingredients:
RELISH:
3 medium nectarines, coarsely chopped
1 medium red bell pepper, coarsely chopped
1 medium red onion, coarsely chopped
1/4 cup thinly sliced fresh basil
1/4 cup white wine vinegar
1/2 teaspoon grated orange zest
1/4 cup freshly squeezed orange juice
2 Tablespoons seeded and minced jalapeño pepper
2 Tablespoons freshly squeezed lime juice
2 teaspoons granulated sugar
2 cloves garlic, minced
1/8 teaspoon salt
SALMON:
4 (6-ounce) salmon fillets
salt and pepper to taste
Directions:
1. Prepare relish: Stir together chopped nectarines and remaining ingredients in a medium bowl; chill 2 hours.
2. Preheat grill to medium-high heat (350°-400°). Sprinkle salmon fillets evenly with salt and pepper. Grill fillets, covered with grill lid, 5 minutes on each side or until fish flakes easily with a fork.
3. Serve immediately with relish. Garnish, if desired.
Nutrition:
Nutritional Information per serving:
Serving size: 1 salmon fillet + relish
Calories per serving: 285
Fat per serving: 7.89g
Saturated Fat per serving: 1.64g
Sugar per serving: 12.95g
Fiber per serving: 3.12g
Protein per serving: 33.13g
Cholesterol per serving: 39.12mg
Carbohydrates per serving: 21.01g
WW POINTS per serving:
Points Plus Program: 7 Old Points Program: 7