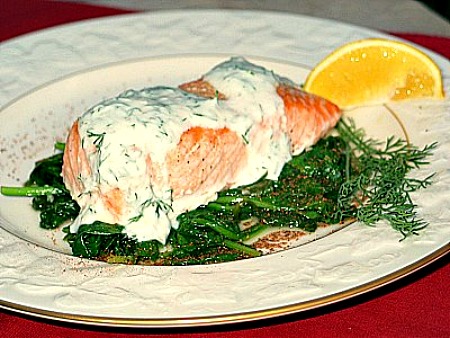 Grilled Salmon w/ Spinach & Yogurt Dill Sauce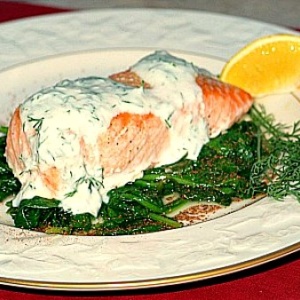 Yield:
4 servings
Prep Time:20 min
Cook Time:10 min
Ingredients:
YOGURT DILL SAUCE:
1/2 cup nonfat yogurt
2 tablespoons prepared horseradish
1 teaspoon minced fresh dill weed (save some sprigs for garnish)
SALMON:
Four 6-ounce salmon fillets
SPINACH AND ASSEMBLY:
1/4 cup white wine
2 teaspoons minced garlic
10 ounces fresh spinach leaves, trimmed, or one 10-ounce package of frozen spinach, thawed
dash of freshly grated nutmeg
dash of freshly ground black pepper
lemon slices for garnish
Directions:
1. Prepare sauce: Whisk sauce ingredients in a bowl until combined. Chill until ready to use.
2. Prepare salmon: Preheat the grill and spray the hot grill rack with nonstick cooking spray. Grill the salmon over hot coals for 2 minutes per side, turning to make diamond or square grill marks for presentation. Remove the salmon to a platter and cover to keep warm.
3. Prepare spinach: Heat wine in a large sauté pan over medium-low heat. Sauté the garlic in hot wine for 1 minute. Add the spinach to the garlic mixture and sauté just until the spinach turns bright green and wilts. (If the garlic sticks to the pan, add 1 to 2 Tablespoons vegetable broth or water). Sprinkle the spinach with nutmeg and pepper.
4. To serve: Pat the spinach dry and portion evenly on 4 heated plates. Arrange salmon so as to partially cover the spinach and drizzle with the sauce. Garnish each plate with 1 sprig of dill weed and 1 lemon wedge.
Tips:
*For perfectly cooked fish every time, measure the thickest part of the cut and cook, any way, for 10 minutes per inch of thickness.
Nutrition:
Nutritional Information per serving:
Serving size: 1 salmon fillet with spinach and sauce
Calories per serving: 480
Fat per serving: 23g
Saturated Fat per serving: 4g
Sugar per serving: .91g
Fiber per serving: 1.84g
Protein per serving: 58g
Cholesterol per serving: 160mg
Carbohydrates per serving: 6.16g