This time of year green chiles are at their absolute best and if you can find some, you have to try this Hatch Chile Queso.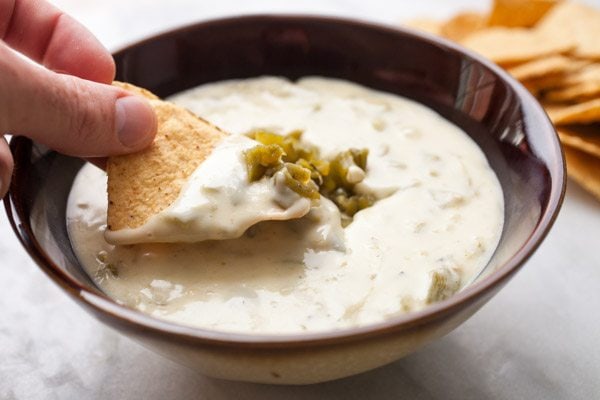 Here in Colorado, this time of year is a special one because you can get freshly roasted Hatch chiles in most markets and stores. Typically, there will be someone outside with a huge burner roasting the chiles right in the parking lot!
If you live in a state that's lucky enough to get these Hatch chiles, you absolutely have to try this queso. It's just spicy enough and has tons of flavor.
If you can't find freshly roasted chiles though, fear not! You can absolutely just substitute canned green chiles!
These are the real deal though!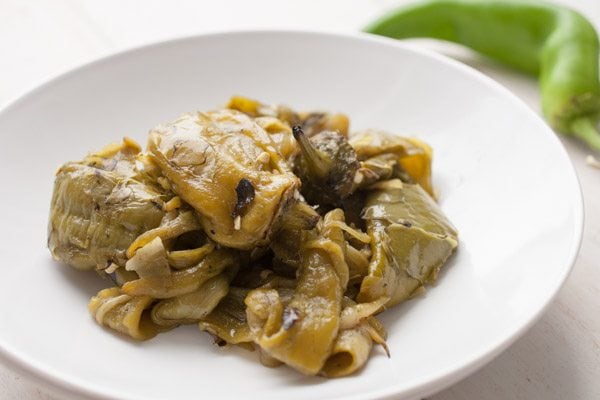 The queso can be made in just a few minutes. I like to remove the seeds from my chiles and then chop them along with a few shallots.
Cook the chiles and shallots in butter over medium heat and then stir in flour to form a roux.
Once the roux has cooked for a minute, whisk in some milk to form a thick sauce. Then add all your marvelous cheese. Personally, I think Monterey Jack is best for a queso like this.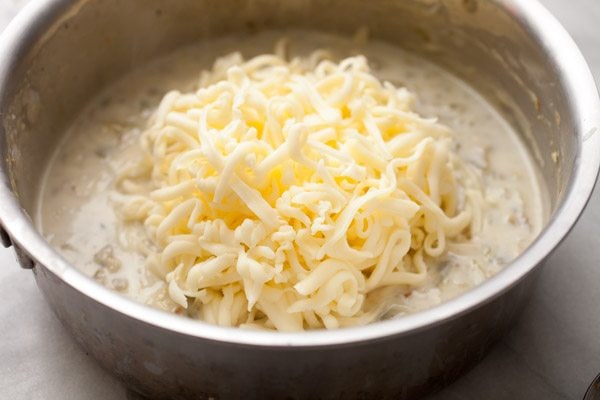 Once the cheese is melted, season the dip with salt and pepper and serve it while it's hot with a big pile of tortilla chips.
Hopefully, I'm not the only Hatch chile lover out there!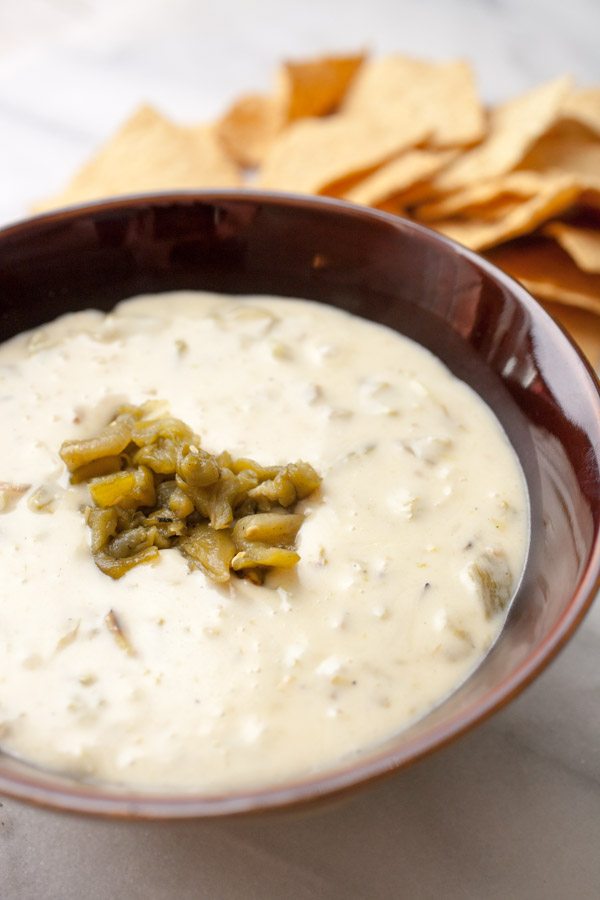 Hatch Chile Queso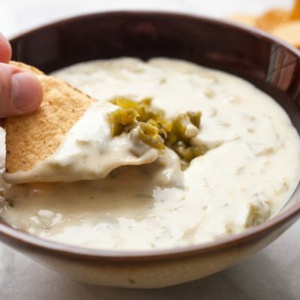 Yield:
4 servings
Prep Time:10 minutes
Cook Time:15 minutes
Ingredients:
4 roasted Hatch chiles (mild or hot)
2 tablespoons unsalted butter
2 shallots, chopped finely
2 tablespoons all-purpose flour
1 cup whole milk
8 ounces Monterey Jack cheese, grated
Salt and pepper
Tortilla chips, for serving
Directions:
Cut open the roasted green chiles and scrape out the seeds. Then chop the green chiles and shallots.
In a medium pot over medium heat, melt the butter and add shallots and chiles. Cook, stirring regularly, until the shallots are softened, 3 to 4 minutes.
Stir the flour into the pot and cook for a minute or two until the mixture forms a paste.
Slowly drizzle in the milk, stirring constantly to avoid lumps. A whisk helps, but you can also just use a spoon.
Once the milk is added, stir in the grated cheese. When the cheese is melted, season with a pinch of salt and pepper.
Serve queso immediately, while hot, with tortilla chips and garnish with a little extra green chile on top.
Tips:
If you cannot find fresh roasted Hatch chiles in your area, you can substitute one 5-ounce can of chopped green chiles, either mild or hot, depending on your preference.
Or, roast your own:  Place the chiles on a baking sheet: Arrange the chiles in a single layer on an aluminum foil-lined baking sheet. Roast the chiles on one side: Place the chiles under the broiler and roast until the skin is charred and blistered, about 3 to 5 minutes.
SOURCE: RecipeGirl.com
Here are few more appetizing dips for you!