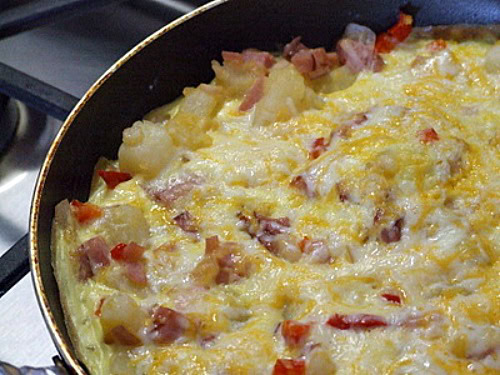 Hearty O'Brien Frittata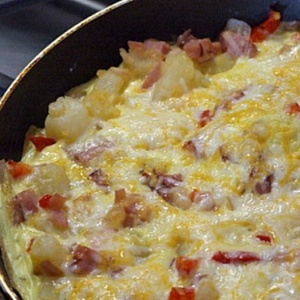 Yield:
2 servings
Prep Time: 25 min
Cook Time: 25 min
Ingredients:
1 cup diced, peeled baking potatoes
3/4 cup shredded cheddar cheese, divided
3 large egg whites, lightly beaten
2 large egg yolks, lightly beaten
1 tablespoon butter
1/2 cup diced red onions
1/2 cup diced red bell peppers
1/2 cup Canadian bacon or ham, diced
2 cloves garlic, minced
1/4 cup sour cream
Directions:
1. Place the potato in a small saucepan; cover with water. Bring to a boil. Cook 10 minutes or until tender; drain.
2. Preheat oven to 450 degrees F.
3. Combine 1/4 cup of the cheese, egg whites and egg yolks in a bowl; stir well. Set aside.
4. Melt butter in a 10-inch nonstick skillet over medium heat. Add the potato, onion, bell pepper, bacon and garlic; sauté 5 minutes. Stir in egg mixture; spread evenly in bottom of skillet. Cook over medium-low heat for 5 minutes or until almost set.
5. Wrap the handle of skillet with foil (if it's plastic); place the skillet in oven, and bake for 5 minutes or until set. Sprinkle with remaining 1/2 cup of cheese; bake and additional minute or until cheese melts.
6. Top each serving with sour cream.
Tips:
*You may use 5 large eggs in place of the eggs + egg whites if you'd like.
*If you are preparing this recipe as GLUTEN-FREE, just be sure to use a brand of bacon or ham that is known to be GF.