Plan a Christmas Eve or New Year's Eve gathering with these tablescape ideas and this delicious Holiday Dinner Party Menu!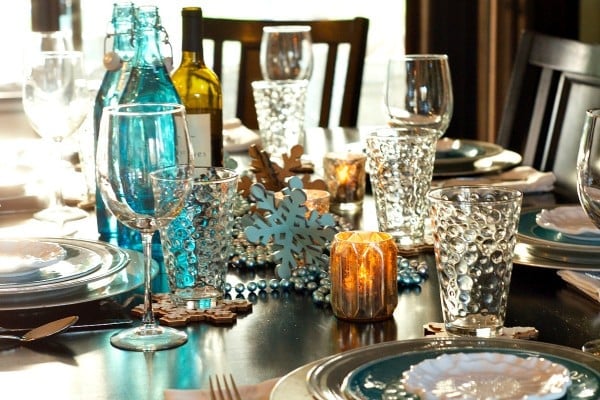 The most important part of cooking a holiday dinner is organizing the menu, being prepared, and then of course for me—I love to set a pretty table! This table setting and menu is perfect for Christmas or New Year's Eve or Day!
A tip I learned a long time ago was to set the table early, because it not only helps me get into a festive mood, but it gets me excited for our guests. Who doesn't love to glance over a gorgeous holiday table while you're preparing a feast for your guests?
Snowflake table setting.
Today I'm not only sharing a lovely holiday menu and tips, but some fun table decorating ideas!
Silver chargers, gray Dollar Store dinner plates, aqua blue Target salad plates.
Q Squared appetizer plates and Mikasa Regent Bead flatware.
Beads and snowflakes purchased at Target, plus aqua blue water bottles.
Grocery store ($1.29) water glasses and Dollar Store wine goblets.
Snowflake ornaments for coasters (purchased at Target).
White linen napkins.
My philosophy on a centerpiece is to keep it short, so guests can look across the table at one another.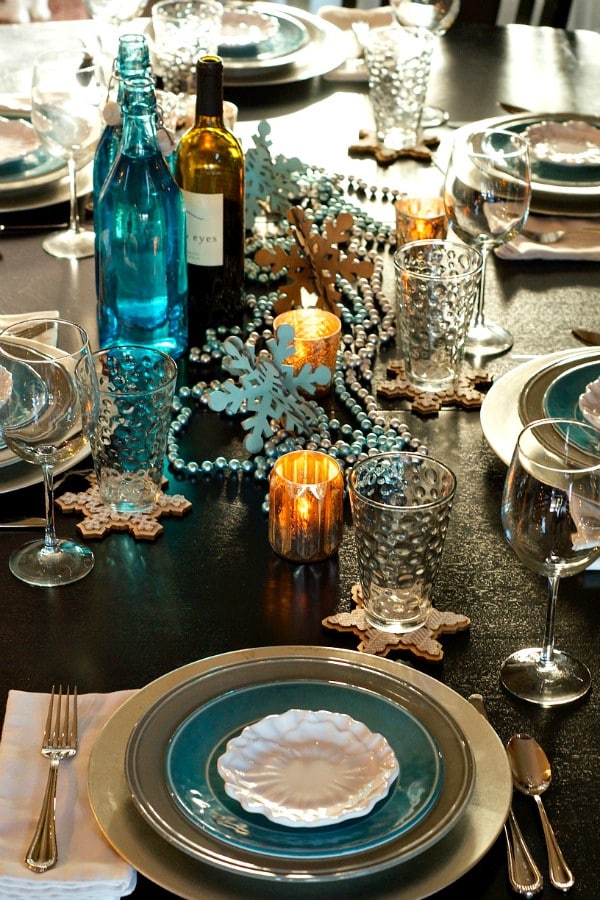 Holiday preparation is a big job when it comes to planning the menu, preparing for guests, and cooking the food. Planning ahead by making a menu and a list–chipping away at the list a little each week–helps me be prepared as the big day approaches.
Planning Dinner Party Menu:

-Start with the guest list. Do you know who and how many are planning on attending? Do you plan to delegate some of the dishes or will you be cooking the entire meal? These questions will help you plan the number of dishes you will need to serve, and how much food you will be making.

-Decide if the meal will be formal or potluck. This will help determine whether you want more casserole style dishes, or one big turkey (or ham or lamb, or Cornish Game Hens!) with only a handful of side dishes.

-Plan the menu. Start by sorting out the "nonnegotiable" family recipes, and who will cook those. Think about what's missing, such as do you need more sides, appetizers, or drinks? Fill in the gaps by asking guests to bring a dish!

-Take stock of your freezer and pantry. Make a list of items you are out of or running low on. Purchase non-perishable essentials. The earlier you shop the better, so you can avoid sold-out merchandise, crowded grocery stores and last minute shopping trips.
Personal touch to table.
Add a personal touch by placing a beloved family photo nearby, or on a music stand. This photo is of our boys years ago at a Christmas candlelight service. Instead of a photo you could add a piece of your child's artwork, or your family's holiday card photo. So many options!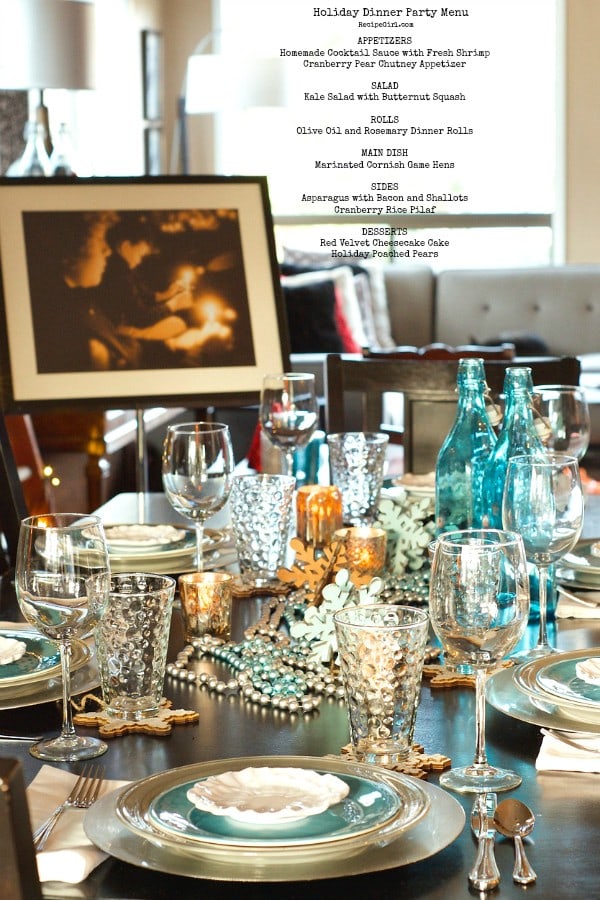 Holiday Dinner Party Menu.
It's just not Christmas or New Year's without fresh shrimp and homemade cocktail sauce! And you might as well add in cranberries and pears! This delightful Cranberry Pear Chutney is so easy to make (an awesome gift idea, too!) for delicious crostini bites. If you need to save time, go ahead and use any flavor of chutney, grill up the onions, and add a premium blue cheese. So flavorful!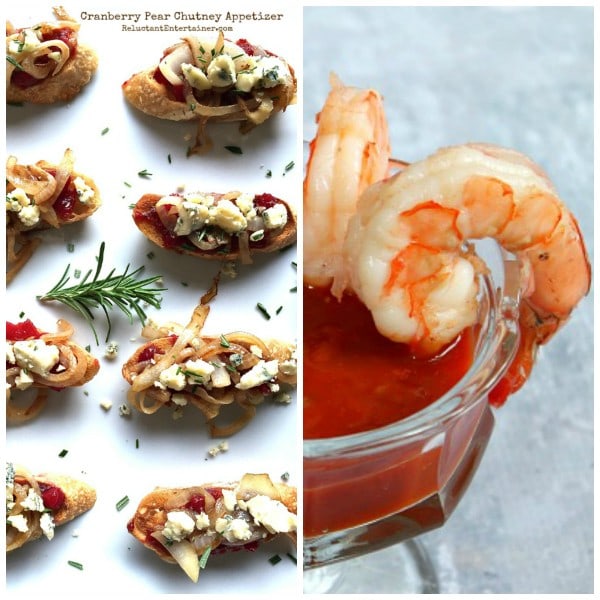 Appetizers.
Homemade Cocktail Sauce with Fresh Shrimp (Lori and I recommend Anderson Seafoods for the freshest seafood, delivered to your front door:)
Cranberry Pear Chutney Appetizer
Salad.
Kale Salad with Butternut Squash
Dinner Rolls.
Olive Oil and Rosemary Dinner Rolls
Main Dish.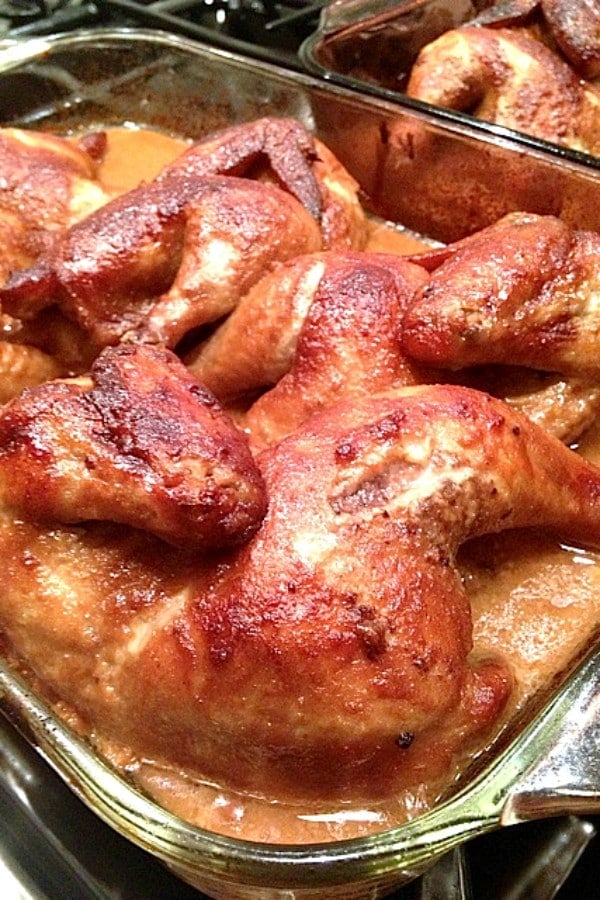 Side Dishes.
Asparagus with Bacon and Shallots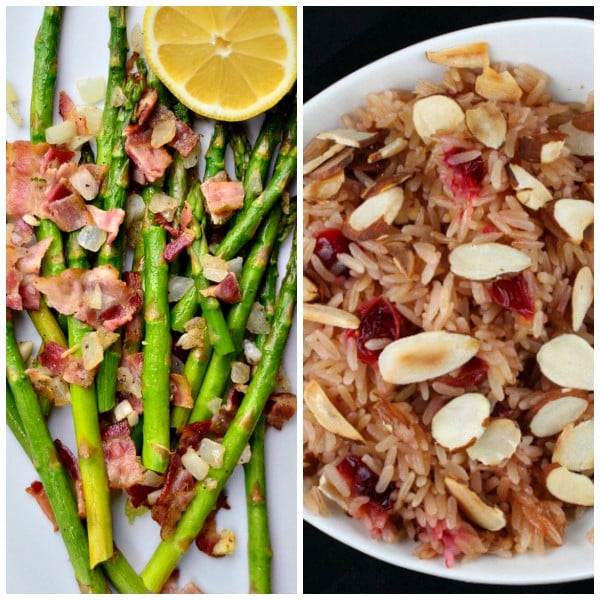 Desserts.
or a lighter dessert option would be a Holiday Poached Pear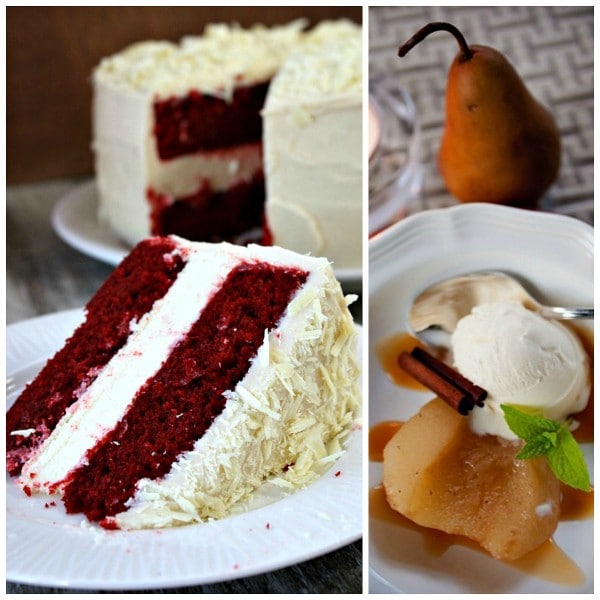 I hope you'll enjoy these pairings and that you'll be a relaxed hostess this holiday season! Remember to enjoy the people who are coming to your table; it's an honor and privilege to cook for others!
Happy Holidays!
Looking for a signature drink? Try these:
Amaretto Cranberry Kisses {RecipeGirl}
Cranberry Mojitos {RecipeGirl}
Pomogrante Mojitos {RecipeGirl}
Spiced Red Beet Sangria {Reluctant Entertainer}
Pioneer Woman's Mulled Apple Cider {non-alcoholic Reluctant Entertainer}