How to Make Beef Empanadas is what's on the menu today!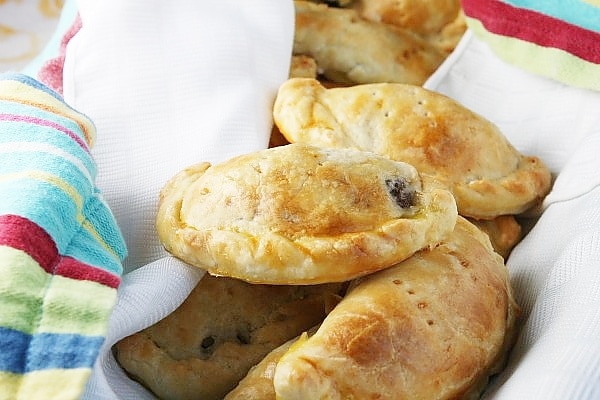 Our neighborhood's Gourmet Group had another one of our dinner parties with the them: Gourmet Argentine Asado, which is an outdoor beef barbecue. All of the food at the party was excellent. I contributed the beef empanadas.
What are empanadas?
An empanada is a Spanish and Portuguese stuffed bread or pastry. The name comes from the verb empanar, meaning to wrap or coat in bread. Empanada is made by folding a dough or bread patty around the stuffing. In Argentina, empanadas are often served at parties as a starter or main course.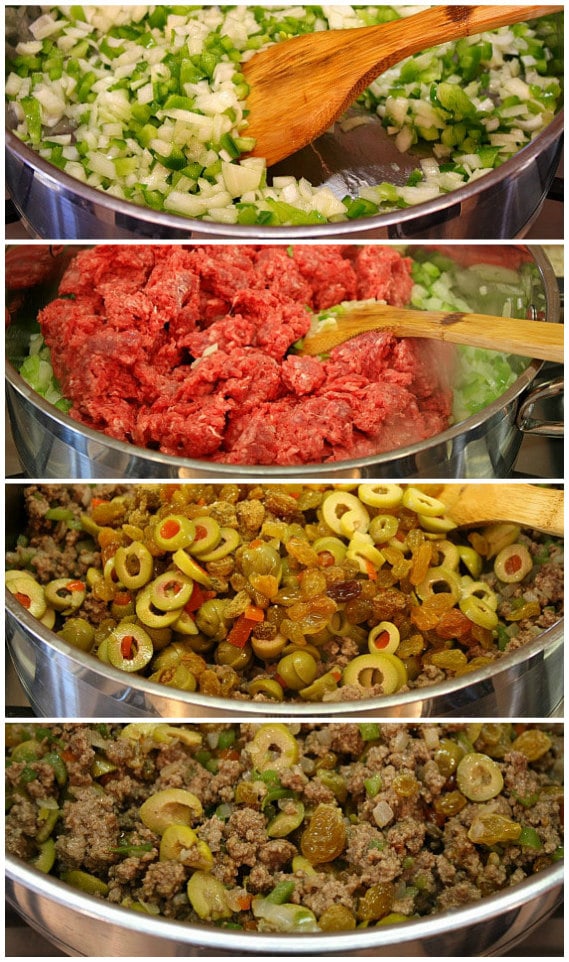 How to make beef empanadas:
You begin by making the filling for the empanadas. Sauté onions and bell pepper until softened. Add the ground beef and cook until browned. Add green olives, golden raisins, cumin, honey, salt, pepper and hot sauce. Then you can set the filling aside and let it cool. You'll add egg whites to the filling after it has had a chance to cool down.
Note about the filling:
Don't be afraid of adding green olives and golden raisins.. Traditional Argentine empanadas have both in the filling. The flavors they impart are important to the whole. There's a sweet element (from the raisins & the honey), a little bit of spice (from the hot sauce and cumin) and the briny olives bring the flavors all together.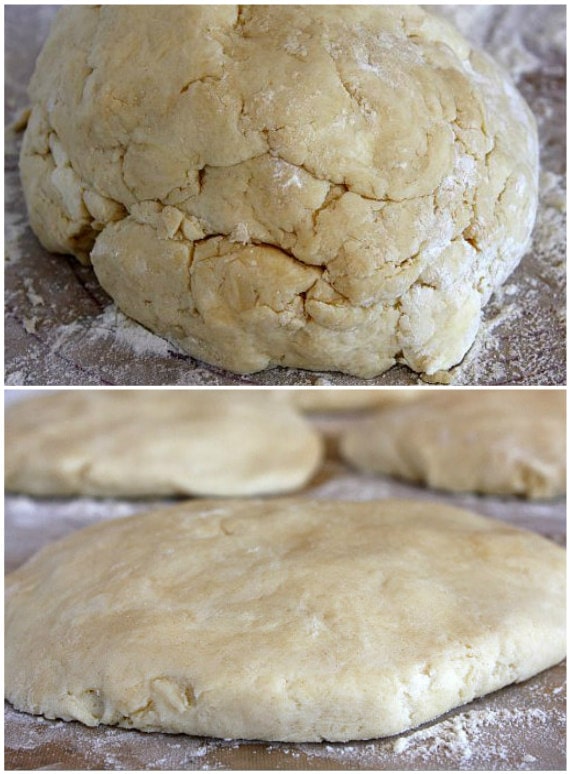 While the filling is cooling, you can make the pastry. Follow the instructions in the recipe for making the dough. Then dump the dough onto a floured surface, divide into disks, wrap with plastic wrap and chill.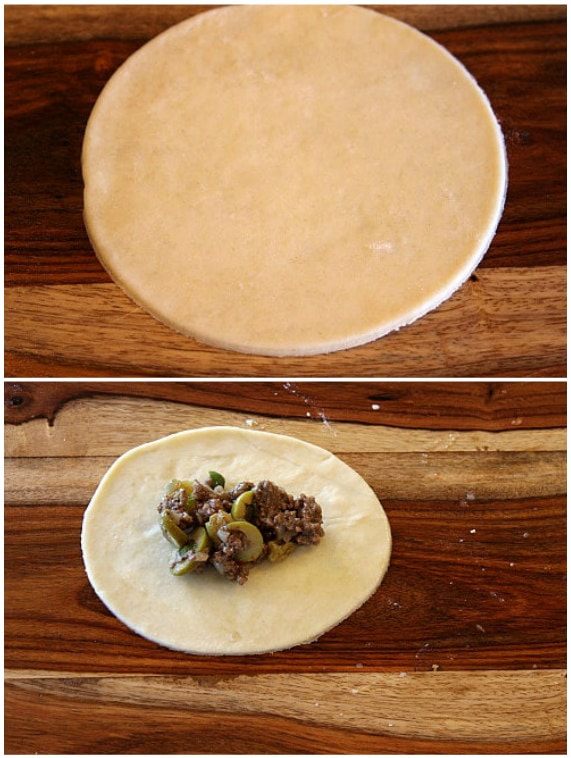 Roll out the chilled dough and cut into 4-inch rounds. I use a plastic bowl turned upside down to cut the right size. Just look in your plastic bowl/Tupperware collection to find one that works.
You'll place a round of dough onto a flat surface, rub the edges with water and put a spoonful of filling in the middle.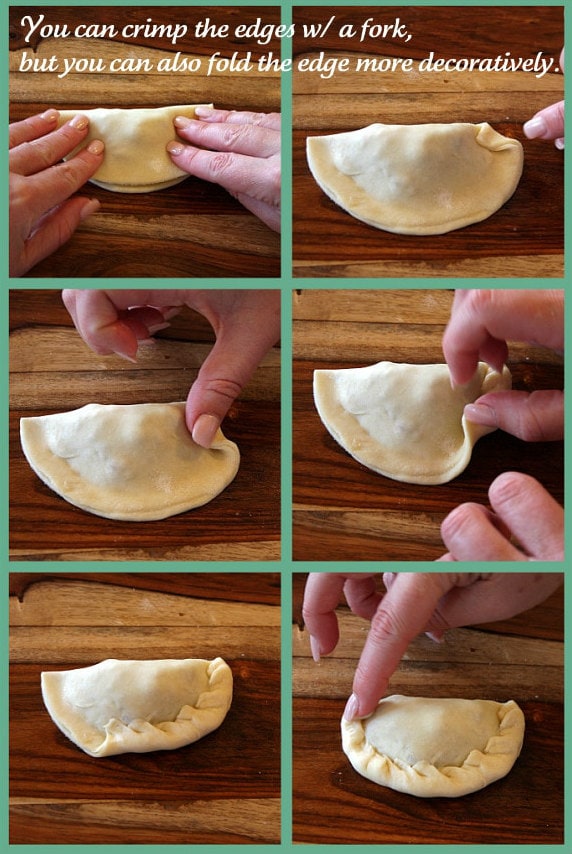 Follow the photos above to form the empanadas.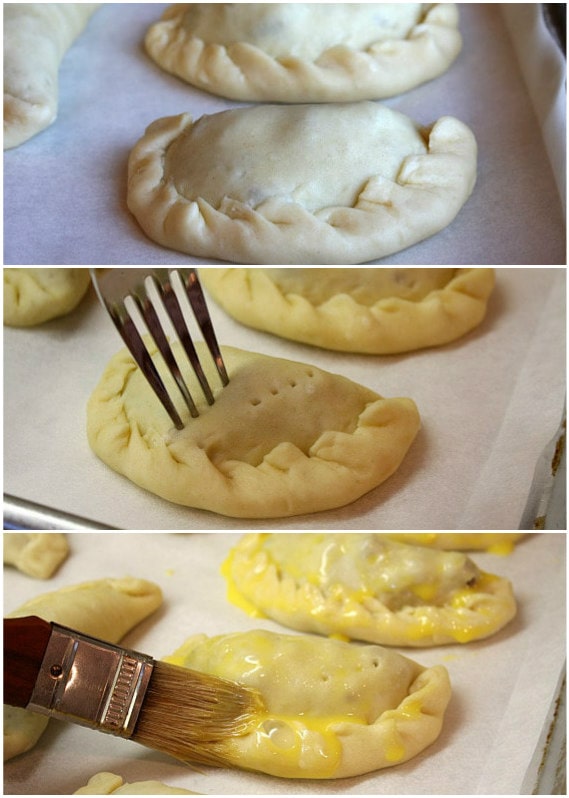 Then you'll place them on a baking sheet, poke them with a fork and brush them with egg wash.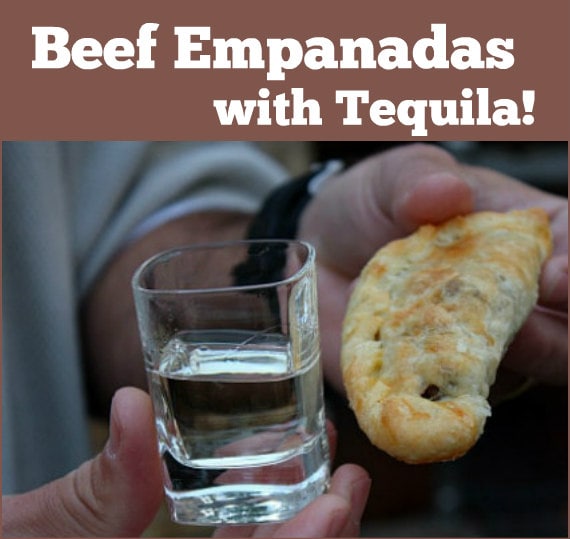 They're awfully good when eating alongside a shot of tequila!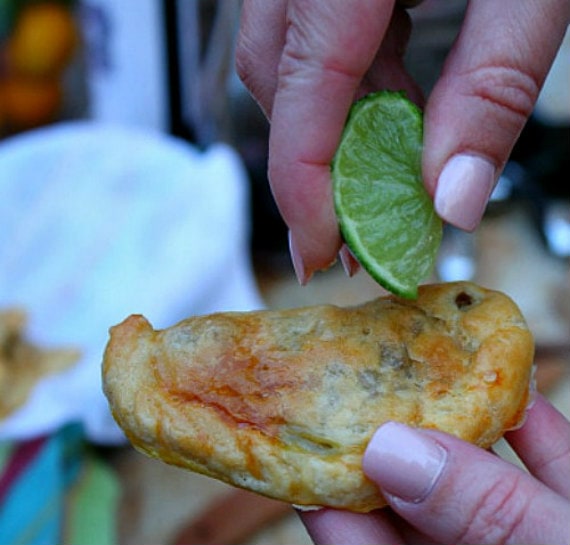 When I arrived at the party with my basket of empanadas, our Peruvian hostess exclaimed, "We must have them with lime! It is traditional!" (Picture that with a very heavy accent… my Peruvian friend is adorable). So we sliced up some lime and everyone got busy nibbling and squeezing lime onto each bite (in between doing shots of some very good tequila). They are so delicious.
Here are a few more Argentine recipes you might like to try:
Beef Empanadas
Recipe Details
Ingredients
FILLING:
1

tablespoon

extra virgin olive oil

1

cup

finely chopped onion

(about 1 medium)

1

cup

finely chopped green bell pepper

(about 1 large)

1½

pounds

85% lean ground beef

1½

teaspoons

ground cumin

1

cup

pimento-stuffed green olives,

sliced

1

cup

golden raisins

2

teaspoons

honey

1½

teaspoons

Kosher salt

1/4

teaspoon

freshly ground black pepper

several dashes of hot sauce,

to taste

3

large

eggs,

separated
PASTRY:
1

cup (2 sticks)

unsalted butter,

at room temperature

8

ounces

cream cheese,

at room temperature

1/2

cup

heavy whipping cream

3¼

cups

all purpose flour

(plus more for rolling dough)

1

teaspoon

Kosher salt
Instructions
MAKE THE FILLING:
Heat the olive oil in a large skillet over medium heat. Add the onion and bell pepper and sauté 3 to 4 minutes until softened. Raise the heat to high and add the beef. Cook, stirring constantly, until browned, 5 to 7 minutes. Use a spoon to scoop out some of the liquid; discard. Stir in the cumin, olives, raisins, honey, salt, pepper and hot sauce. Cook until the meat is golden brown, liquid has evaporated and the flavors have blended, about 4 more minutes. Cool completely in the refrigerator. Stir in 3 egg whites when mixture is cool.
PREPARE THE PASTRY:
Process the butter, cream cheese and cream in a food processor or with a stand mixer. Add the flour and salt and mix just until combined and the dough holds together in a ball. Turn the dough out onto a well-floured surface. Divide into three pieces. Flatten into disks and wrap each in plastic wrap. Refrigerate for at least 30 minutes before rolling out. If the dough is chilled overnight, take it out for about 15 minutes before rolling out.
ASSEMBLE AND BAKE:
Preheat oven to 375 degrees F. Butter your baking sheets or line with parchment paper.

Dust a rolling pin with flour. Working with one dough disk at a time, place the disk on a clean, well-floured surface (I use a silpat mat). Roll gently from the center of the dough to the top and bottom edges and from side to side. Re-flour the work surface and/or rolling pin, as needed. You want the dough to be thin but not transparent.

Use an overturned bowl (about 4 inches across) to cut out circles. Gather scraps together, re-roll and cut more circles until you've used up all the dough. Scoop some filling into the center of the dough circle (about 2 tablespoons). Wet the edge of the dough with water, using your finger to to rub. Fold the dough over to form a half-circle. Crimp edges with a fork, or fold over decoratively (using more water, as needed, to act as 'glue.') Repeat the process until all of the filling is used. The empanadas can be frozen at this point, or placed onto a baking sheet. If baking right away, chill the filled empanadas for a few minutes. Prick the top of each empanada twice with a fork. Beat 2 egg yolks with 2 tablespoons of water and brush the egg wash over each empanada. Bake 20 to 25 minutes, or until golden brown.

Let the empanadas rest for 5 minutes before serving. Serve warm with lime wedges.
Notes
*Freeze leftover empanadas to reheat in the microwave.
*You'll get a feel for how thin the dough should be rolled out and how much filling to use after you assemble your first couple of empanadas.
*Serving the empanadas with lime was a tip from my Peruvian friend. They're delicious that way.
Nutrition
Serving:
1
empanada
,
Calories:
246
kcal
,
Carbohydrates:
17
g
,
Protein:
8
g
,
Fat:
17
g
,
Saturated Fat:
9
g
,
Cholesterol:
69
mg
,
Sodium:
336
mg
,
Potassium:
171
mg
,
Fiber:
1
g
,
Sugar:
4
g
,
Vitamin A:
441
IU
,
Vitamin C:
5
mg
,
Calcium:
30
mg
,
Iron:
2
mg