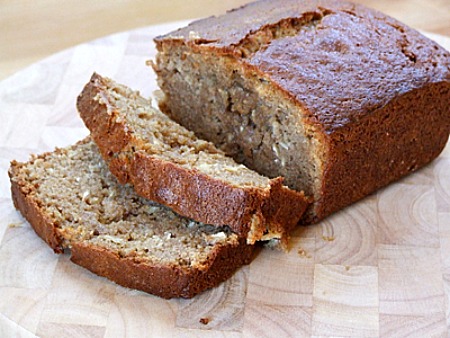 King Arthur Flour Applesauce- Oatmeal Bread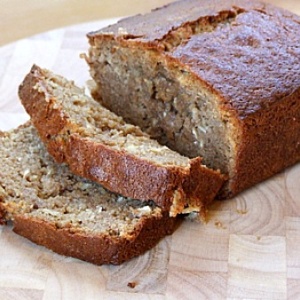 Yield:
1 loaf
Prep Time:20 min
Cook Time:45 min
Ingredients:
1 cup granulated white sugar
2 large eggs
1/2 cup canola oil
1 1/2 teaspoons vanilla extract
1/2 cup 100% White Whole Wheat Flour
1 cup all-purpose flour
1/4 teaspoon baking powder
1/2 teaspoon baking soda
1 1/2 teaspoons ground cinnamon
1/2 teaspoon ground allspice
1/4 teaspoon ground nutmeg
1/2 teaspoon salt
1/2 cup rolled oats
3/4 cup unsweetened applesauce
1/3 cup chopped walnuts (optional)
Directions:
1. Preheat oven to 350°F. Lightly grease a 9x5-inch loaf pan.
2. In a large bowl, mix together the sugar, eggs, oil and vanilla. In a separate bowl, whisk together the flours, baking powder and soda, and spices, and add them to the wet ingredients in the bowl. Mix in the oats, applesauce and walnuts (if using).
3. Pour batter into prepared pan, and bake 40 to 50 minutes, until a toothpick comes out clean when you test the bread. Remove the bread from the oven, and cool completely.