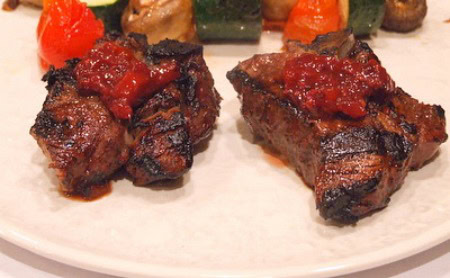 Lamb Chops w/ Blackberry Habanero Glaze
Truly a restaurant-style recipe...
Yield:
4 servings
Prep Time: 25 min + marinating time
Cook Time: 22 min
Ingredients:
SALSA:
2 large yellow bell peppers
6 Tablespoons freshly squeezed orange juice
1 cup roughly mashed fresh blackberries
2/3 cup finely chopped onion
1/4 cup freshly squeezed lime juice
1 fresh habanero chile, stemmed and minced
3/4 teaspoon salt
CHOPS:
2 Tablespoons canola oil
2 Tablespoons honey
2 cloves garlic, minced
12 well-trimmed loin lamb chops (about 3 pounds total)
salt and freshly ground black pepper
Directions:
1. Prepare salsa: Roast bell pepper on preheated grill or under a preheated broiler, turning it occasionally, until the peel is lightly but evenly charred. Transfer to a paper bag- close tightly and steam until cool. Rub away the burned peel, stem and core the pepper; and chop.
2. In a medium bowl, combine chopped pepper, orange juice, blackberries, onion, lime juice, habanero and salt. Cover and let stand at room temperature to blend the flavors for 2 hours. Adjust seasoning before serving.
3. Prepare chops: In a small heavy saucepan over low heat, warm the oil. When it is hot, add the 1 1/4 cups of the salsa (it may spatter slightly). Stir in honey and garlic. Simmer, uncovered, stirring often, until the salsa has thickened slightly and looks more cooked than raw, about 7 minutes. Remove from heat and cool. Reserve 1/2 cup of the blackberry mixture.
4. In a 13x9-inch pyrex pan, combine remaining blackberry mixture and chops. Cover and marinate, turning once or twice, for 1 hour at room temperature or overnight in the refrigerator. (Return chops to room temperature if chilled).
5. Preheat grill to medium-high. Lift chops from marinade and lay chops on the rack. Cover and grill, turning chops once and basting them with the marinade, until it is used up and the meat is done to your liking, about 9 minutes total for medium-rare lamb.
6. Transfer chops to platter or to individual plates. Season with salt and pepper and spoon the reserved blackberry sauce on top of the chops, dividing it evenly and using it all. Serve immediately.