Roasted potatoes make for a great potato salad in this recipe for Lemon- Basil Roasted Potato Salad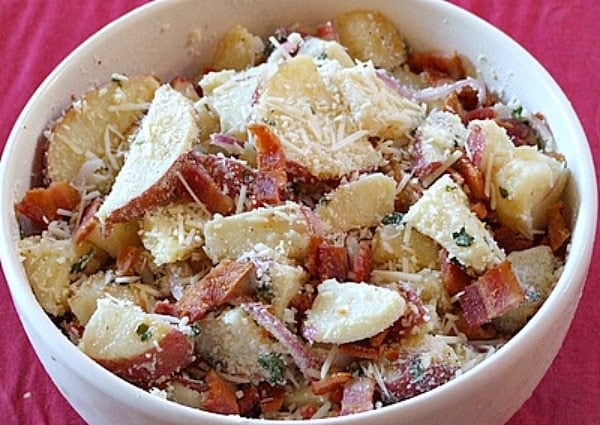 Lemon- Basil Roasted Potato Salad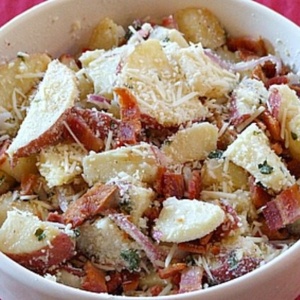 Yield:
10 to 12 servings
Prep Time:20 min
Cook Time:25 min
Ingredients:
POTATOES:
2 1/2 pounds small Yukon gold or red potatoes, cut into eighths
2 tablespoons extra-virgin olive oil
FOR THE SALAD:
1/4 cup freshly squeezed lemon juice
4 cloves garlic, finely minced
1/3 cup chopped fresh basil
1 tablespoon Dijon mustard
1 teaspoon salt
1/2 teaspoon freshly ground black pepper
2/3 cup olive oil (or a little less)
1/2 medium red onion, thinly sliced
1/3 cup grated fresh Parmesan
3 to 4 slices thick bacon, cooked and crumbled (optional)
Directions:
1. Preheat oven to 450°F. Line a rimmed baking sheet pan with foil.
2. Coat potatoes with 2 tablespoons olive oil and place on prepared pan. Roast 20 to 25 minutes, stirring occasionally, or until tender and golden. Remove from oven and let cool.
3. In a small bowl, mix lemon juice, garlic, basil, dijon, salt and pepper. Whisk in 2/3 cup olive oil in a slow, steady stream.
4. Place potatoes and onion in a large bowl. Gently toss with dressing. Sprinkle with Parmesan and bacon.
Tips:
*If you are preparing this recipe as GLUTEN-FREE, just be sure to use brands of Dijon and bacon that are known to be GF.
SOURCE: RecipeGirl.com (via 'Charley' on CLBB)