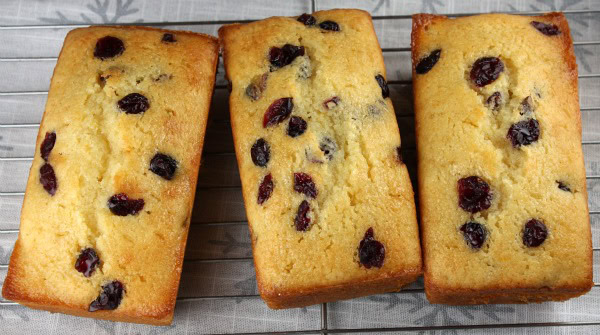 Lemon- Cranberry Mini Loaves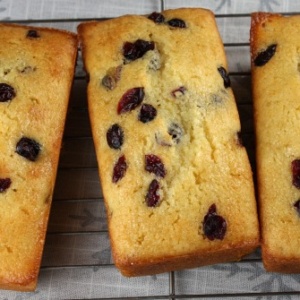 Lemony sweet bread studded with dried cranberries. These are wonderful to make and give away as homemade gifts.
Yield:
Yield: 4 mini loaves (or 3 mini loaves and 6 muffins)
Prep Time: 15 min
Cook Time: 40 min
Ingredients:
BREAD:
2/3 cup butter, at room temperature
1 1/2 cups granulated sugar
3 Tablespoons freshly squeezed lemon juice
2 Tablespoons finely grated lemon zest
4 large eggs
3 cups all-purpose flour
2 teaspoons baking powder
2 teaspoons salt
1 cup milk (skim is fine)
2 cups dried cranberries
GLAZE:
1/4 cup granulated white sugar
1/4 cup freshly squeezed lemon juice
Directions:
1. Preheat oven to 350°F. Spray four 5 3/4"x 3" x2" loaf pans with nonstick spray.
2. In a large bowl, cream the butter, sugar, lemon juice and peel using an electric mixer. Add in eggs, one at a time, beating well after each addition. In a separate bowl, whisk together flour, baking powder and salt; add to the creamed mixture alternately with the milk. Stir in cranberries (reserving about 1/3 cup to sprinkle on the tops of the loaves).
3. Pour evenly into prepared pans. Sprinkle reserved cranberries on the tops of the loaves. Bake 40-45 minutes or until a toothpick inserted near the center comes out clean. Cool for 10 minutes before removing from pans to wire racks.
4. With a toothpick or skewer, poke several holes in each loaf. For glaze, stir together sugar and lemon juice in a glass cup. Microwave about 45 seconds to warm the mixture up; stir until sugar is dissolved. Spoon over loaves. Cool completely before slicing.
Source: RecipeGirl.com (Adapted slightly from Taste of Home Best Holiday Recipes 2006)