This recipe has been featured in a post on The Recipe Girl blog: My New England Vacation.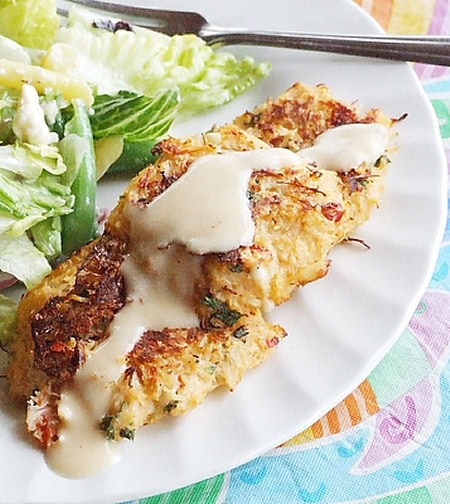 Low Fat Baked Crab Cakes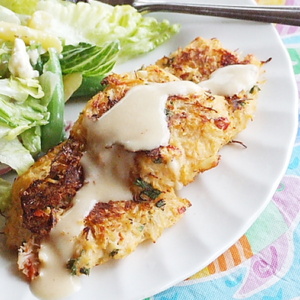 Use real, fresh crab for this one. These crab cakes are good on their own too, without any type of sauce on them.
Yield:
8 servings (2 crab cakes per serving)
Prep Time: 20 minutes
Cook Time: 10 minutes
Ingredients:
12 square saltine (soda) crackers, crushed into crumbs
1/3 cup chopped fresh parsley
2 Tablespoons low fat plain yogurt or sour cream
1/3 cup chopped roasted red pepper (from the jar)
1 Tablespoon water
1 Tablespoon freshly squeezed lime juice
hot pepper sauce to taste
salt to taste
1 pound fresh crab meat, picked over for shells & cartilage
2 large egg whites
Directions:
1. Preheat oven to 425°F. Spray a large baking sheet with cooking spray.
2. In a large mixing bowl, mix together saltines and parsley. Stir in the yogurt, red pepper, water, lime juice, 2 to 3 dashes of hot sauce, salt to taste, and the crab meat. Lightly mix the egg whites with a fork and stir them in. It is important that the mixture be thoroughly combined.
3. Using your hands, form 16 crab cakes and arrange them 1 inch apart on the prepared baking sheet. Bake for 10-12 minutes, turning the crab cakes with a spatula after 6 minutes. The crab cakes are done when they are browned and cooked through.
Nutrition:
Nutrition Facts (for two crab cakes)-Amount Per Serving of 2 crab cakes
Calories 146, Calories From Fat (17%) 25, Total Fat 2.8g, Sat Fat .5g, Cholesterol 33.7mg, Sodium 452mg, Carbohydrates 16.25g, Dietary Fiber 0.7g, Sugar 0.38g, Net Carbs 15.5g, Protein 13.39g
WW POINTS per serving of 2 crab cakes:
Points Plus Program: 4 Old Points Program: 3