These Mediterranean Shrimp Foil Packets are the best recipe to make on the grill this summer!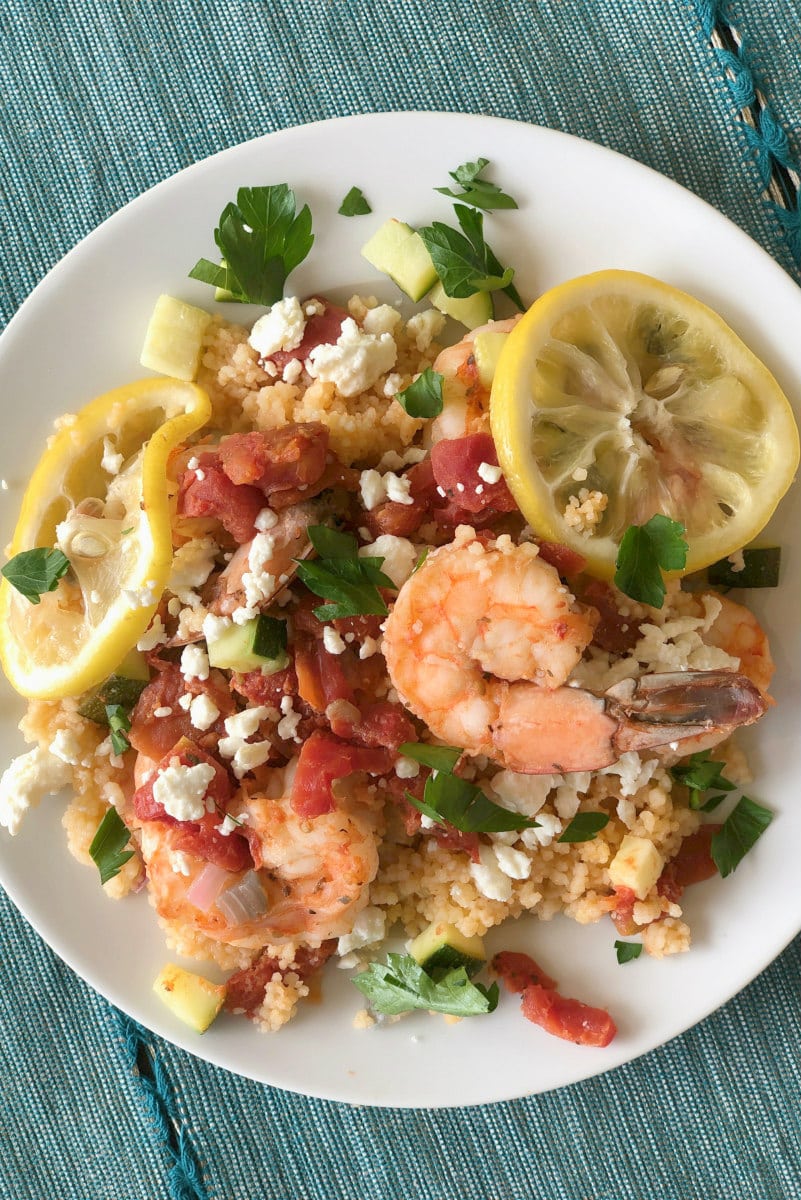 If you're looking for a recipe that is very simple to prepare… something that's an all-in-one kind of dinner with delicious ingredients and very little cleanup… then this is it. You'll need heavy duty foil to create the packets for cooking these Mediterranean Shrimp Foil Packets, and you can either cook them on your gas grill or in the oven.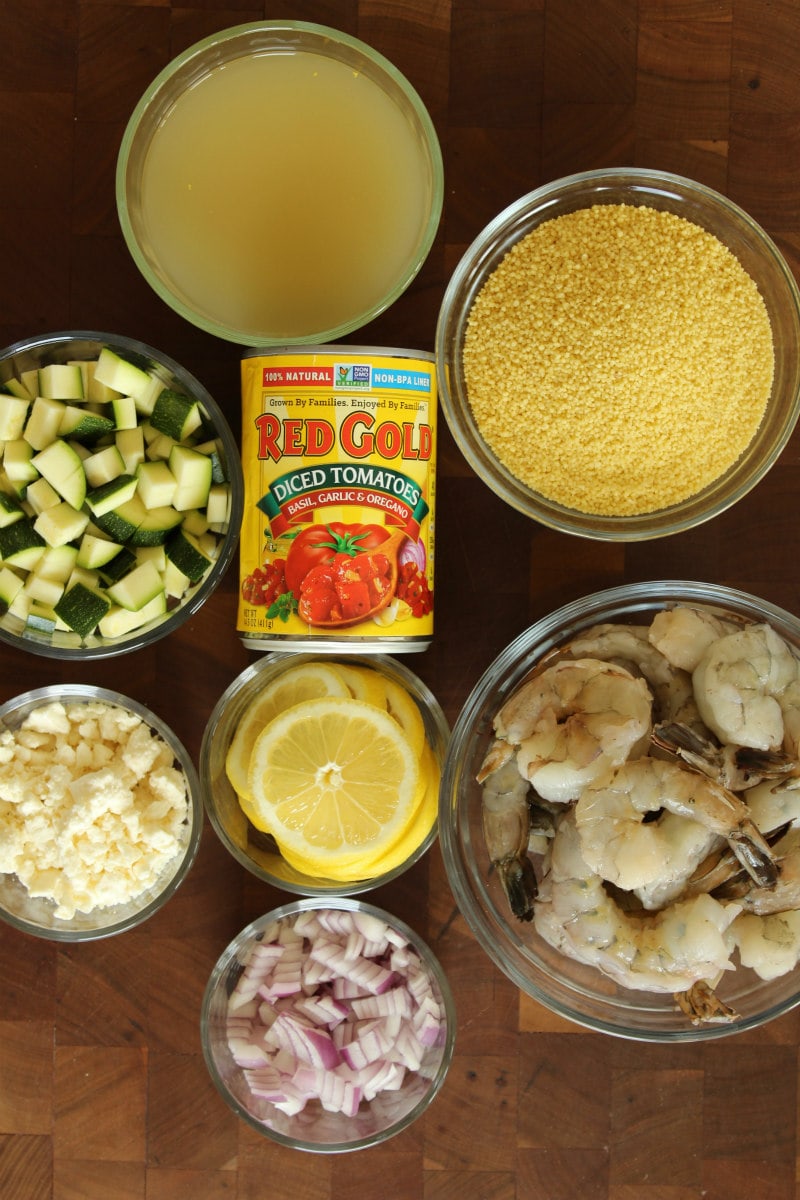 This recipe was created in partnership with Red Gold Tomatoes. They're a fourth generation, made-in-the-USA, family owned company that has been creating tomato products for over 75 years. The Reichart Family partners with local family farms that they personally know, and their mission is to provide the freshest, best-tasting tomato products in the world.
I've been using their products in my recipes– different varieties of diced tomatoes, ketchup and salsa– and I must say that I'm a fan. They really are a high quality, great-tasting brand. Check their Store Locator to see where they are sold near you.
Ingredients needed for Mediterranean Shrimp Foil Packets:
couscous and hot chicken broth
Red Gold Diced Tomatoes with Basil, Garlic & Oregano
peeled & de-veined shrimp
zucchini and red onion
sliced lemon
crumbled feta cheese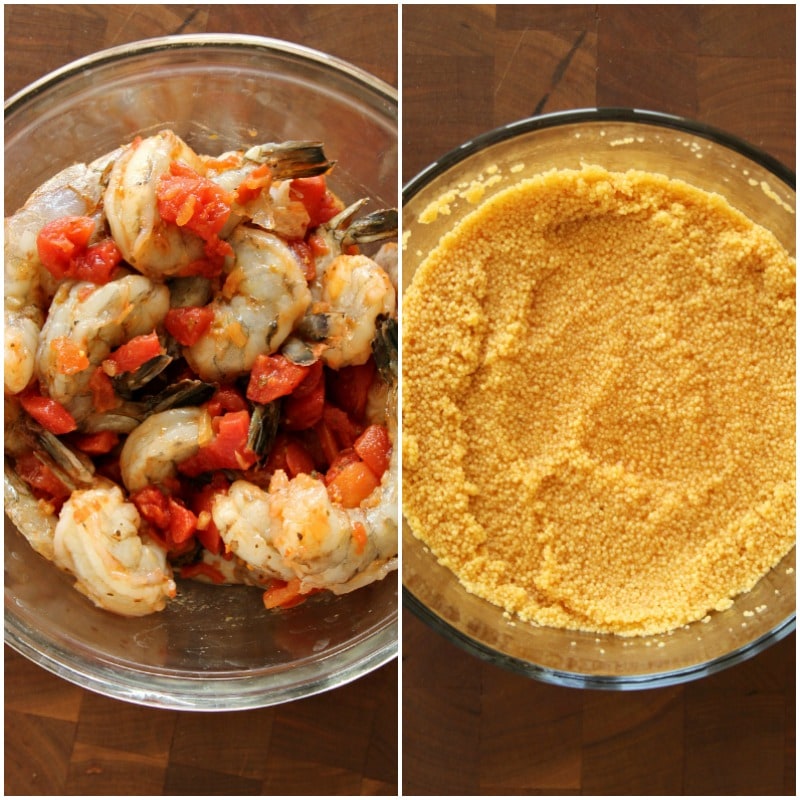 How to Make Mediterranean Shrimp Foil Packets:
First, you'll combine the shrimp with the Red Gold Tomatoes. What I love about this variety of diced tomatoes is that they already have spices mixed in (basil, garlic and oregano). So there's no need to add spice to this recipe since the flavors are already there. In another bowl, you'll combine the couscous with the tomato juice from the Red Gold Diced Tomato can and some chicken broth.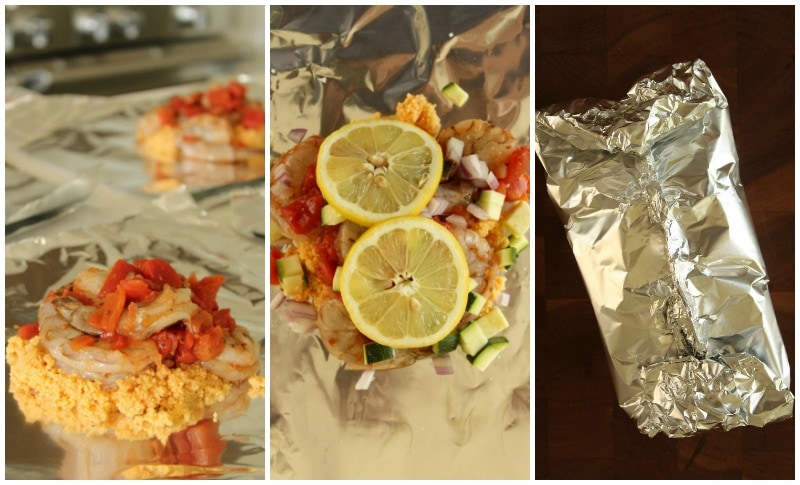 To assemble, you'll layer two sheets of heavy duty foil on top of each other, and spray the middles with nonstick spray. This recipe makes four packets, so you'll make four of those. In the center of each, divide the couscous, shrimp and tomatoes, zucchini, red onion, a little bit of salt and some sliced lemon. To create the packets, bring the foil up and over the shrimp mixture and crimp to seal. Fold up the ends to seal the sides too.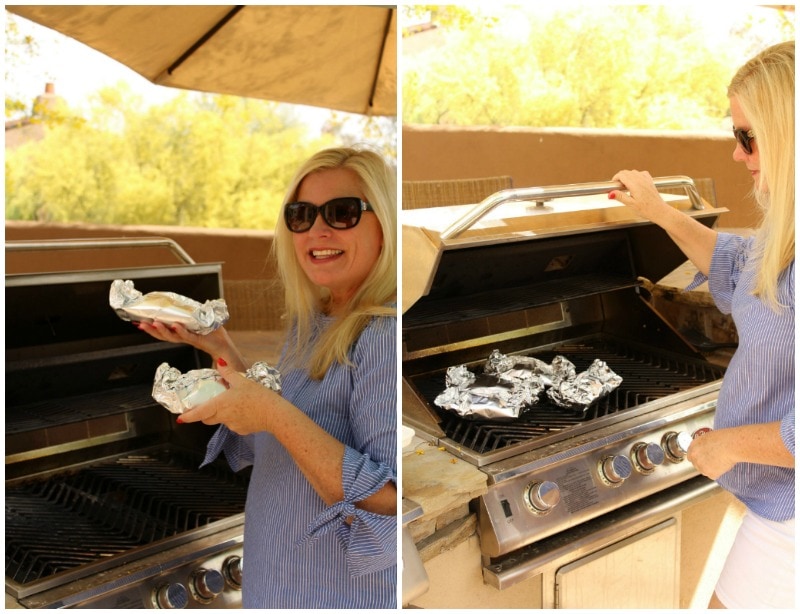 Preheat your grill to medium– about 350 degrees F. Place the packets on the grill and close the lid. Set your timer for 13 minutes. When the timer buzzes, open up the grill and open up one of the packets to check doneness. The shrimp should be cooked through- pink in color and curled up.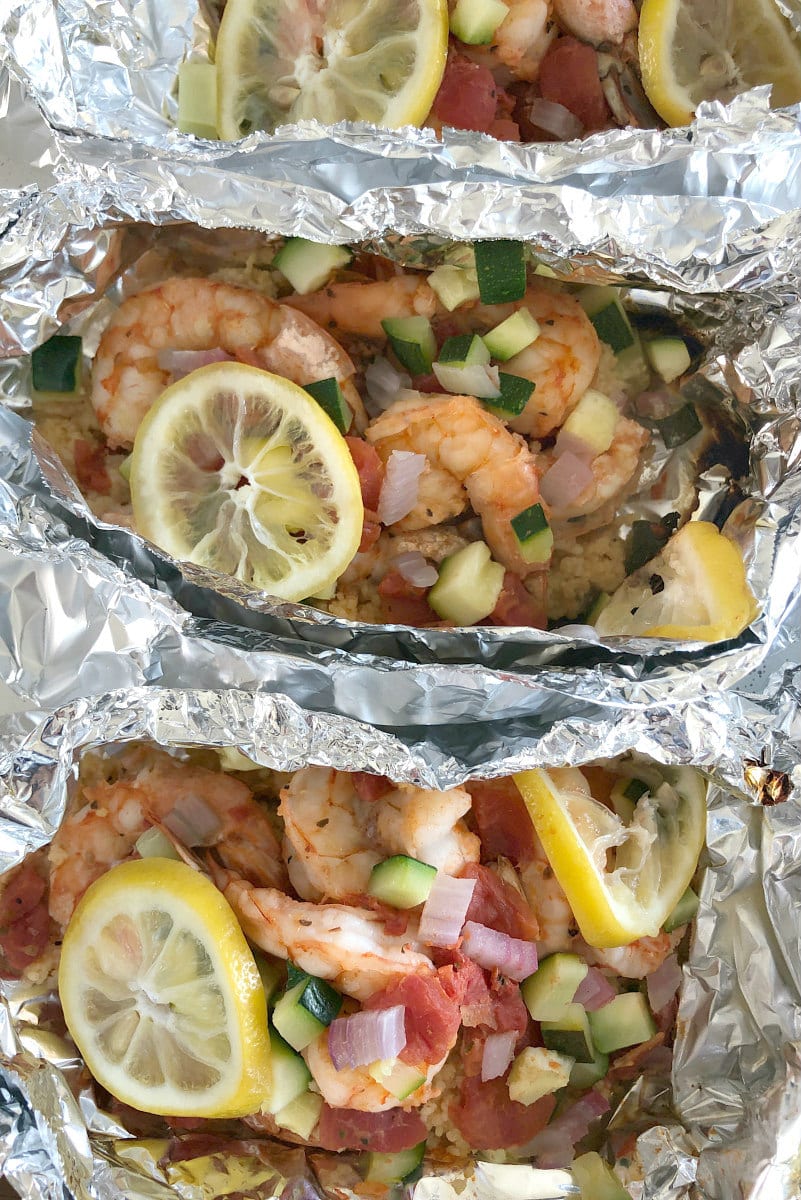 Remove the packets from the grill, and open them up. At this point, you can sprinkle feta cheese crumbles and some chopped fresh Italian parsley on top.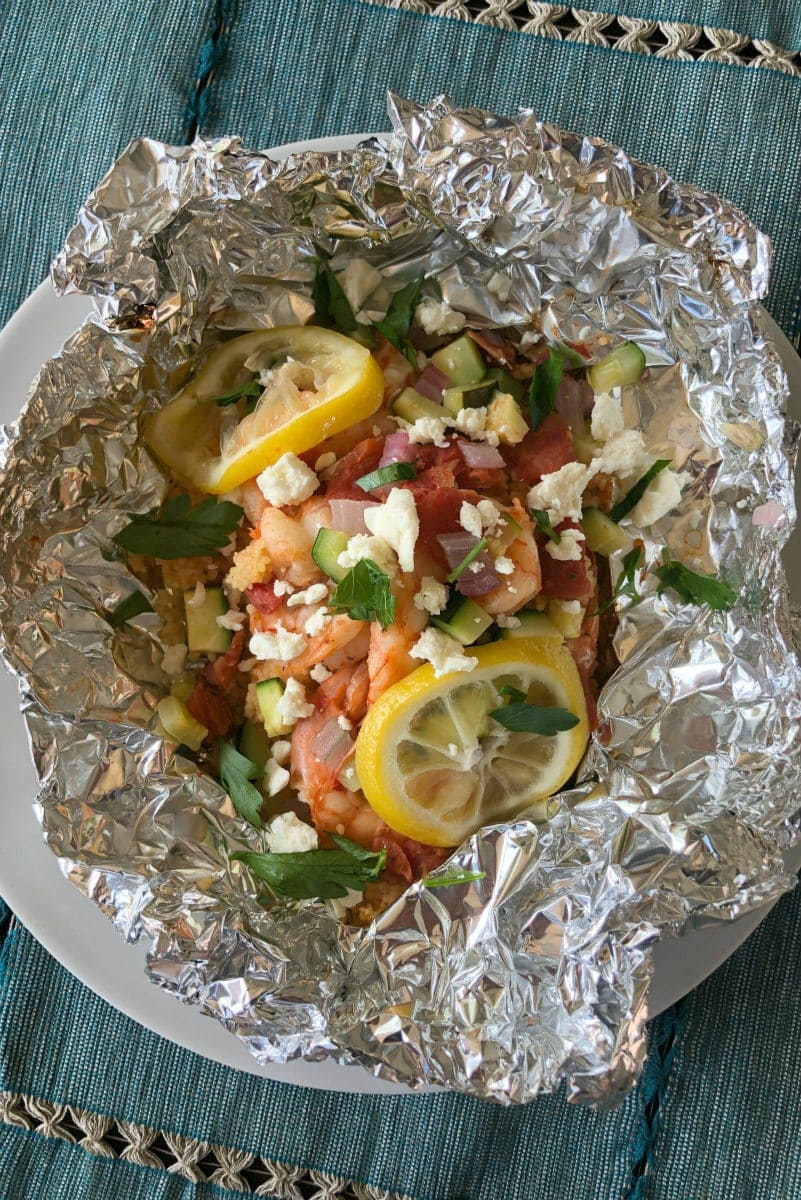 This is a very casual dinner, so it's completely okay to serve them right as they are in the foil. Simply transfer them to plates and enjoy this meal directly out of the foil.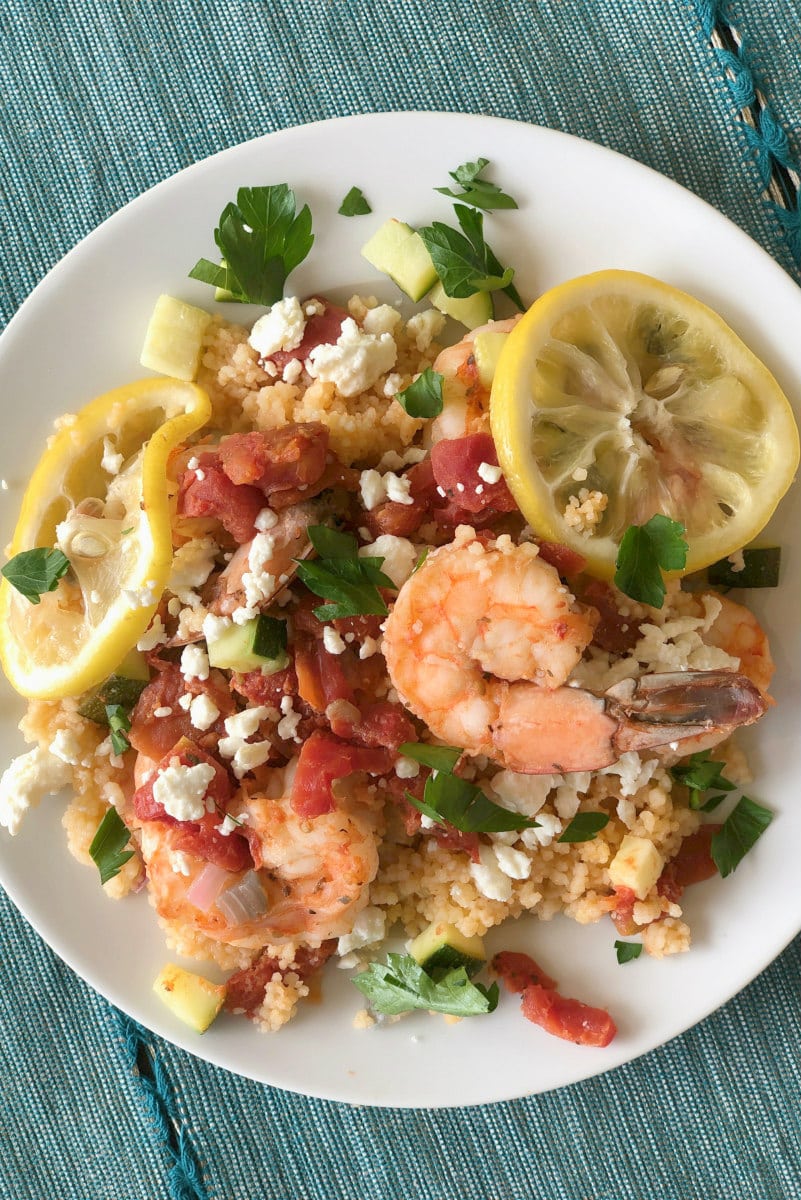 If you prefer, you can use a wide spatula to transfer all of the contents of the foil packets onto plates and serve them that way instead.
The shrimp is super delicious combined with the spiced up Red Gold Tomatoes, added zucchini and a tomato-infused couscous. Lemon flavor and feta cheese crumbles round out the meal nicely.
Check out the Red Gold Tomatoes website for more recipe inspiration using their products.
Here are a few more shrimp recipes you might like to try:
Mediterranean Shrimp Foil Packets
Recipe Details
Ingredients
8

sheets

heavy duty aluminum foil

(12" x 14")

20

ounces (32 shrimp)

large shrimp,

peeled & de-veined

1

14.5-ounce can

Red Gold Diced Tomatoes with Basil, Garlic and Oregano

1 1/3

cups

couscous

1

cup

low-sodium chicken broth,

heated

1

medium

zucchini,

diced

1/4

cup

chopped red onion

Kosher salt

1

medium

lemon,

sliced

1/2

cup

crumbled feta

chopped fresh Italian parsley,

for garnish (optional)
Instructions
Preheat your gas grill to medium-high heat.

Drain the tomato juices into a one-cup measuring cup. In a medium bowl, toss the shrimp with the drained tomatoes. Add chicken broth to the tomato juices in the measuring cup to measure one cup. Heat in the microwave until very warm. In a separate bowl, combine the couscous with the hot tomato broth and let the couscous absorb the liquid.

Layer two sheets of foil on top of each other to create strong baking vessels. You'll be assembling four packets. Spray the center of each with nonstick spray.

Divide the couscous between the foil packets, spooning it into the center of each.

Spoon shrimp and tomato mixture on top of the couscous, dividing to make sure that each foil packet gets 8 shrimp. Add zucchini and onion on top of each packet, add a sprinkle of kosher salt, and then divide the lemon slices among the packets.

Wrap the foil and crimp the edges to seal. Grill sealed-side-up until the shrimp are cooked through- 12 to 14 minutes.

Remove the packets from the grill and carefully open them. Sprinkle with feta cheese and parsley and serve.
Notes
Alternately, you can cook these foil packets in the oven on a rimmed baking sheet at 350 degrees F.
Nutrition
Serving:
1
serving
,
Calories:
466
kcal
,
Carbohydrates:
54
g
,
Protein:
46
g
,
Fat:
6
g
,
Saturated Fat:
2
g
,
Cholesterol:
439
mg
,
Sodium:
1635
mg
,
Potassium:
655
mg
,
Fiber:
5
g
,
Sugar:
5
g
,
Vitamin A:
270
IU
,
Vitamin C:
40.3
mg
,
Calcium:
368
mg
,
Iron:
5.8
mg