We're muffin maniacs around here. I often try new and different muffin recipes. My son enjoys having Mommy's homemade muffins for breakfast, so I try to find those muffin recipes that aren't exactly like "cake." My little guy is a sweets-lover and would eat Cocoa- Krispies, a chocolate muffin and chocolate milk for breakfast if I let him. I won't. I found this recipe for Moist Bran Muffins in the King Arthur Flour: Whole Grain Baking cookbook.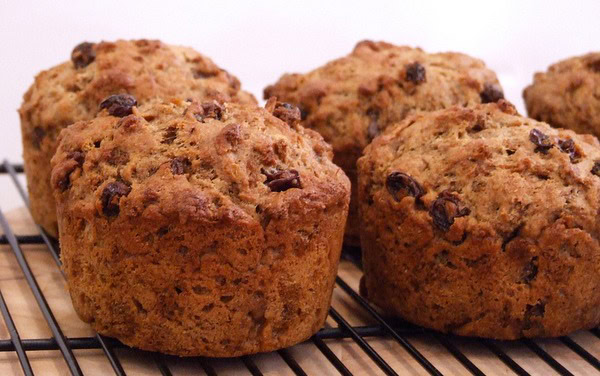 The recipe calls for bran cereal. I used Bran Buds, and I don't believe I would use them for anything else but bran muffins. My son said while he watched me make them… "Are you putting dog food in the muffins?" I teased him a bit as I ate a couple of buds, but truly- these little niblets do look a little like something a dog would find appetizing. Not to worry… they're good in the muffins! A nice feature of this recipe is that you make the batter and then let it sit overnight in the fridge. It keeps for up to a week, so you can scoop it up and bake it as needed and have fresh muffins whenever you like. I found that they froze well. We put them in individual quart-size freezer baggies and took one out each night to defrost for the following morning. They were just as moist and fresh as the ones that were fresh-from-the-oven.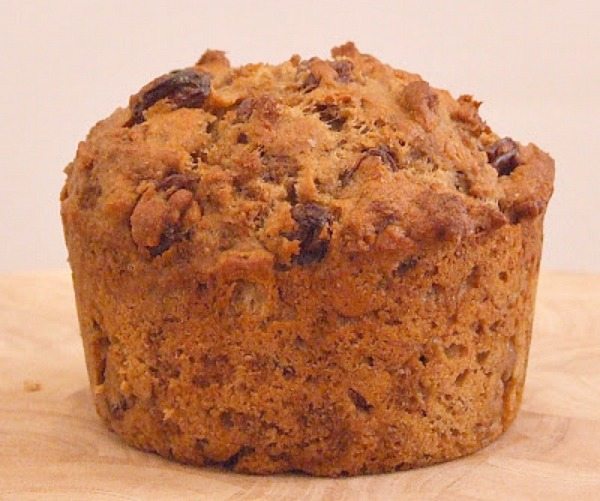 I chose to make these muffins in the LARGE muffin tins and was able to get 6 big ones from a batch. Nutritionally, half of a large muffin (or 1 regular-sized muffin) has 6 grams of fiber, 5 grams of fat and 250 calories. My son gave the Moist Bran Muffins a double-thumbs-up, and I felt good about not giving him "cake" for breakfast!
Moist Bran Muffins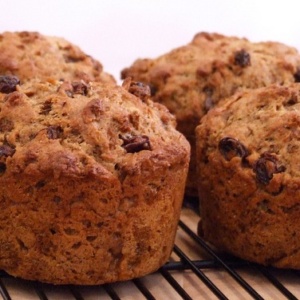 These are easy to make and bake up beautifully. They stay moist too!
Yield:
12 regular-sized muffins or 6 jumbo
Prep Time: 20 min + overnight in fridge
Cook Time: 25 min
Ingredients:
3/4 cup boiling water
1 1/4 cups bran cereal (not flakes), divided (I use "Bran Buds")
3/4 cup raisins
3/4 cup packed light or dark brown sugar
1/4 cup vegetable or canola oil
2 1/2 cups whole wheat flour, traditional or white whole wheat
1 teaspoon baking soda
1/2 teaspoon baking powder
1 teaspoon salt
1 large egg
3/4 cup buttermilk
1/2 cup orange juice
Directions:
1. Pour boiling water over 3/4 cup of the bran cereal in a small mixing bowl. Add the raisins, brown sugar and oil. While the bran mixture cools, whisk together the flour, baking soda, baking powder and salt in a large mixing bowl.
2. Beat the egg with the buttermilk and orange juice in a large measuring cup. Add this mixture to the dry ingredients. Stir in the remaining 1/2 cup bran cereal, then the bran/raisin mixture. Cover the bowl and refrigerate overnight.
3. The next day, preheat oven to 375°F. Lightly grease a muffin tin or line with papers and coat the papers with nonstick spray. Fill each cup two-thirds full. Bake the muffins until a cake tester inserted in the center comes out clean, 23 to 26 minutes for regular-sized muffins (35 to 40 minutes for jumbo muffins). Remove from oven and allow the muffins to cool in the pan for 5 minutes, then turn them out onto a rack to finish cooling, or serve warm, as desired.
Tips:
*The batter can be mixed up and held in the refrigerator for up to a week, then scooped and baked as needed, so you can have fresh, warm muffins whenever you like!
Nutrition:
Nutritional Information per serving:
Serving size: 1 regular-sized muffin
Calories per serving: 250
Fat per serving: 5.75g
Saturated Fat per serving: .65g
Sugar per serving: 23.25g
Fiber per serving: 6g
Protein per serving: 6g
Cholesterol per serving: 18.25mg
Carbohydrates per serving: 48.5g
WW POINTS per serving:
Points Plus Program: 7 Old Points Program: 4.5
Disclosure: There are Amazon affiliate links included within this post.