Slightly lower in fat, this easy-to-assemble Parmesan Dip is wonderful with fresh vegetables.  I like to include this when I'm having parties with a lot of other appetizers so my guests have the option of sampling something lighter.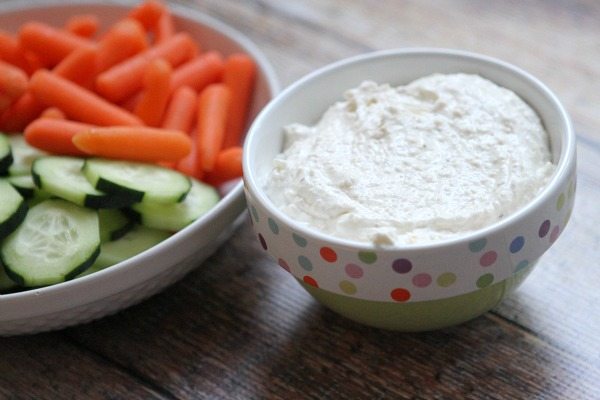 Parmesan Dip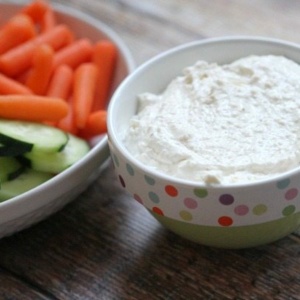 Yield:
1 1/2 cups (2 Tablespoons per serving)
Prep Time: 10 minutes + chill time
Ingredients:
1 cup sour cream, reduced fat
1/4 cup mayonnaise, reduced fat
1 cup grated Parmesan cheese
2 tablespoons freshly squeezed lemon juice
1 teaspoon black pepper
1/2 teaspoon salt
Directions:
Mix all ingredients in bowl. Refrigerate for several hours until well chilled.
Serve with a variety of fresh vegetables.
Tips:
For those who prefer a richer dip, use full-fat mayo and sour cream.
I recommend using a good, strong-flavored Parmesan for a nice flavor.
Nutrition:
Nutrition Facts- Amount per Serving (2 Tablespoons): Calories 76, Calories From Fat (71%) 56, Total Fat 6.16g, Sat Fat 3.10g, Cholesterol 16.88mg, Sodium 256.20mg, Carbohydrates 1.86g, Dietary Fiber 0.06g, Sugar 0.16g, Net Carbs 1.80g, Protein 3.82g
Weight Watchers POINTS:  Smart Points 3, Points Plus 2, Old Points Program 2