Lots of people ask me how I got started with writing recipes for brands and companies.  Here's the story:  Back in 2009, I received an email from the nice folks at Pepperidge Farm Puff Pastry.  They were asking me if I'd like to create four recipes for them using Puff Pastry.  I was so excited to receive an offer to create for a brand that I use in my kitchen quite often, so I quickly said, "Yes!"  It was a fabulous experience… I put the Puff Pastry on my counter and stared at it until I came up with four really amazing treats.  It really was a lot of fun.  So they've asked me again, and I've accepted… the Puffection™ Springtime Entertaining Challenge from Pepperidge Farm.  My task:  create an original, spring-inspired recipe using Puff Pastry.  I've created a recipe utilizing the fresh berries that are beginning to appear in markets and farm stands:  Patriotic, Red-White-and-Blue Pastries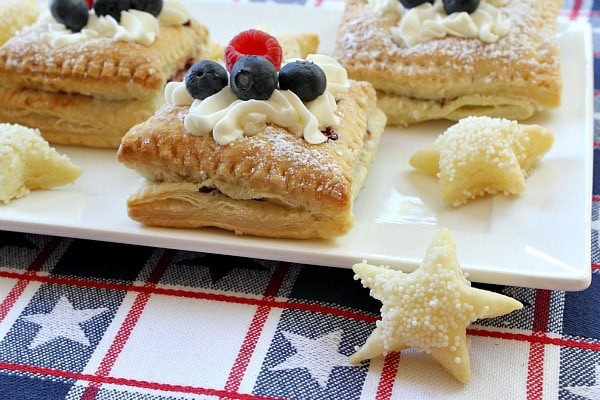 These puff pastry pockets are filled with jam and a sweetened cream cheese, and then they're topped with fresh berries.  They're for breakfast, they're for lunch, and they're for dessert!  And they're kind of perfect for a patriotic holiday like Memorial Day or 4th of July or just a spring/summer treat.  Here's how you make them: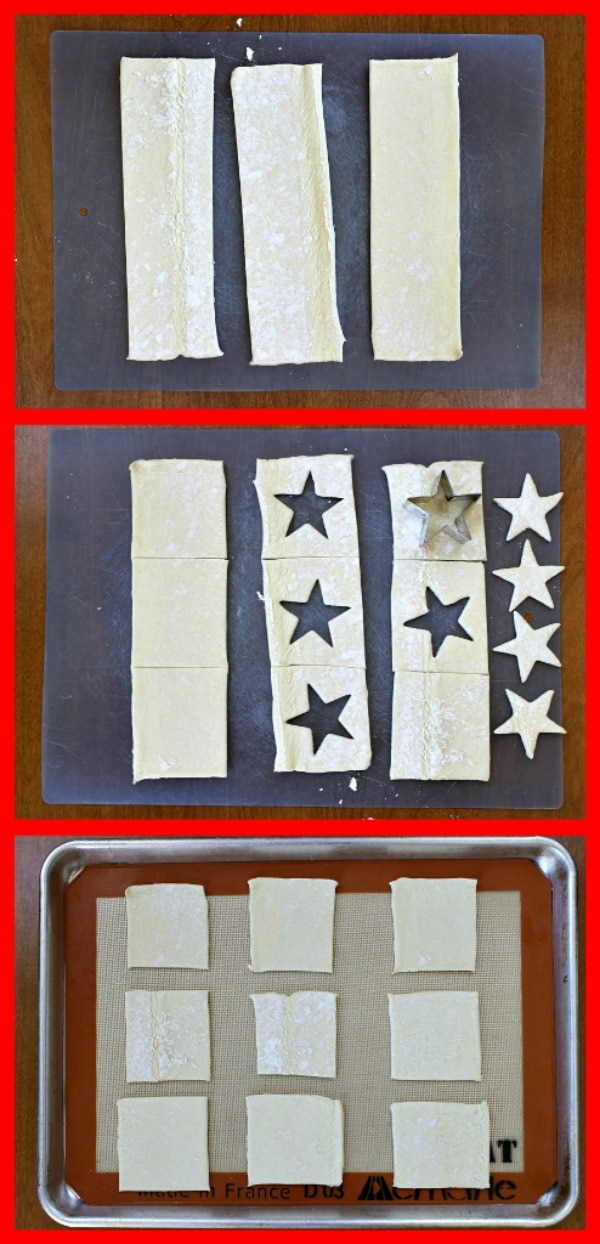 Sold in the freezer section as sheets or shells, Puff Pastry thaws at room temperature in 40 minutes.  Lay out two sheets of thawed Puff Pastry on a flat surface.  Cut each sheet into 9 to 12 equal squares (depending on the size of your star cookie cutter).  Then take a star cookie cutter and cut stars out of 1/2 of the squares.  Place the intact squares on a baking sheet.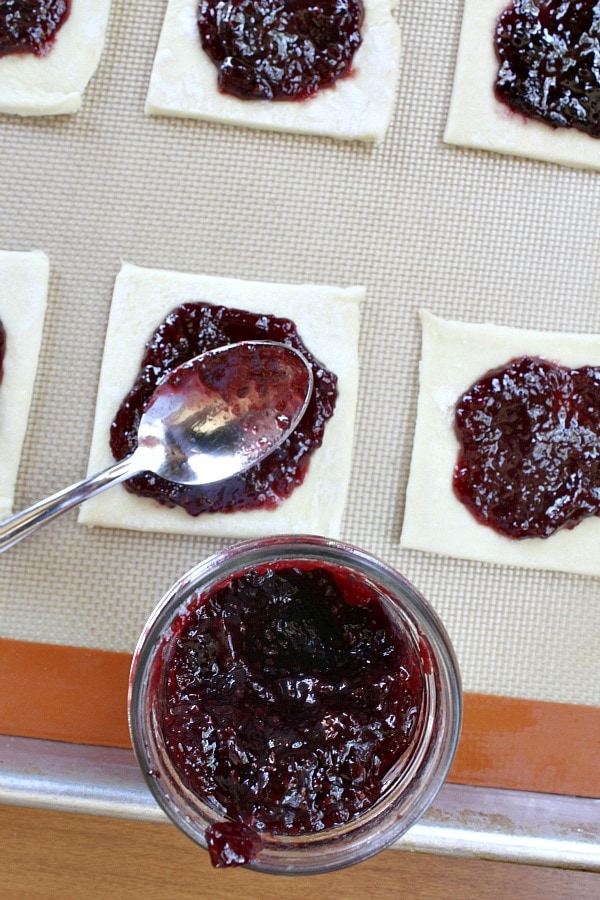 Place a spoonful of jam (raspberry… blueberry… strawberry) on each of the Puff Pastry squares.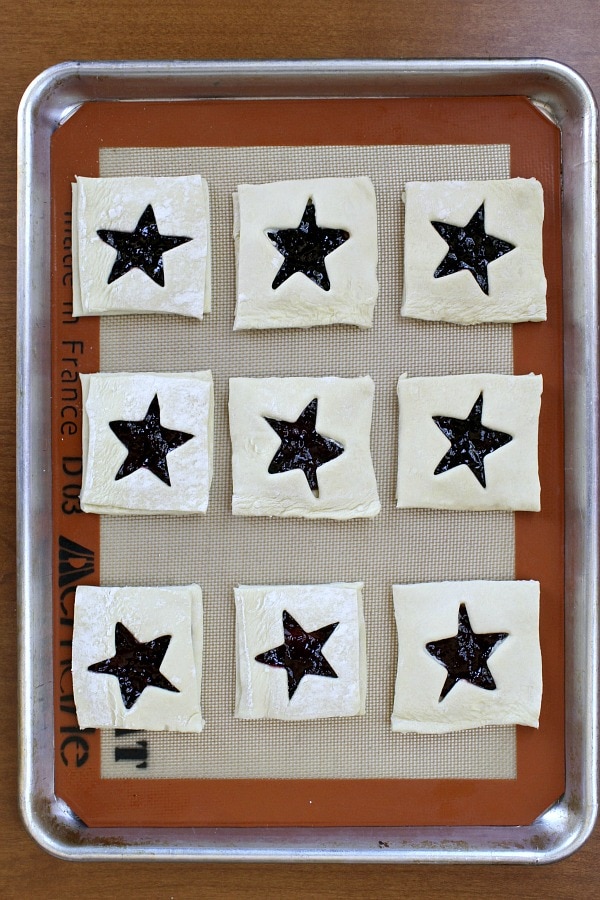 Place the cut out squares on top of the jam squares.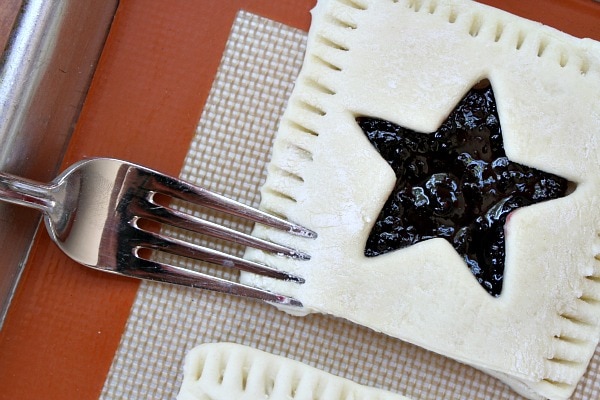 Seal the edges of each Puff Pastry square with the tines of a fork.  Sprinkling with chunky white sugar is an optional step (I did it).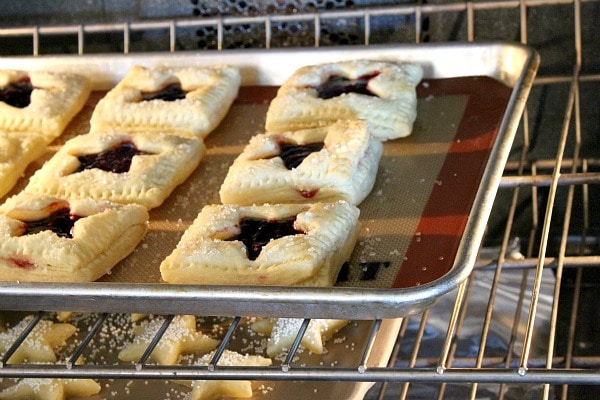 Bake for 20 minutes.  You can put the stars on a separate baking sheet and sprinkle them with goodies or whatever.  This is where the "puffing" happens, as you can see from the photo!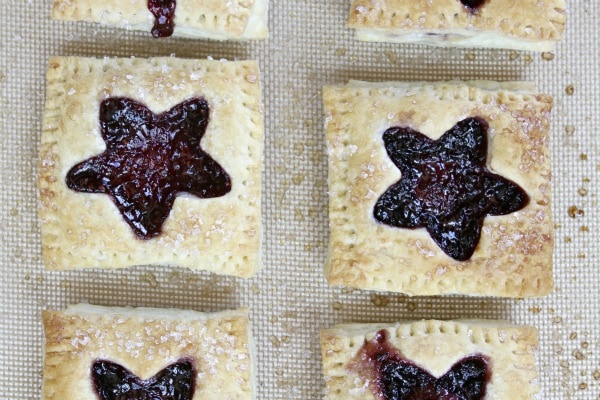 Fresh out of the oven, you can sprinkle powdered sugar on top. Let them cool completely while you make the filling.  The filling is simple: cream cheese + powdered sugar + cream.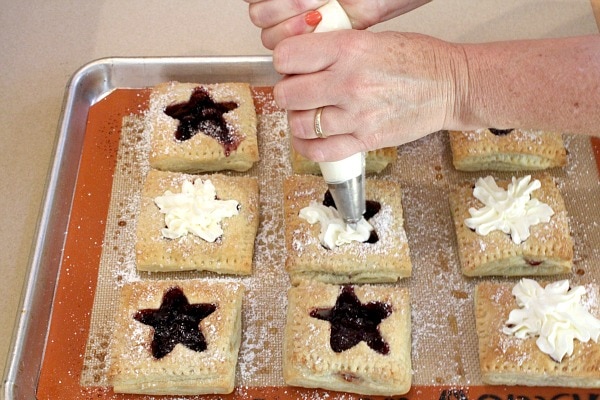 Scoop the filling into a piping bag and pipe it into the star center of each pastry.  If you don't have a fancy schmancy piping bag, just spoon it into a plastic zip bag, snip the corner and squeeze it on that way.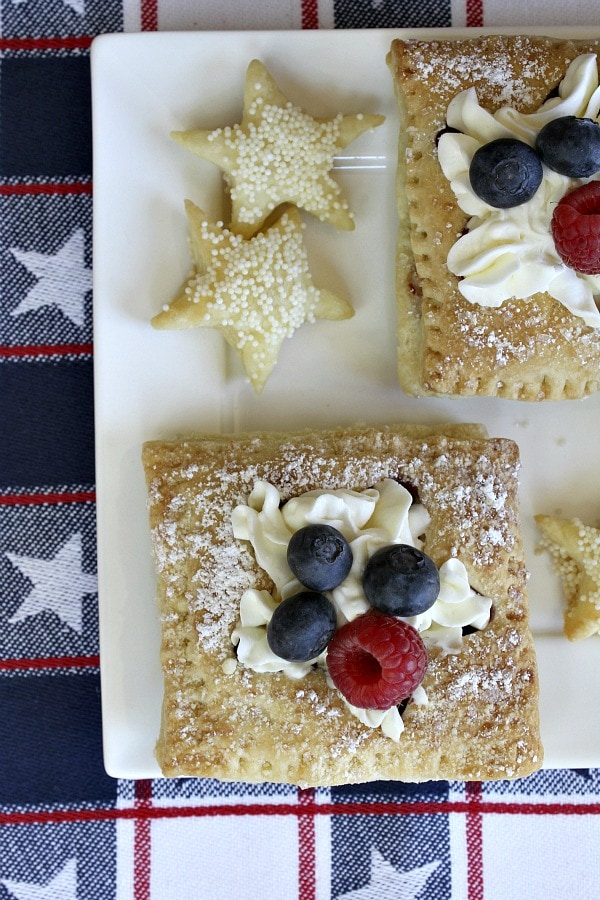 Add a few fresh berries on top!  These Patriotic Pastries are best after having been refrigerated for an hour of so.  The filling firms up a little and gets nice and chilly… then you bite into it and get a mouthful of flaky Puff Pastry layers, a hint of jam, a dollop of sweet cream filling and fresh fruit too!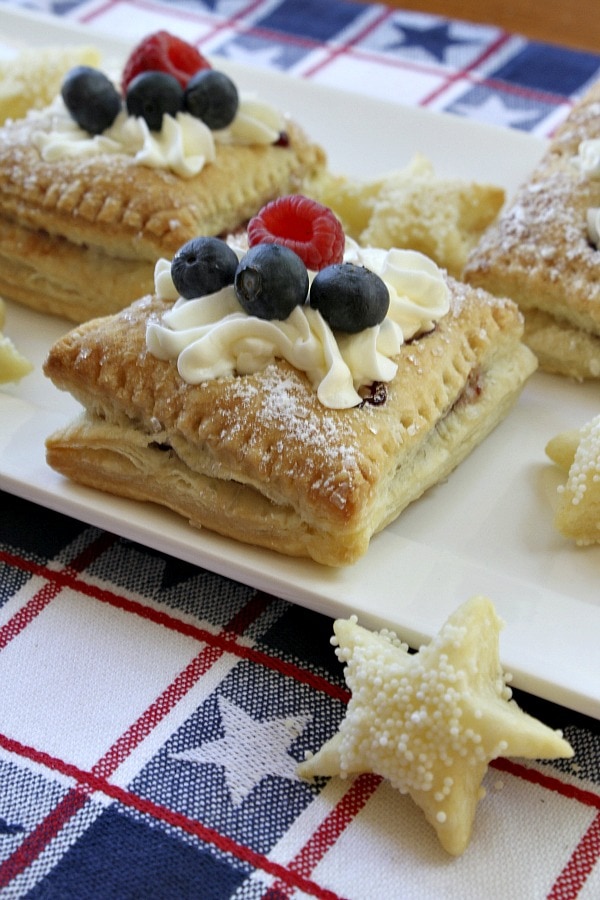 We'll be spending some time with friends over Memorial Day weekend, and I intend to surprise them with these treats for breakfast.  Besides the amazing-delicious taste, they've also got the "cute factor" going for them.  Cute food is a major bonus in my world.  My taste-tester husband thought they'd also make a wonderful dessert.  My kiddo ate them as after-school snacks!  It's safe to say that they were a very big hit in my house.  And I know my friends are going to like them too!
You can share your own Puff Pastry recipes on the Pepperidge Farm Puff Pastry Facebook page (look for the Puffection™ tab), and you can also visit www.puffpastry.com for more recipes, tips and how-to videos.
Patriotic Pastries
Yield:
9 to 12 pastries
Prep Time: 30 min
Cook Time: 20 min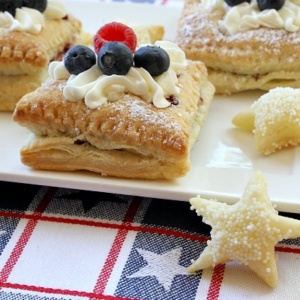 Ingredients:

PASTRY BASE:
1 pkg. (17.3 ounces) Pepperidge Farm® Puff Pastry Sheets, thawed
12 tablespoons raspberry and/or blueberry preserves
chunky, sparkling white sugar (optional)
1 tablespoon powdered sugar

FILLING:
6 ounces cream cheese, at room temperature
2 tablespoons powdered sugar
2/3 cup heavy whipping cream (liquid cream)

TOPPING:
12 fresh raspberries
36 fresh blueberries

Instructions:

1. Preheat the oven to 400 degrees F. Line one large, rimmed baking sheet and one small baking sheet with parchment paper or silpat mats.

2. Prepare the pastries: Lay each sheet of puff pastry onto a cutting board. Slice each piece of puff pastry into 9 to 12 equal squares (depending on the size of your star cookie cutter) and place 1/2 of the squares equally spaced on your large baking sheet. Use a small star cookie cutter to cut the centers of the remaining 1/2 of the puff pastry squares (if you don't have a star, you can cut a circle or a square instead. Remove the stars to a separate small baking sheet. Spoon a tablespoon of jam into the center of each of the (uncut) squares on the baking sheet. Top each jam-filled square with one of the cut-out star squares. Use a fork to seal the edges of each square together (just press down to make a fork-mark along the edges). Sprinkle white, chunky sugar on top, if using.

3. Bake pastries for 20 minutes, or until they are golden brown. Remove from the oven and let cool on the baking sheet.

4. Prepare the cream filling: In a medium bowl, use an electric mixer to combine the cream cheese and sugar. Add the cream, and continue to beat until the mixture is smooth and creamy and thick enough for a piping bag. Scoop filling into a piping bag with a star tip- squeeze filling into the center of each pastry. Garnish with fresh berries. Refrigerate for at least an hour, or until ready to serve.

Tips:

*If you don't have a piping bag, you can always scoop the filling into a zip baggie instead, cut the corner and squeeze the filling out of the corner to fill the pastries.
*Change up the jam and fruit toppings as you wish.
*Pastries will stay fresh in the refrigerator for up to 24 hours (keep in a covered container)
Disclosure:  I was compensated to create a recipe for Pepperidge Farm Puff Pastry (a product that I've used and loved in my kitchen for many years!)  All opinions shared about this product are my own.