Here's an easy-to-make Peppermint Bark recipe. Hint: the "dust" from the smashing of the candies is terrific added to hot chocolate!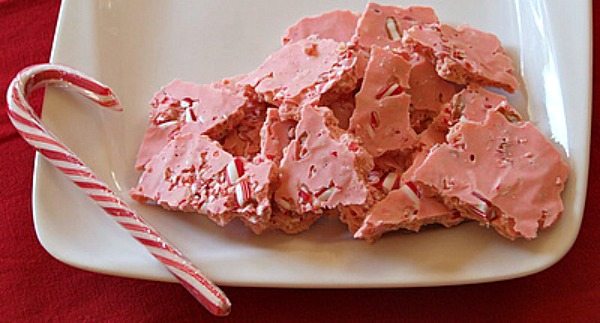 Peppermint Bark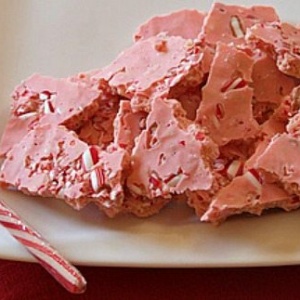 Yield:
About 36 pieces
Prep Time: 25 min + chill time
Cook Time: 6 min
Ingredients:
1 pound white chocolate, chopped (do not use chips)
a few drops red food coloring
2 teaspoons peppermint extract
2 cups Rice Krispies
1 package (7.5 ounces) hard peppermint candies (or candy canes), unwrapped and crushed
Directions:
1. Spray a 10x15-inch rimmed baking sheet with nonstick cooking spray; line with a piece of waxed paper.
2. Place white chocolate in a heatproof bowl set over (not in) a saucepan of simmering water. Heat, stirring occasionally, until smooth, 4 to 6 minutes. Add food coloring and extract. Remove from heat; stir in rice cereal.
3. Transfer mixture to prepared pan; with a spatula, spread to edges of pan.
4. Sprinkle with crushed candy; with a piece of waxed paper covering the entire surface, press in gently (paper prevents hands from sticking to candy and chocolate). Chill until firm, 20 to 30 minutes (no longer, as candy will begin to soften).
5. Peel waxed paper off. Break bark into 2-inch pieces. Store at room temperature in an airtight container, up to 1 week.
Tips:
*Crushing candies: Place candy in a doubled resealable plastic bag (one inside the other); seal and wrap in a kitchen towel (to prevent candy from piercing the bag). Use a rolling pin or skillet to crush the candy into tiny pieces. Pass through a large sieve to separate crushed candy from fine powder. (Save the powder to stir into hot chocolate or to stir into ice cream!)
SOURCE: RecipeGirl.com (via Everyday Food)