Now that it's football season, look no further than these Pimento Jalapeño Poppers for a great game day appetizer!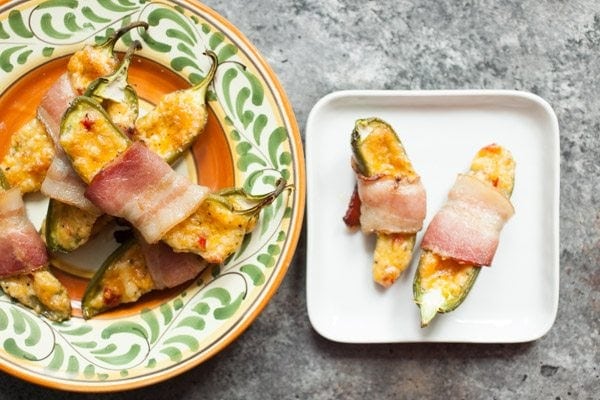 If you're a football fan than you know there isn't much better than having some really awesome appetizers to serve your friends and family during game day. One of my favorites is jalapeño poppers because I love spicy food. These end up being a bit like pepper roulette as some are spicier than others, but the cheese and bacon really temper the spice so even the spicy ones are manageable!
Also, did I mention that they have just three ingredients?! What could be easier?!
Start the poppers by cutting the jalapeños in half, but leave the stems on to keep the cheese in the pepper. Then hollow out the seeds and stuff the peppers full!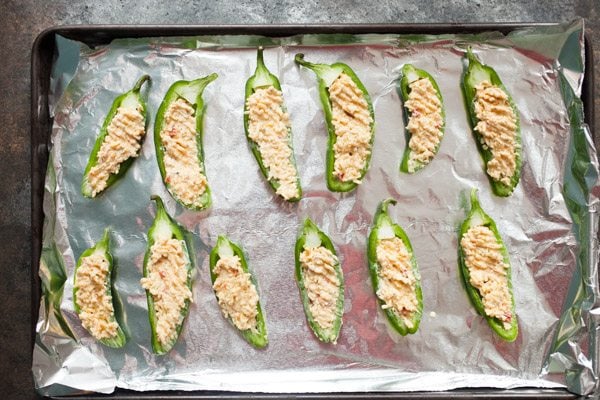 Next, just wrap each pepper with half a strip of bacon (not thick cut). Make sure the bacon ends are under the pepper to keep it in place.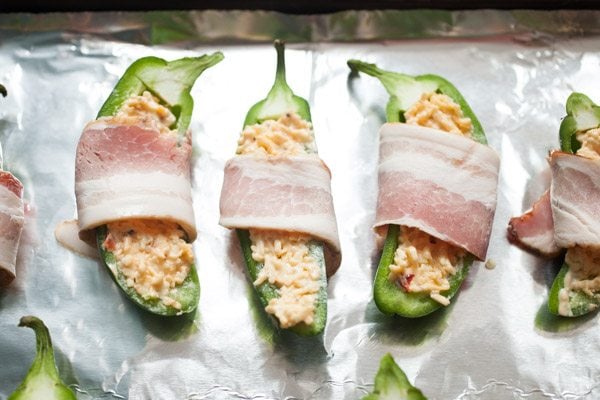 Bake these at 375 degrees F. for 20 to 25 minutes until the peppers are blistered and the bacon is crispy on the edges. Some cheese will inevitably overflow from the peppers, but don't worry. There's still plenty in there! That's why I'd definitely line my baking tray with foil though to ensure an easier clean up.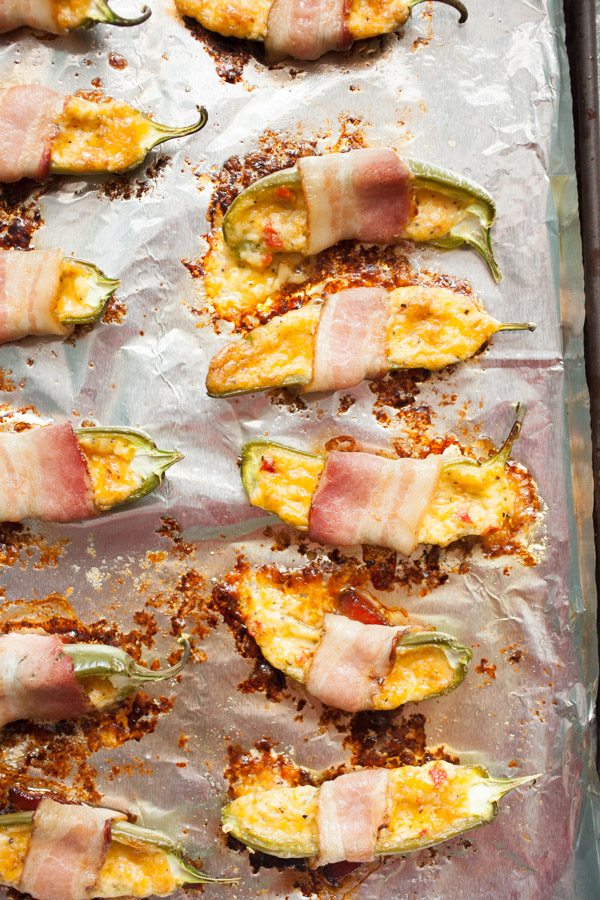 Let these cool for a minute before serving so you don't burn your mouth on molten cheese!
Yay, sports!
Pimento Jalapeño Poppers
Yield:
12 poppers
Prep Time: 15 minutes
Cook Time: 25 minutes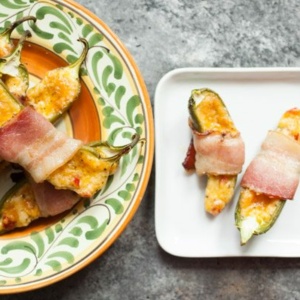 Ingredients:

6 large jalapeños, hollowed out
4 oz. pimento cheese spread
6 slices bacon

Instructions:

Preheat oven to 375 degrees F.
Half jalapenos longwise. Keep the stems on to prevent the cheese from spilling out, but use a small spoon or paring knife to remove seeds.
Place jalapeno halves on a baking sheet lined with foil and stuff each half with pimento cheese. Fill the pepper full, but don't overfill it or the cheese will just melt out.
Wrap each pepper half firmly with half a strip of bacon. Wrap it so the two ends are underneath the pepper so it bakes and holds.
Bake the poppers at 375 degrees for 20 to 25 minutes until the cheese is blistered in spots and the bacon crispy on the edges.
Remove and serve while warm.
SOURCE: RecipeGirl.com
Here are a few more appetizers you might enjoy: