Pioneer Woman's Beans and Cornbread
This recipe has been featured in a post on The Recipe Girl blog: Beans & Cornbread from the Pioneer Woman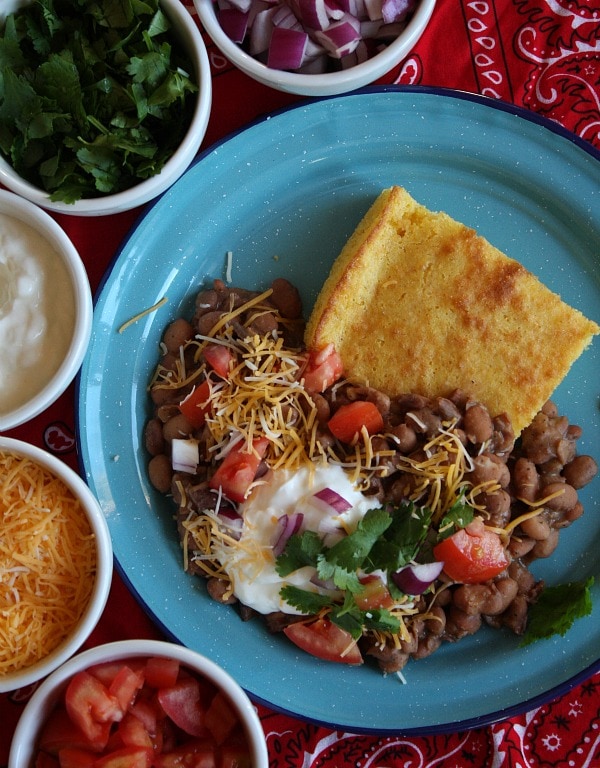 …because you can't make one without the other 🙂
Yield: 8 to 12 servings
Prep Time: 30 min
Cook Time: 3 hrs
Pioneer Woman's Beans & Cornbread
Comfort food for a hungry crowd...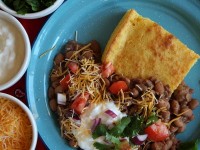 Ingredients:
BEAN INGREDIENTS:
4 cups dried pinto beans
4 slices thick-cut bacon, cut into 1-inch slices (or diced ham/ham hock instead)
1 teaspoon salt (more, if desired)
2 teaspoons black pepper (the powdery stuff is fine), more or less if desired
Optional seasonings: chili powder, cayenne pepper, garlic powder, oregano
Optional garnishes: sour cream, fresh cilantro, chopped onions, grated cheese, chopped tomato
CORNBREAD INGREDIENTS:
1 cup yellow cornmeal
1/2 cup all-purpose flour
1 teaspoon salt
1 Tablespoon baking powder
1 cup buttermilk
1/2 cup milk
1 large egg
1/2 teaspoon baking soda
1/4 cup + 2 Tablespoons shortening
Optional addition: 1 small can of diced green chilies
Directions:
For the beans: Rinse the beans thoroughly and pick out any little rocks or sticks that might have gotten packed into the bag along with the beans. Place them in a large pot with the bacon, and pour water over the top (1 or 2 inches above the beans). Bring to boil over medium-high heat, then reduce to low and cover. Simmer for 2 to 3 hours (mine took close to 3). If the liquid appears to be evaporating quickly, add more water as needed during cooking. The beans are done when they're tender but not mushy. Add in salt and pepper. Stir them up and add optional seasonings as desired.
For the cornbread: Preheat oven to 450 degrees F. In a bowl, combine cornmeal, flour, salt and baking powder & whisk together. Measure buttermilk and milk in a measuring cup. Stir in the egg with a fork. Add baking soda and stir (it'll bubble a bit). Pour into the bowl with the dry ingredients and stir with a fork just until combined. In a small bowl, melt 1/4 cup shortening in the microwave. Slowly add melted shortening to the batter, stirring just until combined. In an iron skillet over high heat, melt the remaining 2 Tbsp. shortening. Pour the batter into the hot skillet and spread to even out the surface. Cook on the stovetop for about a minute, then bake in the oven for 15 to 20 minutes, or until golden brown. The edges should be crispy.
To serve: Slice the cornbread into squares and serve with the beans and desired garnishes.
Tips:
*I made these beans with bacon, but I think ham would be a much better, more flavorful addition. I'd suggest being generous with the extra spice suggestions too.
*Go crazy with the garnishes- they make this dish yummy.
*PW's cornbread recipe is not a sweet one. It's considered a classic Texas Cornbread... grainy in texture, flatter and very crispy on the outside.