Road Trip! If you've never taken a trip up/down the coast of California before, it's a trip to add to the ol' Bucket List. Preferably, in a convertible! I met my husband up in San Francisco a couple of weekends ago, and we traveled from Napa Valley/Sonoma all the way down the coast of California to San Diego. Here are some food, wine and scenic highlights from our trip…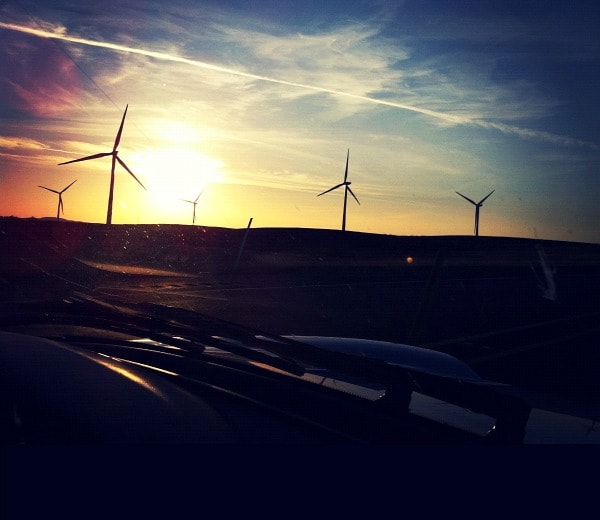 This is a sunset view of the farmland heading from San Francisco toward Napa… taken with my iPhone while traveling in a convertible 🙂

We stopped in the city of Napa to have dinner at Grace's Table. We didn't know a thing about the restaurant, but we were happy to find that they had a lot of local food. Everything we tried was absolutely awesome.
Shown here: Butternut Squash Soup w/ Pink Pearl Applesauce, Sage and Parmesan
and Alaskan Halibut, Creamed Brussels Sprouts w/ Bacon Fingerling Potatoes and Wild Chanterelle Tapenade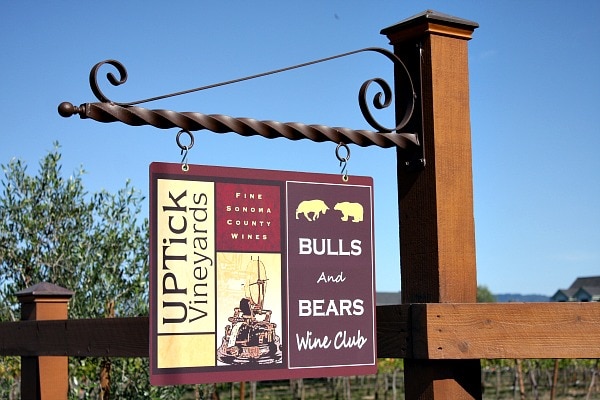 The main purpose of our trip was to see our friend's at UPTick Vineyards, who were hosting a Harvest Festival. We love these friends, and we love their wines too!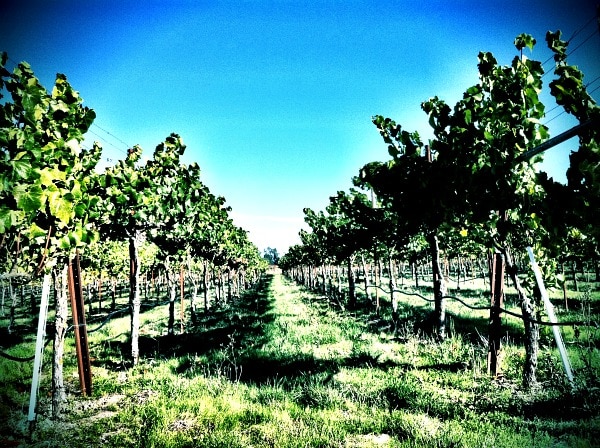 They have beautiful vineyards on the grounds of their estate in Sonoma County.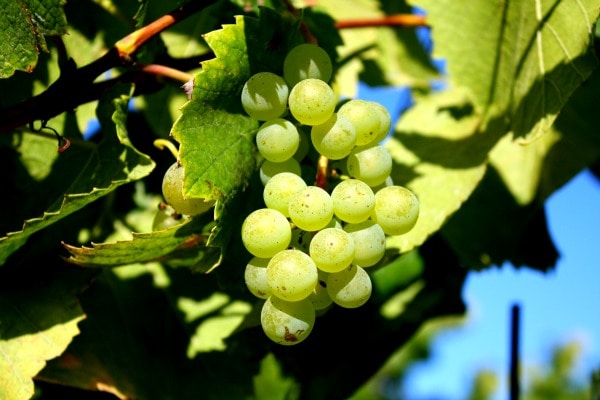 They grow grapes for chardonnay, rosé…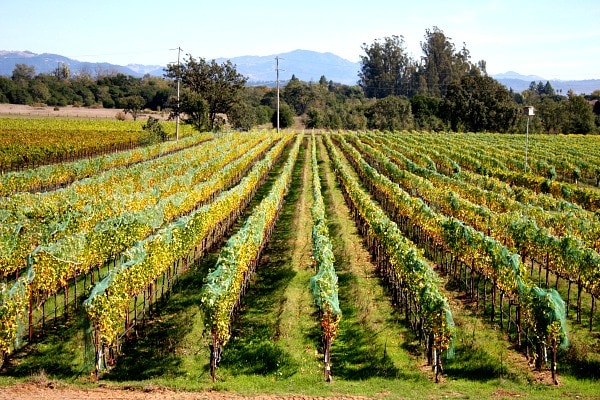 …pinot noir, cabernet, zinfandel…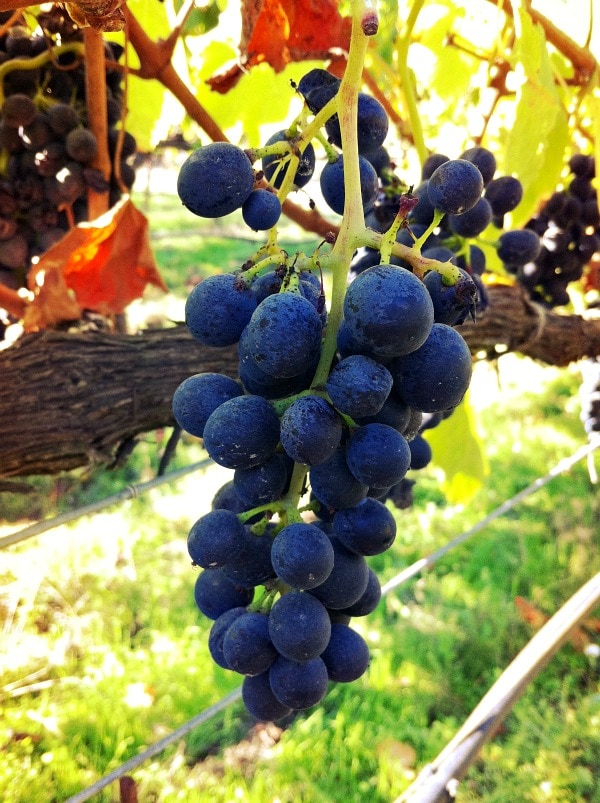 … and syrah.
We got a chance to harvest some of the grapes and clip them off the vines.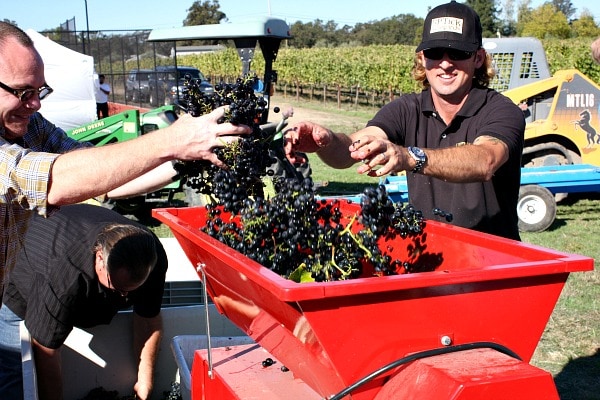 Then vineyard manager Adam showed us how the grapes are pressed using this crank machine.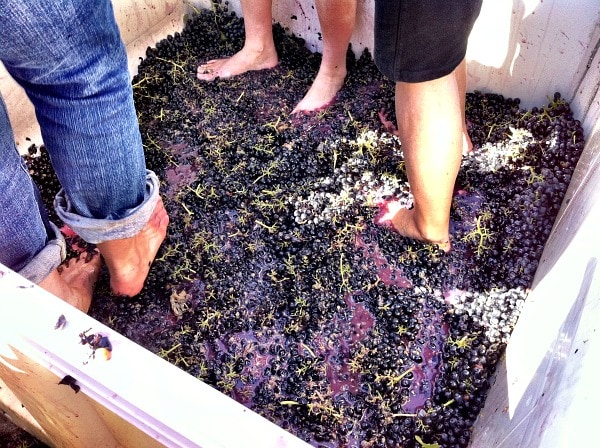 And he also let us stomp some grapes (I Love Lucy- Style), just for fun.  It was definitely fun!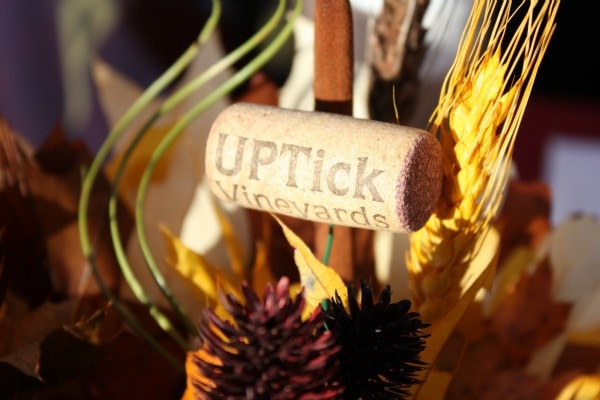 UPTick Vineyards has a tasting room in Windsor, and they have a wine club too.  My husband and I are big on wine.  We sample many varieties and appreciate good wine.  This is good wine!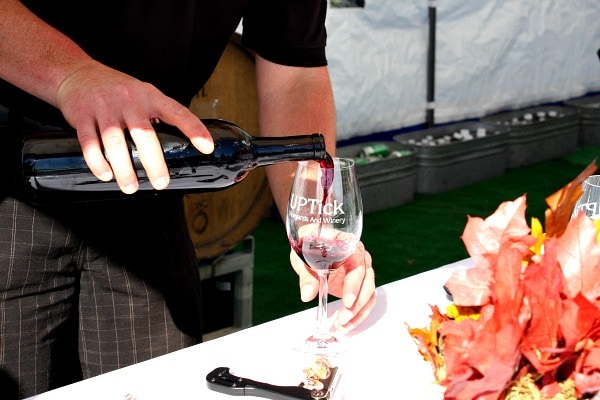 Barrel tasting was among the activities for the day.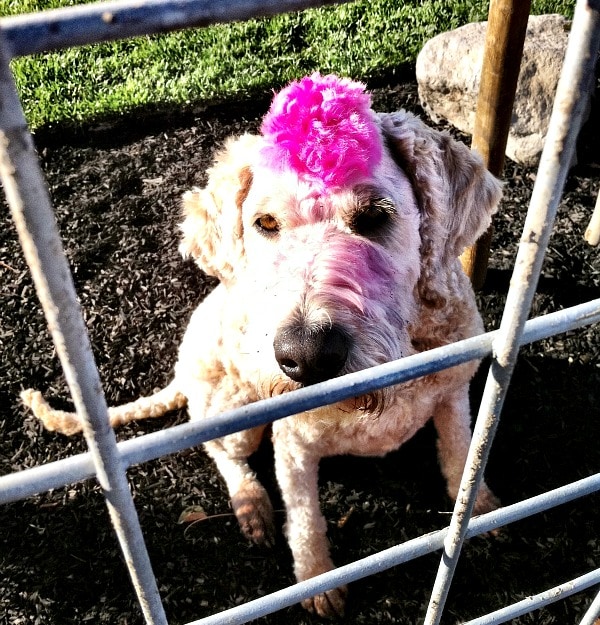 This cutie here is a pet on the UPTick Vineyards property.  All decked out with a pink mohawk.  Happy Halloween?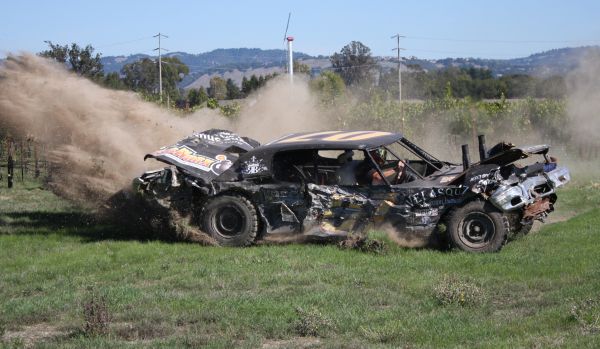 Turns out that our friends like to have some fun with cars.  This is the UPTick Vineyards demolition derby car.  Vineyard Manager Adam demo'd it for us.  It was a great day at UPTick, and we left with a case or two or three of wine.  I think we're all set for a while.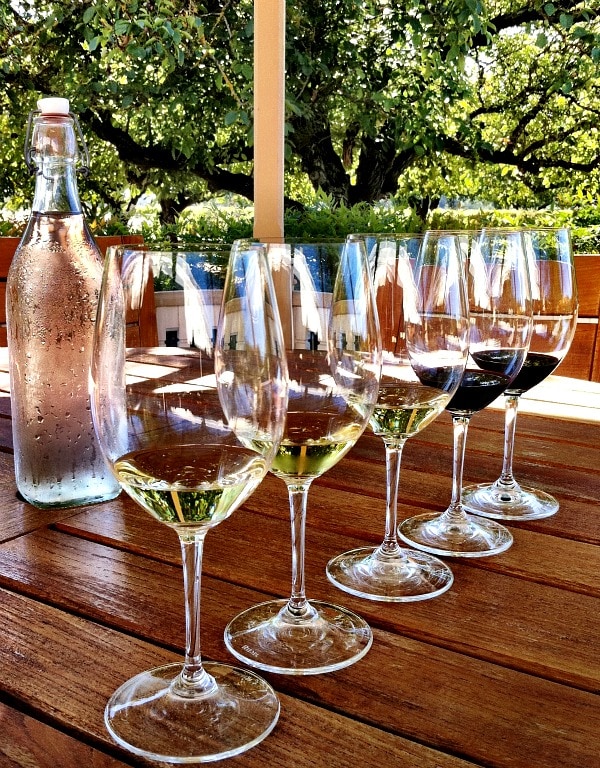 After our day at UPTick, we went to visit my friends at Kendall Jackson Winery, who set up a wine and cheese tasting for us.  Doesn't this look heavenly… a private gazebo overlooking a walnut trees and greenery… so peaceful and quiet and perfect?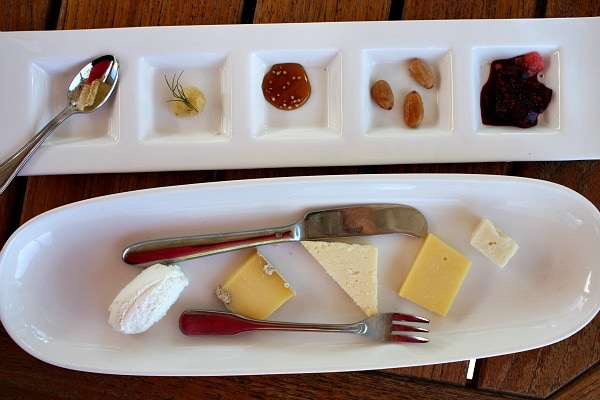 Chef Matthew set us up with cheeses paired with individual condiments.  We took a drink of the wine, then a nibble of cheese, then another taste of wine, then cheese + condiment, then another taste of wine.  It was very cool to see how the flavors of the cheeses and condiments really matched what we were tasting in the wine.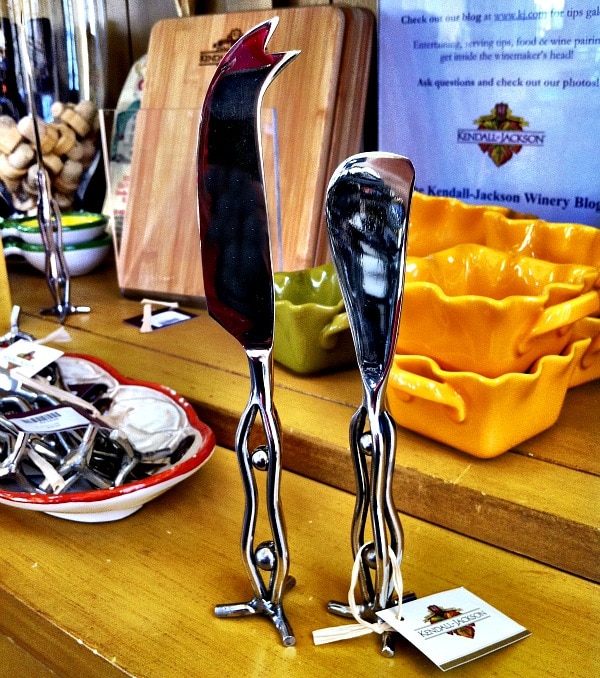 I fell in love with these in the Kendall Jackson gift shop.  Stand-on-their own cheese knives and spreaders.  I bought 3 of each to take home to give as hostess gifts to friends!  We bought more wine here too.  Now we're really set for a while!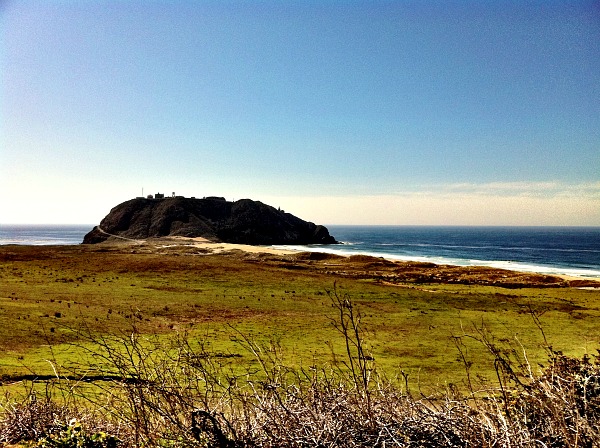 Our trip was quick… but we took a couple of days to drive home along the California coast.  This was pretty much our view most of the way.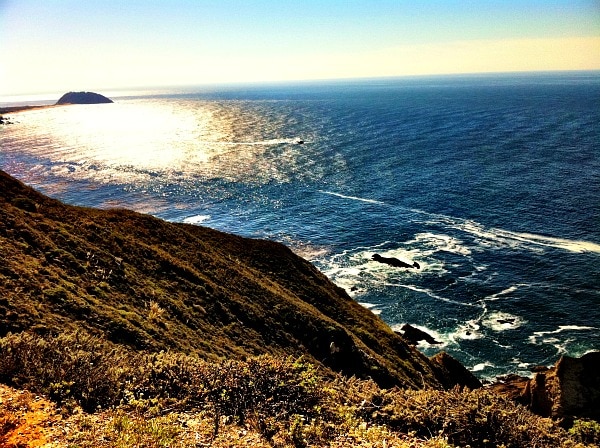 And then there were scenic stops like this.  I drove my husband crazy by saying, "Pull over!" every few miles or so.  We drove all the way from Sonoma to Montecito (near Santa Barbara) on the first day.  If I did it again, I'd FOR SURE stop and stay somewhere in Big Sur too- which looked adorable.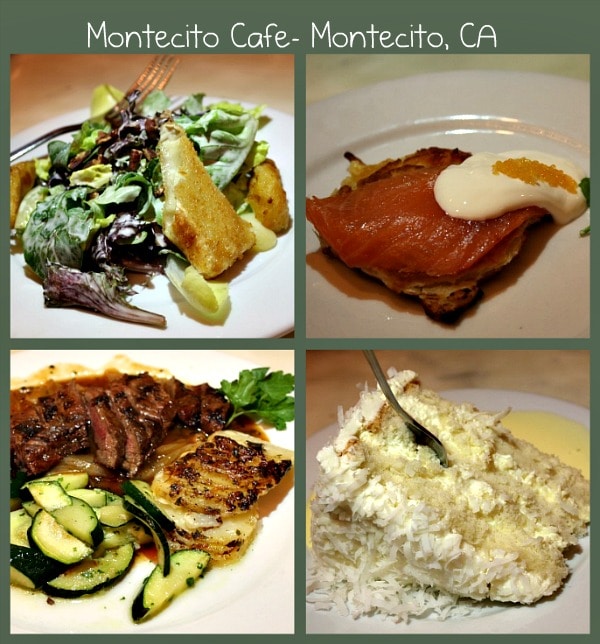 We stayed at the Montecito Inn.  It was cute.  Sort of quiet, even though it was quite near the freeway.  The bonus was that it was right in town so you could walk to everything, and it had a wonderful restaurant and bar right on the property.  Oprah and Rob Lowe are apparently local residents of Montecito.  Our bartender told us that Oprah comes in often with no makeup on and doesn't look anything like the Oprah on TV!
Shown here:
Fried Brie Salad (yep, it was good)
Much-raved-about Potato Pancakes w/ Smoked Salmon (good, but not quite sure why all the hype)
Skirt Steak with potatoes and vegetables (so good)
Majorly-raved-about Coconut Cake- apparently Oprah's favorite (did not like this at all!)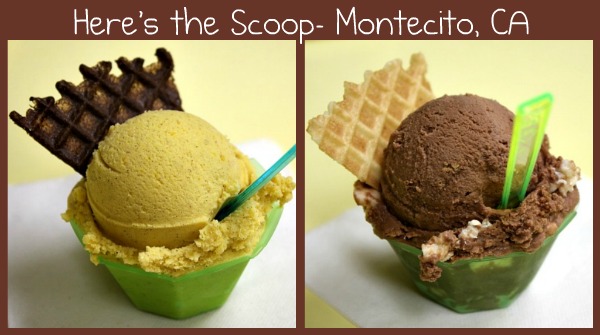 Since we were there on a Sunday night in October, it was tough to find things open at 8:45 at night.  The local cupcake bakery was closed, which we were way bummed about.  We did find an ice cream shop- Here's the Scoop– that featured a bunch of flavors of gelato.  We tried Pumpkin (not so good) and S'Mores (very good!)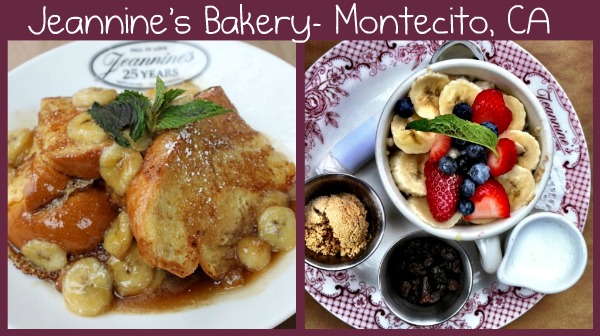 For breakfast the next morning, we found a treasure in downtown Montecito:  Jeannine's Bakery.  This place has a glass case full of many scone flavors, pastries and sweets, as well as a full breakfast menu.
Shown here:
Banana Kahlua French Toast Challah topped w/ Bananas Sauteed in Kahula- Brown Sugar and Butter (my husband's decadent and oh-so-delicous choice!)
Beautiful oatmeal (my healthier choice)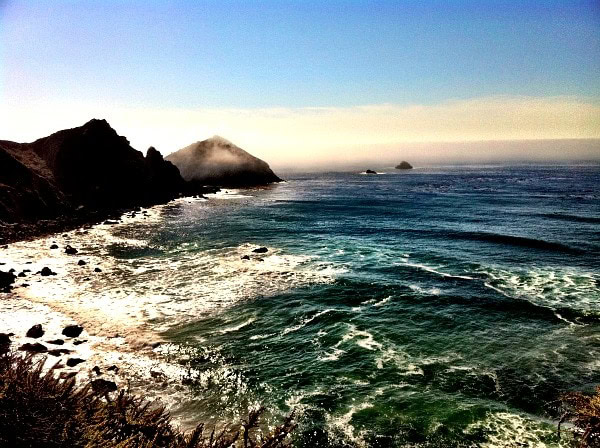 The next day we drove down toward Los Angeles.  More gorgeous scenic views… but the fog started to roll in.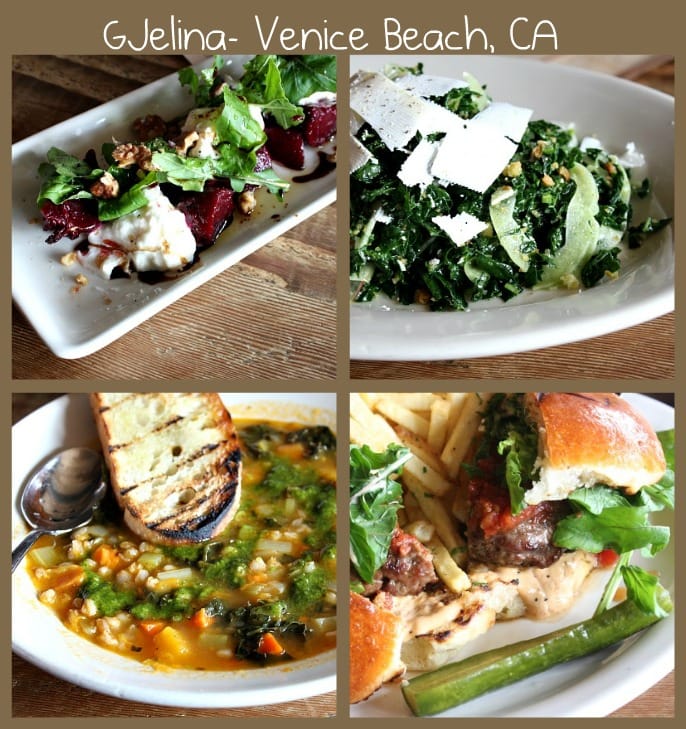 Venice Beach was our next stop.  We've eaten at GJelina before for dinner (amazing!), and we decided to stop here for lunch on this day.
Shown here:
Marinated Beets, Burrata, Torn Herbs, arugula, Balsamic & Green Olive Oil (Oh my!)
Tuscan Kale, Shaved Fennel, Radish, Lemon Ricotta Salata & Breadcrumbs (I love Kale Salad, and this is a good one!)
Tahitian Squash, Farro & Kale Soup w/ Grilled Bread and Charmoula (My favorite of the lunch!)
Niman Ranch Lamb Burger w/ Harissa Aioli, Roasted Tomato & Arugula (Just as good as it sounds)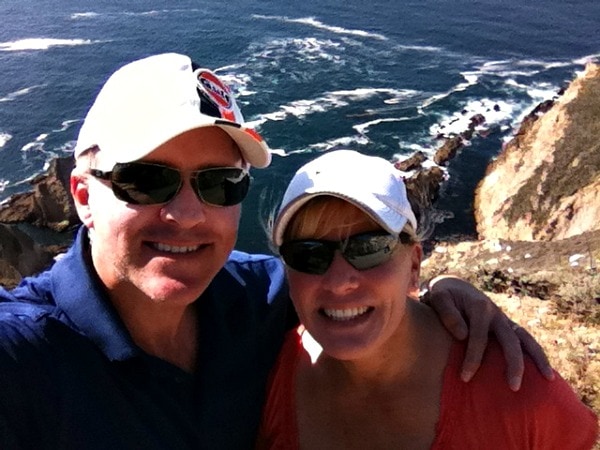 It was a great journey.  Like a second honeymoon… I recommend it!