Roasted Garbanzo Beans with Garlic and Swiss Chard is an incredibly tasty side dish recipe.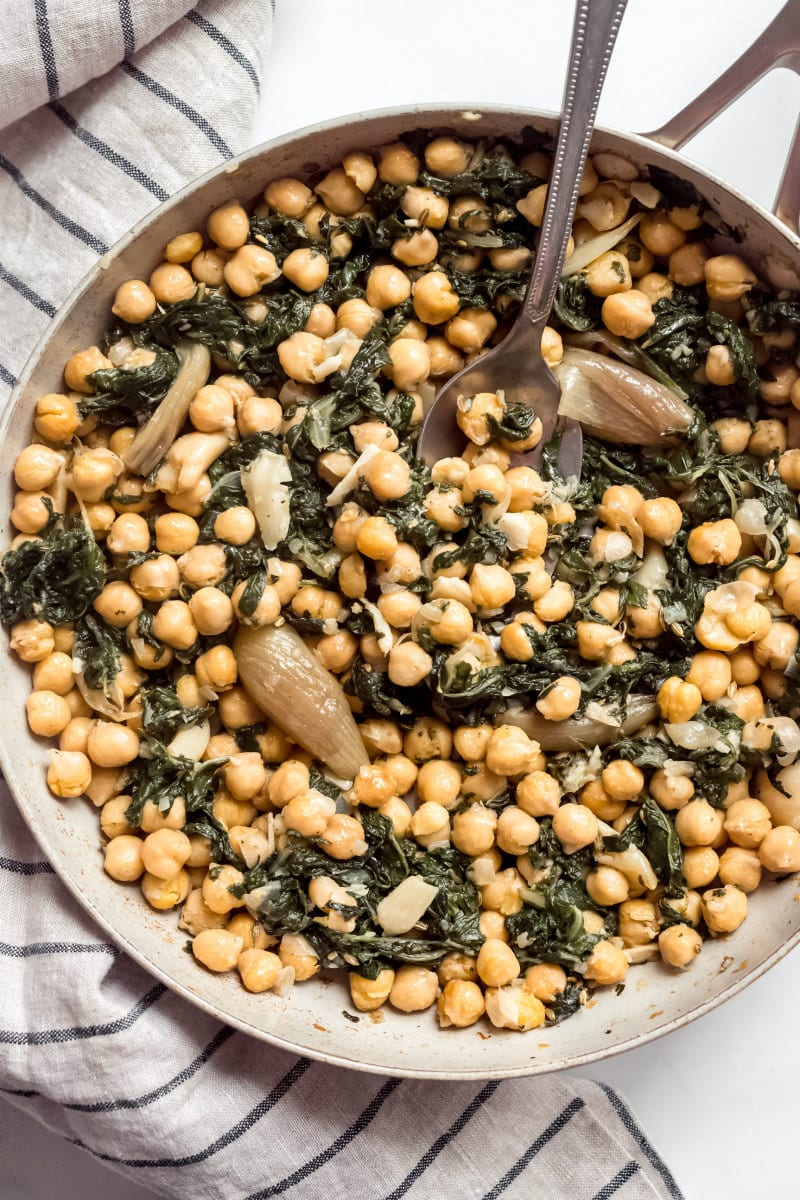 You're probably thinking that this looks like such a simple and not-so-exciting side dish. But wait until you taste it! Roasting garbanzo beans (also known as chickpeas) with olive oil and amazing flavors is such a delicious way to eat them. And serving them with wilted Swiss chard is the perfect combination. I came across this recipe in Bon Appetit magazine back in 2008, and I have been making it on repeat ever since. Read on for details!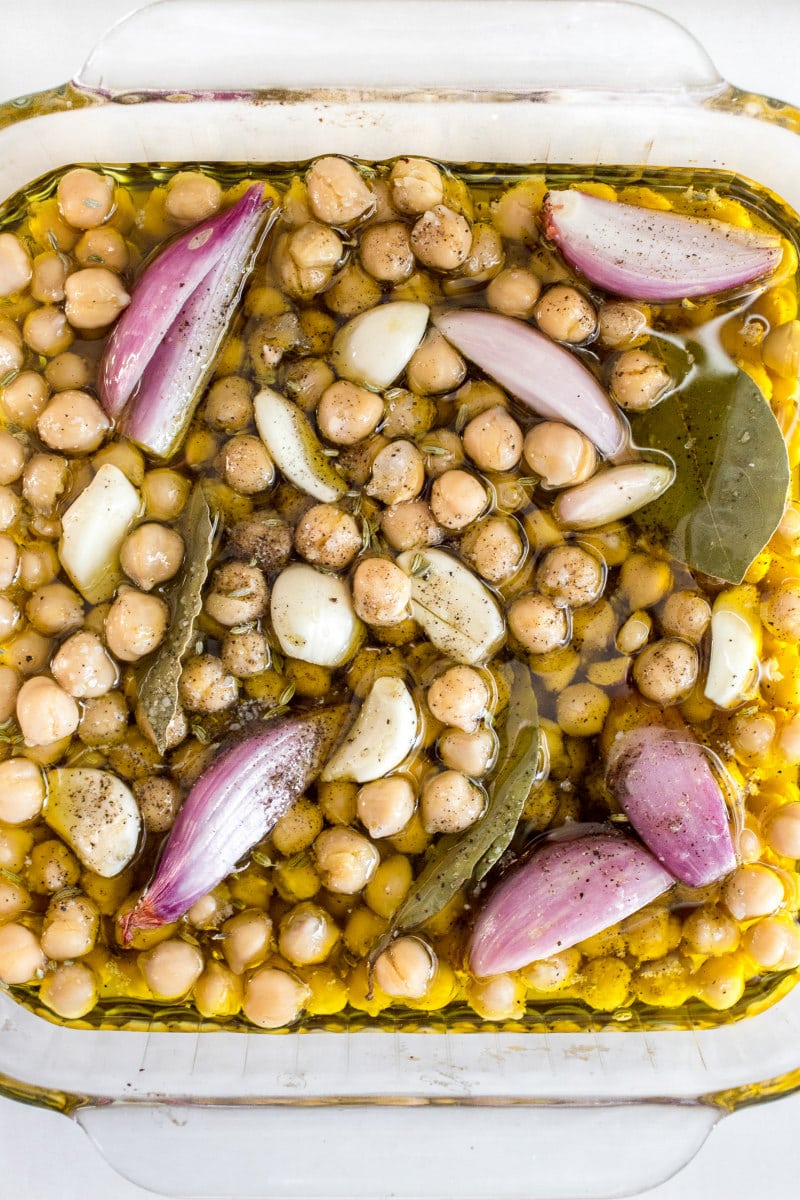 How to make Roasted Garbanzo Beans with Garlic and Swiss Chard:
There are a few steps to making these roasted garbanzo beans, but don't let that scare you! There are some make-ahead tips included in the recipe to make it easier, if you're planning to serve at a dinner where you'll be busy making a lot of other things.
Roasting the garbanzo beans: You'll combine garbanzo beans with garlic cloves, shallots, bay leaves, fennel seeds and a generous amount of olive oil. They are roasted for 45 minutes.
Making the Swiss Chard: Garlic, bay leaves and shallots are sauteéd with a little bit of oil. Chopped chard is added in. Vegetable or chicken broth will be added in too, and the chard is cooked until it is nice and tender.
Then you'll drain the oil from the bean mixture (save the oil!) The last step is combining the garbanzo beans with the chard (and a little of the infused oil) and warming it all up together.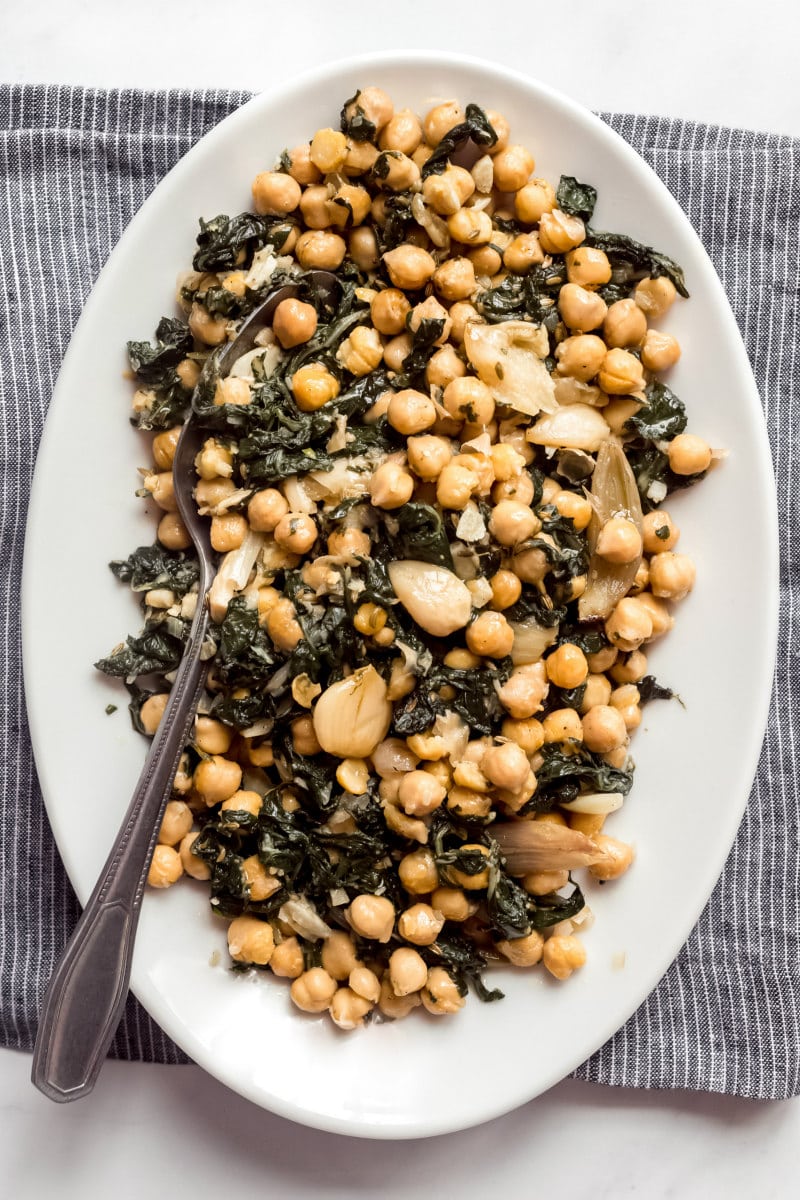 Do you really need all of that olive oil?
Yes! The amount of olive oil used for making roasted garbanzo beans has been tested by the folks at Bon Appetit, and it has been proven to be the perfect amount of oil needed to make this recipe turn out to be so good. The resulting dish will be packed with flavor- smooth, nutty and buttery. I wouldn't change a thing about the recipe.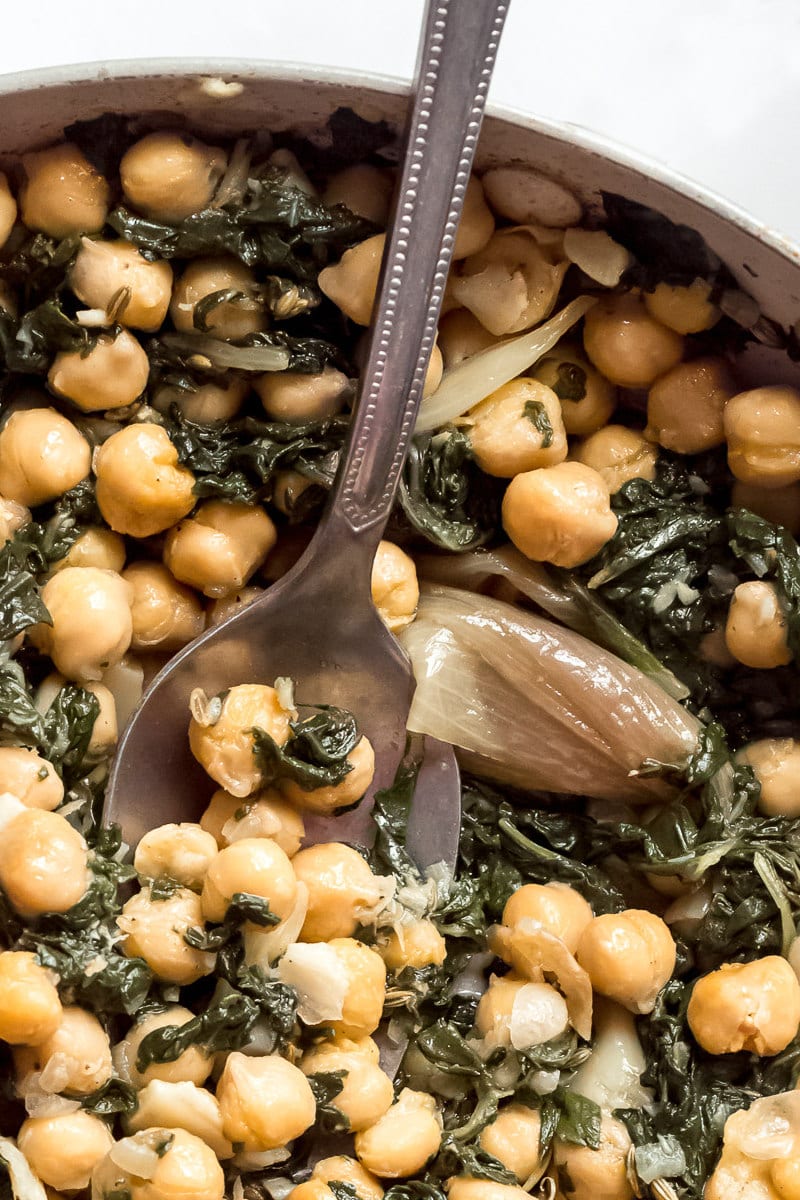 What to do with the infused olive oil?
When you drain the olive oil, you will find yourself with an olive oil that has been infused with great flavors. Don't throw it out! Keep the infused oil to rub onto pizza crust. Use it as a base for homemade salad dressing. Dip baguette slices into it. And use it to sauté other things. It's so good!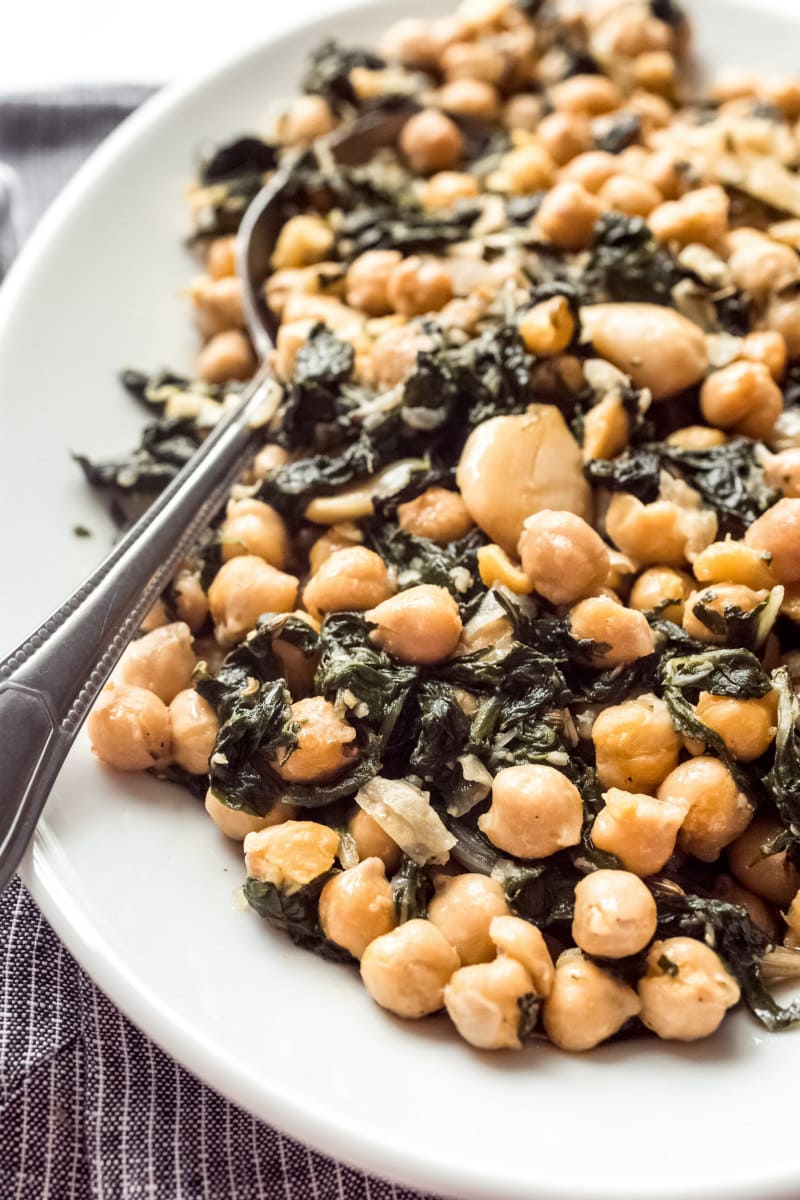 How to serve roasted garbanzo beans:
I first made this recipe for a gourmet Greek dinner party, and we served it alongside roasted lamb. It was fantastic with the lamb. I think it would also be great served with chicken or beef. And vegetarians may enjoy it served over mashed potatoes.
Here are a few more recipes using garbanzo beans that you might like to try:
This recipe has been featured in a post on The Recipe Girl blog: Greek Dinner Party- Main Dishes & Sides. This dish is gluten-free adaptable– please see notes below the recipe.
Thanks to Tara Liptak from the blog, Smells Like Home for the beautiful photography on this post. Tara is one of the photographers for RecipeGirl.com, and I think she captured the deliciousness of these roasted garbanzo beans very well!
Roasted Garbanzo Beans with Garlic and Swiss Chard
An incredibly flavorful dish!
Recipe Details
Ingredients
GARBANZO BEANS:
Two

15.5-ounce cans

garbanzo beans,

rinsed and drained

10

medium

garlic cloves,

peeled

2

large

shallots

3

small

bay leaves

(preferably fresh)

1

teaspoon

fennel seeds

1¼

cups

extra-virgin olive oil
CHARD:
2

tablespoons

extra virgin olive oil

5

medium

garlic cloves,

peeled and crushed

3

small

bay leaves,

preferably fresh

2

medium

shallots,

sliced thinly

2

bunches

Swiss chard,

center stems cut out & leaves coarsely torn

2

cups

low sodium chicken or vegetable broth
Instructions
PREPARE THE GARBANZO BEANS:
Preheat the oven to 350°F. Combine the first 5 ingredients in an 8x8x2-inch baking dish. Sprinkle with salt and pepper. Pour the oil over; cover the dish with foil. Roast until the garlic is tender, about 45 minutes. DO AHEAD: Can be made 1 day ahead. Cool slightly, cover, and chill.
PREPARE THE CHARD:
Heat the oil in a large pot over medium-high heat. Add the garlic, bay leaves, and shallots. Cover; cook until shallots are tender, about 2 minutes. Uncover; add half of the chard. Toss until the chard wilts and the volume is reduced by half, about 2 minutes. Add the remaining chard. Toss until the chard wilts, about 2 minutes. Add the broth. Cover and cook until the chard is tender, stirring occasionally, about 10 minutes. Season the chard with salt and pepper. Transfer the chard mixture to a large sieve set over a bowl and drain. DO AHEAD: Can be prepared 2 hours ahead. Let stand at room temperature.
WHEN READY TO SERVE:
Drain the garbanzos and reserve the oil; discard the bay leaves. Combine the garbanzos and chard in a large skillet. Add 2 tablespoons of oil reserved from the garbanzos. Toss over medium heat until warmed through, moistening with more oil by tablespoonfuls if needed, about 5 minutes. Season with salt and pepper and serve.
Notes
*If preparing this recipe as GLUTEN FREE- just make sure you use brands of beans and broth that are designated as GF.
*Nutritional information is omitted from this recipe because it's impossible to determine accurate information since there it's difficult to know how much oil will remain in the dish.