Using candy bars in baking is nothing new, though I find that the recipes that include a candy bar within the ingredients tend to be pretty popular in the internet world. A candy bar is a treat in itself, so it's no surprise that it sparks intrigue and interest when it is tucked inside of something just as decadent. I did a little investigating on my RecipeGirl Facebook Fan Page the other day… to see what was the favorite candy bar among my readers. Heath/Skor bars won by a mile (I agree!), but close behind were Butterfingers, Reeses, Twix and Snickers.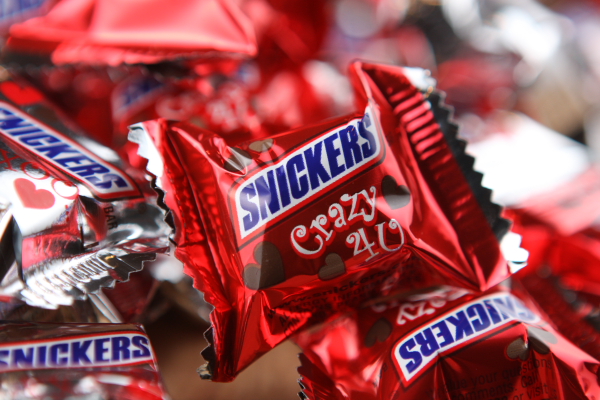 Snickers is the choice for my next baked good experiment: Snickers Bar Cookies. I picked up these babies for next to nothing on clearance after Valentine's Day.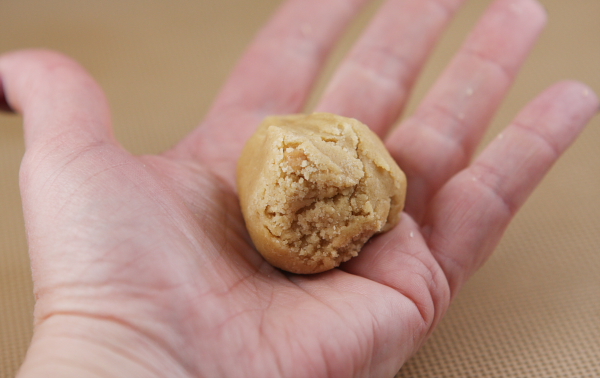 Here's the how-to: Whip up my favorite chunky peanut butter cookie dough, and then roll the dough into little balls. **Please note: I am not a professional hand model. I wish I were. And if you have any skill in reading palms, let me know- I'd be up for hearing what's in my future.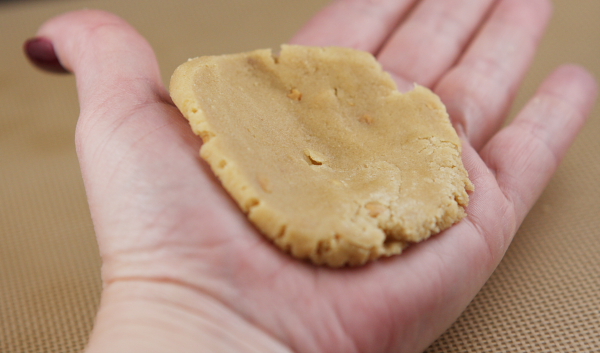 Pat those cookie balls into little pancakes.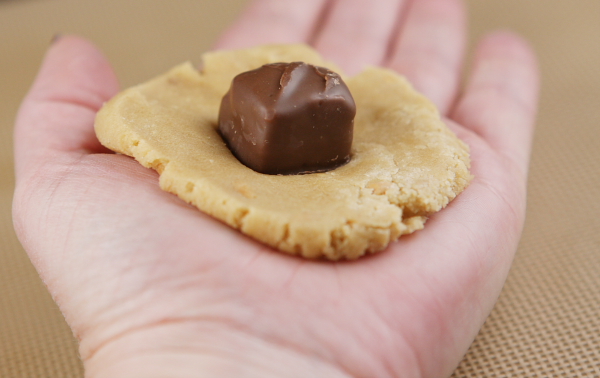 A mini snickers bar is placed on top of each peanut butter cookie pancake.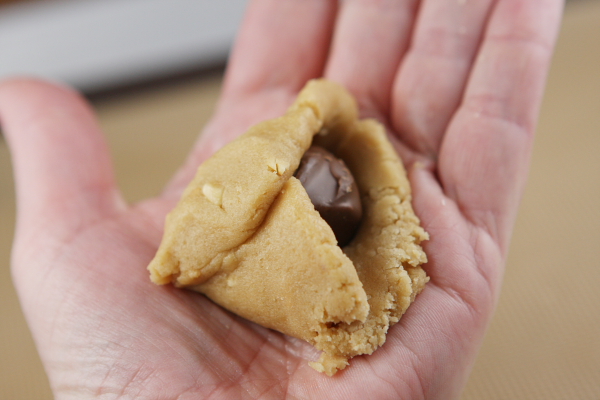 Wrap those peanut butter cookie pancakes around the snickers. Hide the candy bar completely with the peanut butter cookie dough.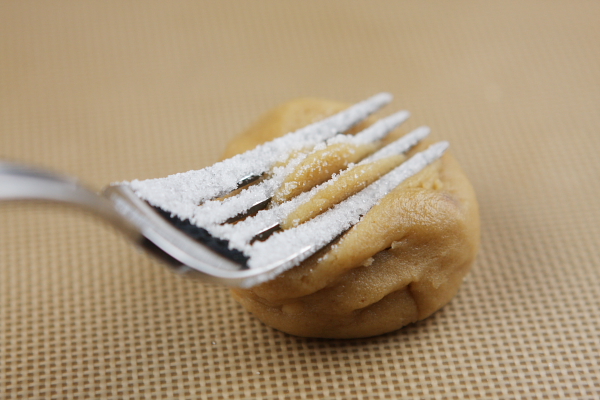 On a cookie sheet, you're going to lightly flatten the cookie dough wrapped snickers with a sugared fork. Why sugared? Try it without sugar and you'll realize why 🙂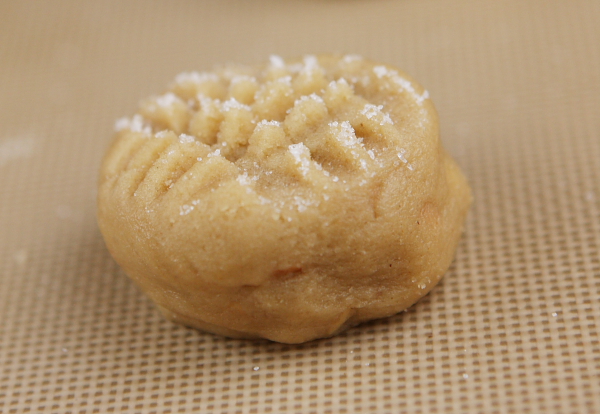 Criss cross. Just because that's what you're supposed to do with peanut butter cookies.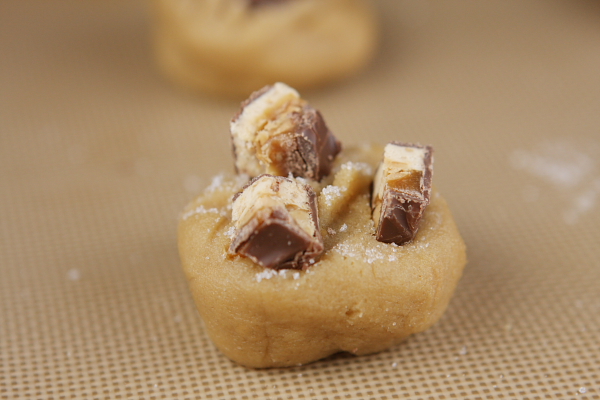 Add a few pieces of chopped snickers on top (you want as much candy bar stuff in this cookie as you can possibly get). I think you'll agree that it's best that way.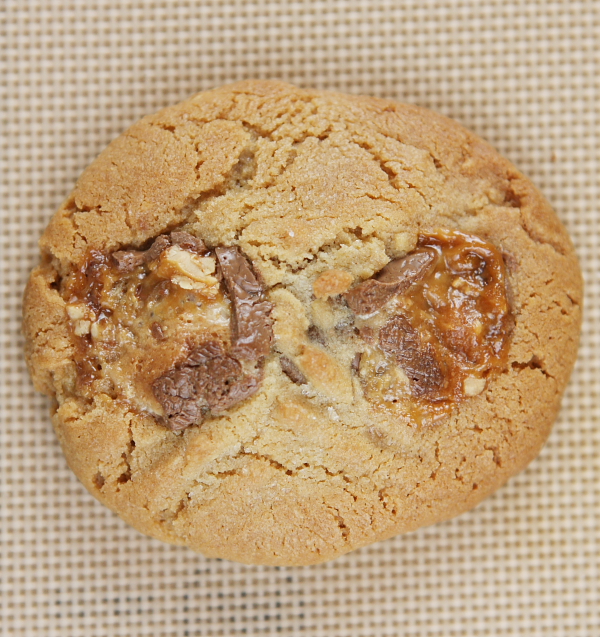 Here's the Snickers Bar Cookie- all baked up and ready to eat.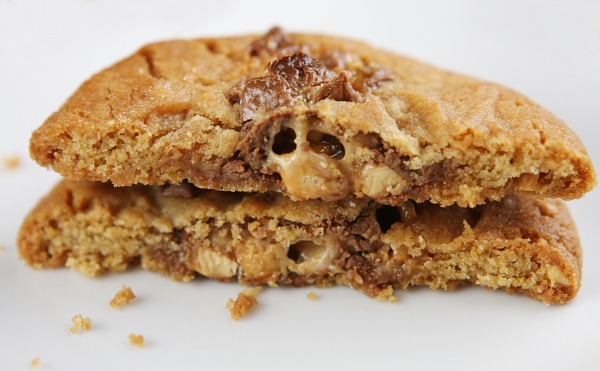 If you eat it warm, you'll come across ooey-gooey Snickers Bar-stuff inside.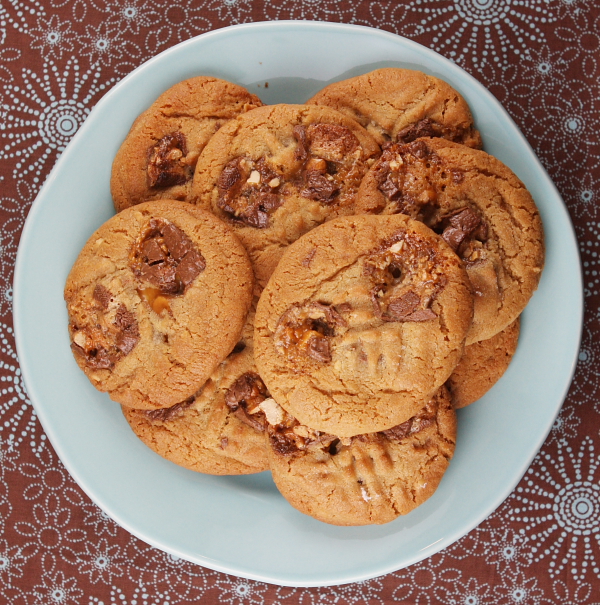 Or plate them, and serve them up later.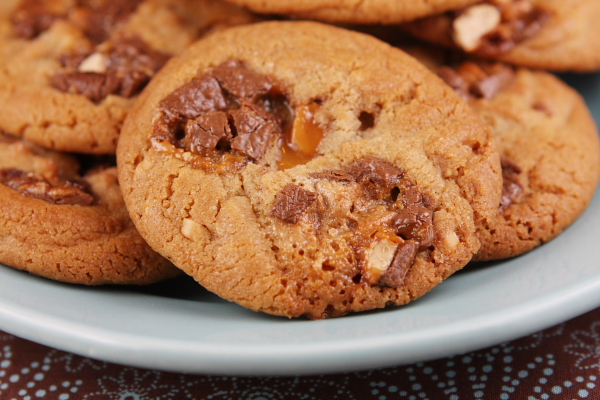 I brought these as a little gift for two of my favorite food blogging friends (Jenny and Mandy) when we met for breakfast recently. Mandy had her three beautiful girls with her, and they promptly chowed down on my Snickers Bar Cookies. Kid Approved 🙂 So what do you think? Are candy bars in cookies a good idea? What's your fave?
Snicker's Bar Cookies
Candy bars make everything taste better (that's my opinion)...
Yield:
About 20 cookies
Prep Time: 30 min + chill time
Cook Time: 10 min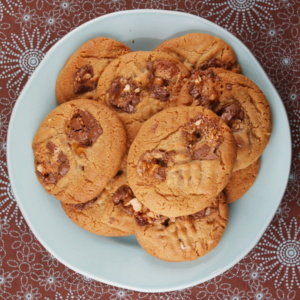 Ingredients:

1/2 cup (1 stick) butter, at room temperature
1/2 cup chunky peanut butter
1/2 cup light brown sugar
1/2 cup granulated white sugar
1 large egg
1 teaspoon vanilla extract
1 1/4 cups all-purpose flour
1/2 teaspoon baking soda
1/4 teaspoon salt
1 (11.5 ounce) package Snickers Miniatures (or similar amount cut into chunks)

Instructions:

1. Line cookie sheet or two with parchment paper or silpat mats.

2. In a large bowl, combine butter, peanut butter and sugars using a mixer on medium speed until light and fluffy. Add egg and vanilla and mix until thoroughly combined. In a separate bowl, whisk together flour, baking soda and salt. Mix flour into peanut butter mixture; mix until just combined. Cover bowl with plastic wrap and chill dough for at least 2 hours.

3. Preheat oven to 350 degrees F. Unwrap Snickers. Shape dough into 1-inch balls (about 1 rounded Tablespoon). Flatten ball in your hand and place a mini Snickers Bar on top. Wrap dough around the candy and place on cookie sheet. Use a sugared fork to criss-cross the top of the cookie and press down slightly. Cut up some extra, smaller chunks of Snickers Bar and place 2 or 3 on top of each cookie. Spread out the cookies so that there are only 6 or 8 per cookie sheet (they'll spread out a bit).

4. Bake 10 to 12 minutes, or until cookies are set.
Other candy bar cookie recipes you might enjoy:
Reeses Peanut Butter Cup Chocolate Chip Cookies by RecipeGirl
Chocolate Fudge Butterfinger Cookies by Picky Palate
Rolo Cookies by Two Peas & Their Pod