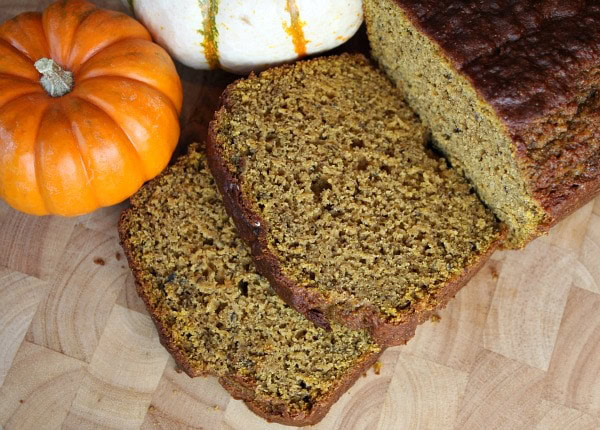 Spicy Whole Wheat Pumpkin- Banana Bread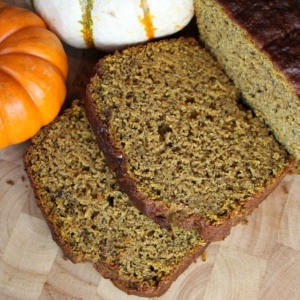 Yield:
24 servings (2 loaves)
Prep Time: 15 min
Cook Time: 1 hr
Ingredients:
2 cups whole wheat pastry flour
2 cups unbleached all-purpose flour
1/3 cup ground flaxseed powder
4 teaspoons baking powder
2 teaspoons baking soda
1/2 teaspoon salt
4 teaspoons ground cinnamon
2 teaspoons ground ginger
1/2 teaspoon ground cloves
One 15-ounce can pure (unsweetened) pumpkin puree
4 large eggs, lightly beaten
1 cup packed light brown sugar
1 1/4 cups mashed ripe banana
1/2 cup extra-virgin olive oil
1/3 cup water
Directions:
1. Preheat oven to 350°F. Spray two 9x5-inch loaf pans with cooking spray.
2. In a medium bowl, whisk together dry ingredients through spices.
3. In a large bowl, whisk together pumpkin and remaining ingredients. Gently stir in dry ingredients just until mixture is incorporated (don't over mix).
4. Divide batter between the two prepared pans. Bake 55 to 65 minutes, or until wooden pick inserted in center comes out clean. Cool pans on wire racks for 20 minutes, then gently turn out loaves onto wire racks to cool completely.
Nutrition:
Nutritional Information per serving:
Serving size: 1/12th of a loaf
Calories per serving: 187
Fat per serving: 6.46g
Saturated Fat per serving: 1.03g
Sugar per serving: 11g
Fiber per serving: 3.16g
Protein per serving: 4.26g
Cholesterol per serving: 35.25mg
Carbohydrates per serving: 29.68g
WW POINTS per serving:
Points Plus Program: 5 Old Points Program: 5