Every season deserves its own cocktail. My favorites…
Fall:  Cranberry Mojitos
Winter:  The Best Red Wine Sangria
Spring:  Spotted Gecko Margaritas
And a new one for me this summer:  Watermelon- Tequila Cocktails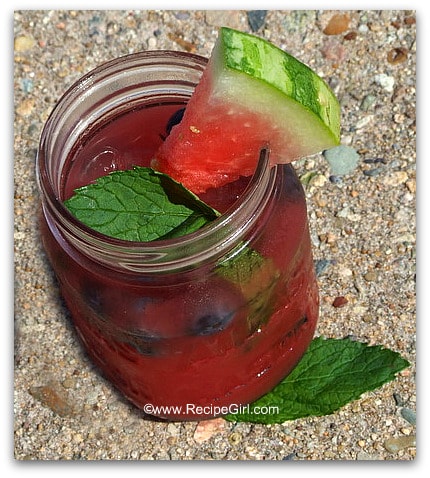 Originally from Bobby Flay, this drink combines watermelon & lime juices with simple syrup. Silver tequila is the alcohol of choice in this one. A few blueberries and mint leaves are dropped into each drink and muddled around a bit.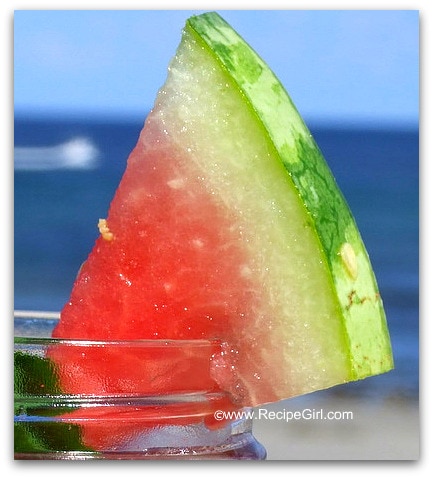 A little garnish of watermelon wedge completes the drink. Does this say 'summer' or what? We had these over 4th of July weekend, but they'd be great for a summer bbq or Labor Day party.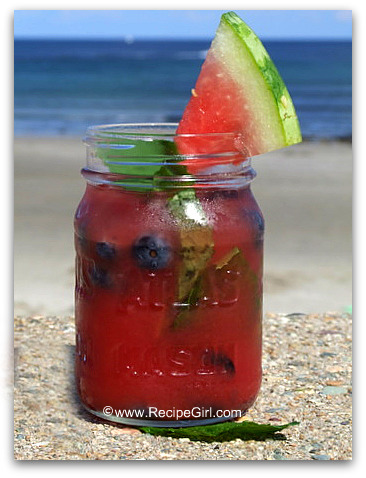 I served these in mason jars just to be a little quirky and fun. I'm not usually a big tequila fan, but it worked well w/ the watermelon. I was a little torn on whether or not I should try to use just regular old gold tequila instead of the suggested 'silver' tequila. In the end, I went with the silver. My Twitter friends convinced me that the smoother-tasting silver tequila would work best in this drink, and I think they were right. It was tough to stop drinking these… they were so sweet and yummy.
This recipe can be found here: Watermelon- Tequila Cocktails
——————————————–
More watermelon drinks on the blogs:
RecipeGirl.com: Watermelon Mojitos
In Jennie's Kitchen: Watermelon- Cilantro Margaritas
Al Dente: Watermelon Lemonade
FeelGood Eats: Watermelon Agua Fresca
Lisa is Cooking: Pink Margarita Slushes