I had my first fish taco in 1986. It was Spring Break, and I was down in San Felipe, Mexico with a bunch of crazy college friends. We had them daily during our stay, buying them from street carts for a buck and gobbling them up one after the other, washing them down with Corona beer. One San Diegan latched on to the idea of these fabulous fish tacos and opened up a chain of fish taco restaurants that were an instant success.
Southern California is now pretty much a mecca for fish tacos. We eat them for lunch or we eat them for dinner. You can buy them in one of a zillion tiny Mexican fast food places, or you can order them in fancy restaurants… everyone seems to have their own unique twists on the fish taco. I've made many a fish taco at home, but my most recent creation involves shrimp: Tequila-Lime Shrimp Tacos with Chipotle Cream.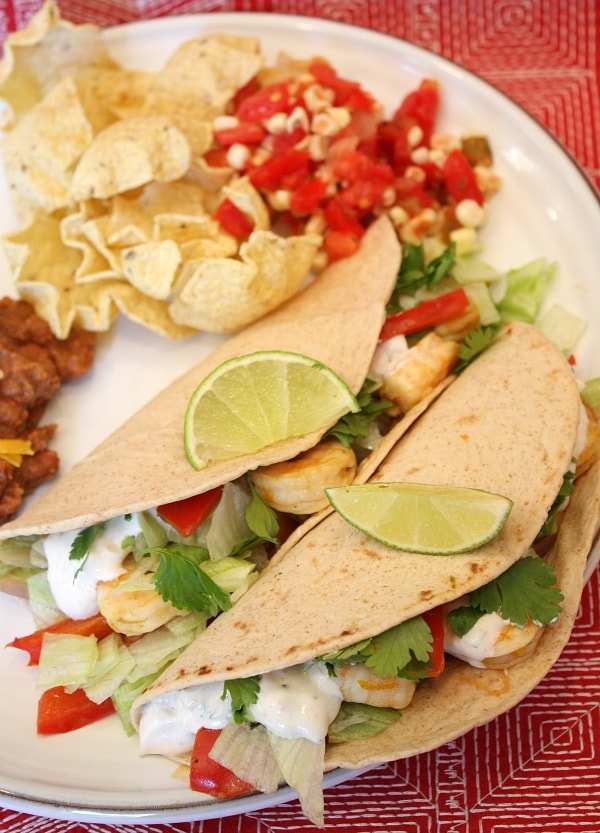 The shrimp is marinated in tequila, lime zest & juice, orange zest & juice and a spoonful of sugar. They're sauteed and served fajita-style w/ red bell pepper strips and onion. Then they're tucked into a warmed flour tortilla, topped with lettuce and cilantro and finished off with a spiced-up sour cream sauce.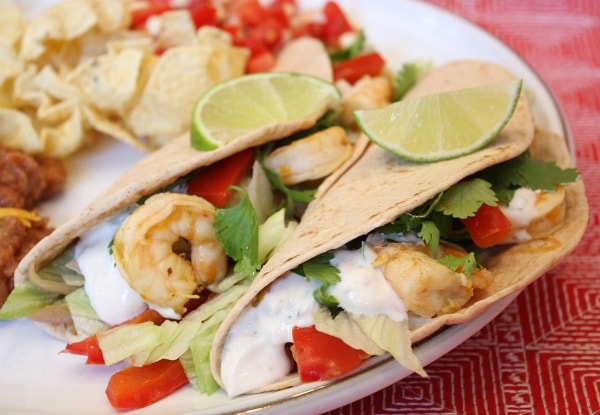 We don't go down to Mexico anymore as it's not really all that safe for Americans.  So I made these at home instead, and we ate them after a long, hot day at Petco Park watching our San Diego Padres win another baseball game.   With a scoop of beans, a couple of handfuls of chips (and a Corona or two for the adults), I had one happy family. These were completely delicious. I used soft taco-sized low-carb flour tortillas (trimmed a little bit since I think they're too big for a taco), and I used light sour cream in the sauce. The flavors are fresh and it felt healthy but filling.  They're a good choice to serve up on Cinco de Mayo too (if you're a celebrator).
Note to the Nay-Sayers (and I know you're out there…. you people who think that fish doesn't belong in a taco…): All I have to say to you is, "You've really got to try them before you bash the idea. They're so good!"
This recipe can be found here: Tequila- Lime Shrimp Tacos with Chipotle Cream Sauce.
You might also like….
Fish Tacos w/ Chipotle Cream
San Diego Style Fish Tacos