Our seemingly endless Little League baseball season is fiiiiiiinally over. Basketball too. And school ends this week!  It's time to start thinking about flip flops, beach towels, BATHING SUITS, and sand between my toes. In other words, it's time to start thinking about "salad." Here's a nice version of a layered salad for summer that includes all kinds of delicious goodies: Tex Mex Layered Salad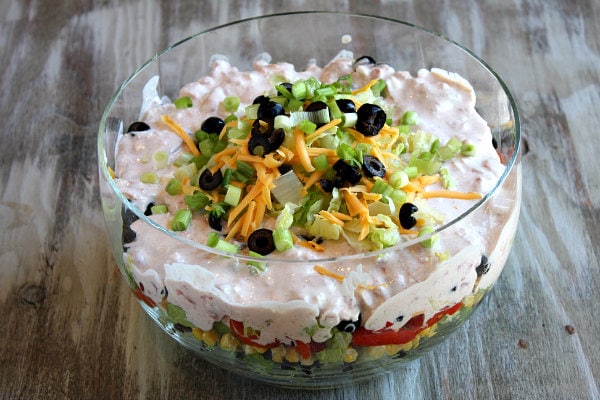 Click below to watch a quick video showing you how to make this salad! Scroll all the way to the bottom to print out the recipe.
There's no meat in this salad (but you can add a layer of seasoned taco meat if you'd like), and it's easily gluten-free adaptable.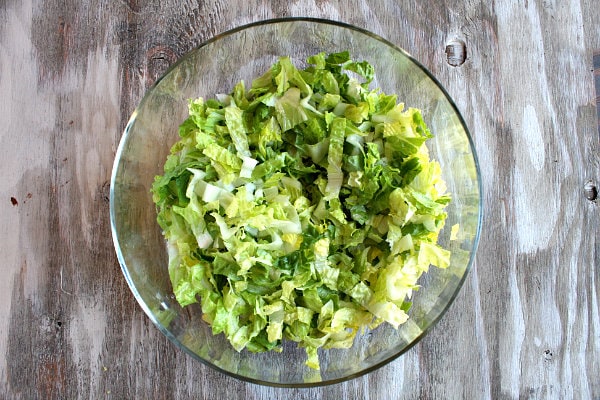 1st layer:  chopped lettuce. I used Romaine here, but I sometimes use a combination of chopped Romaine and chopped Iceberg. I like the added crunch that iceberg gives.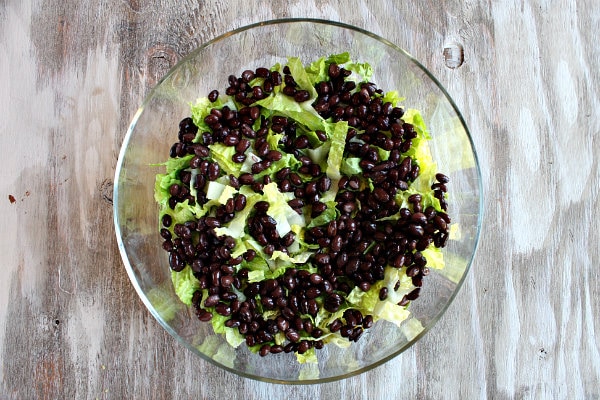 2nd layer:  black beans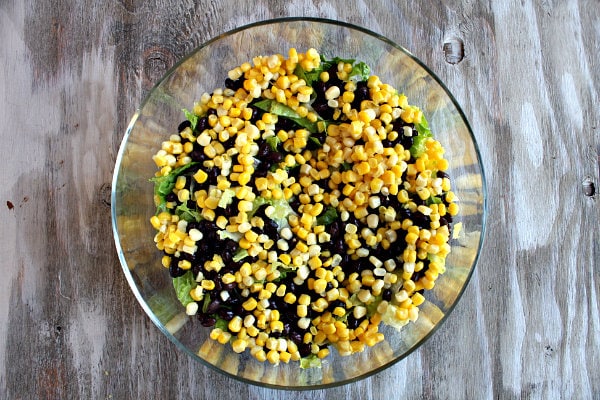 3rd layer:  corn (use canned or fresh kernels)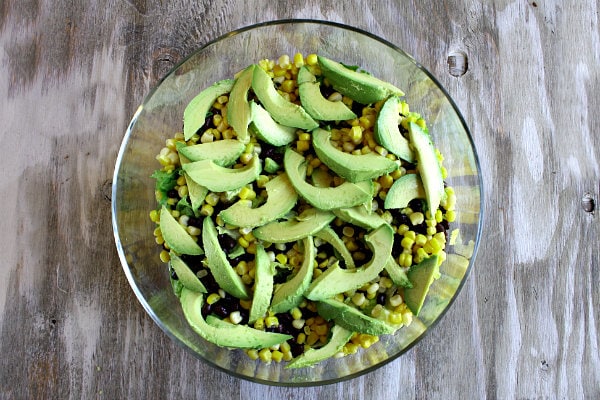 4th layer:  avocado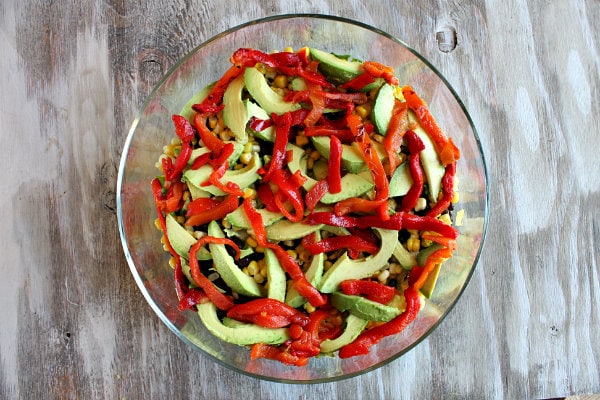 5th layer:  roasted red peppers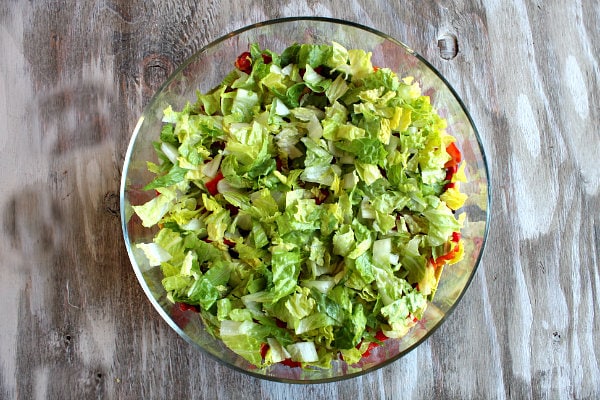 6th layer:  a little more lettuce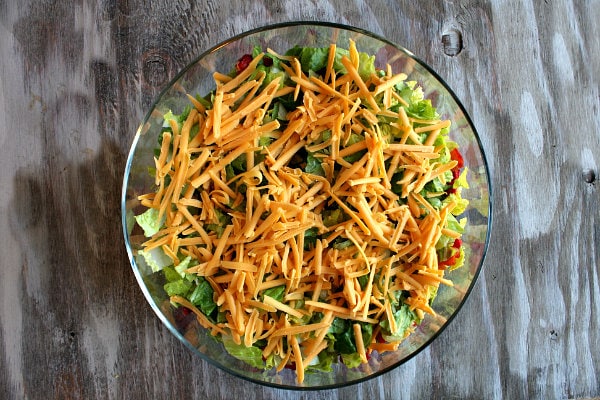 7th layer:  shredded sharp cheddar cheese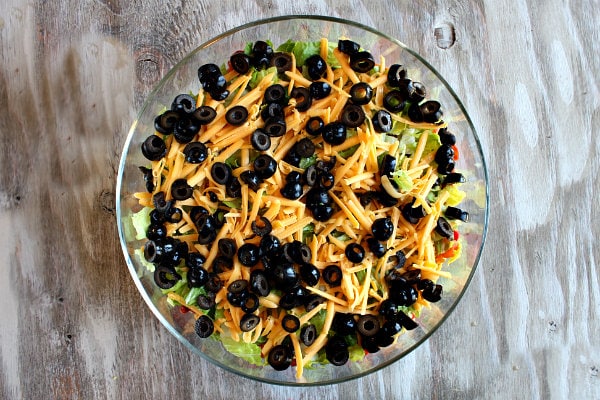 8th layer:  sliced olives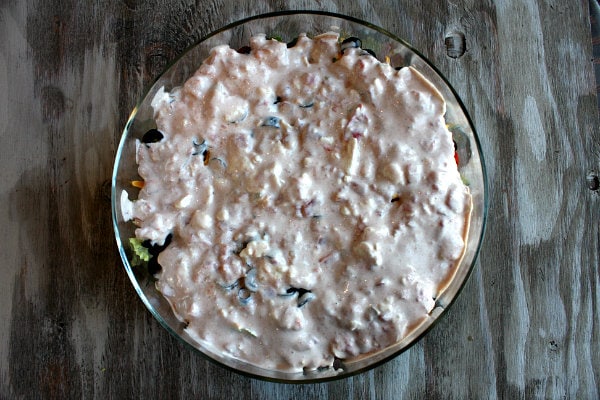 9th layer:  a homemade Tex Mex dressing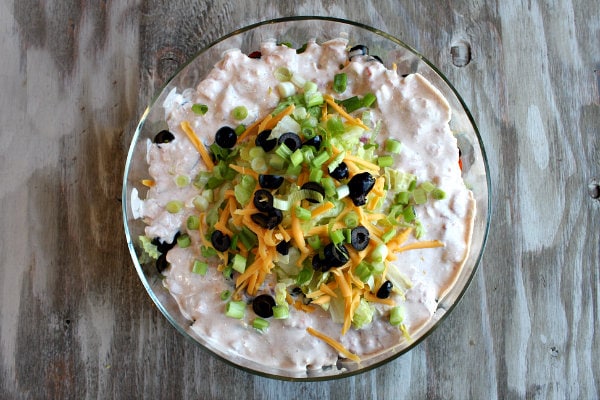 10th layer:  a garnish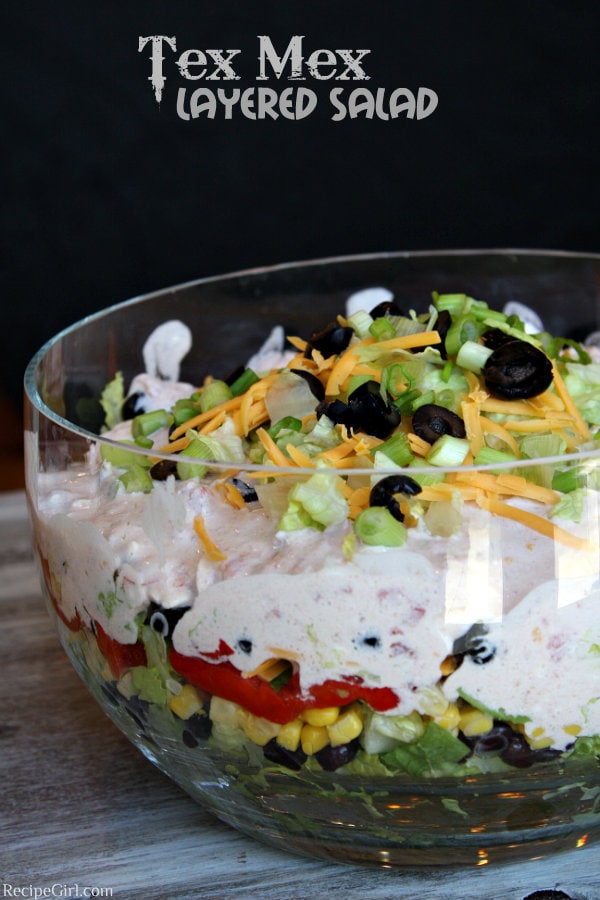 The best part is… if you don't like a layer, leave it out or replace it with something you like better!  The dressing mixes into the salad as it's served.  This salad is a nice choice to bring for all of those summer barbecue potlucks you're going to be invited to.  And because you're eating salad, now you can go bathing suit shopping!  Yeah, good luck with that. 😉
Yield: 12 servings
Prep Time: 20 minutes
Tex Mex Layered Salad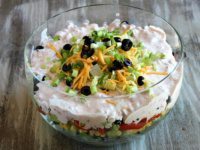 Ingredients:
Dressing:
One 10-ounce can original Rotel (tomatoes + green chiles)
8 ounces sour cream
3 ounces cream cheese, softened
1 teaspoon ground cumin
1 medium garlic clove, minced
Salad:
6 cups chopped Romaine lettuce (or a mix of Romaine & Iceberg)
One 15-ounce can black beans, rinsed and drained
One 15-ounce can corn (or 1 1/2 cups fresh corn), drained
2 medium avocados, peeled and sliced or diced
3/4 cup jarred roasted red pepper strips
1 cup shredded sharp cheddar cheese
One 6-ounce can sliced olives, reserve a few for garnish
1/4 cup sliced green onions
additional chopped lettuce, shredded cheese and olives for garnish
Directions:
Prepare the dressing: Place dressing ingredients in a large bowl and use an electric mixer to combine until smooth. Set aside while you prepare the salad.
Prepare the salad: Layer the salad ingredients in a large glass bowl in the following order: 4 cups of lettuce, black beans, corn, avocado, red peppers, 2 more cups of lettuce, cheese, and olives. Spread the dressing on top. Then use a few sprinkles of chopped lettuce, cheese, olives and green onions to garnish the top. Cover and refrigerate for up to 2 hours, or serve immediately.
Tips:
If you are preparing this recipe as gluten-free, just be sure to use a brand of black beans that is known to be GF.
This salad is vegetarian as written, but you can easily add a layer of taco-seasoned chicken or ground beef to the salad.
Use light versions of sour cream, cream cheese and shredded cheese if you're watching your calorie intake.
SOURCE: RecipeGirl.com
Other great layered salad recipes on the blogs:
Layered Quinoa Salad with Beet Vinaigrette by Family Fresh Cooking 
Layered Pasta Salad by Real Mom Kitchen 
Layered Mediterranean Salad by Never Enough Thyme 
Lebanese Layered Salad by Tasting Spoons 
Layered Caribbean Chicken Salad by Bunny's Warm Oven 
Comments