Our neighborhood's gourmet club met recently to share in a wonderful feast. My task on this evening was to bring a festive dessert. The choice: Cherries Jubilee! Cherries Jubilee was thought to have made its first appearance as a dessert in the late 1800?s as a treat created for Queen Victoria. Its popularity in America soared in the 1950?s and 60?s with housewives who wanted to impress their dinner guests with a flaming dessert. Count me in as a "housewife" who was out to impress my friends…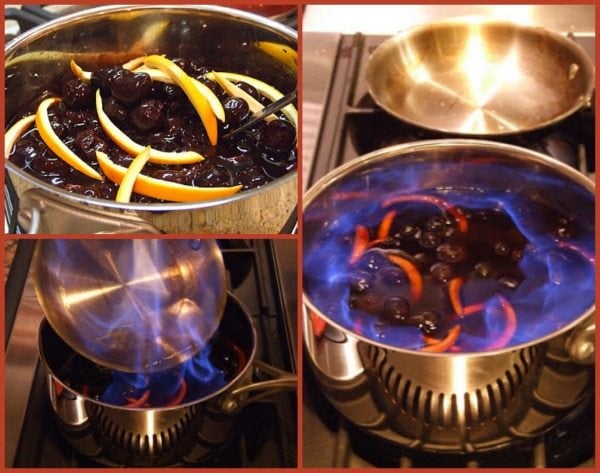 The recipe I found (from Bon Appetit) had a few ingredients that I knew I might have to hunt high and low for… frozen sweet cherries, cherry juice, arrowroot, and kirsch. I made a quick call to my local grocery store to inquire about these very ingredients. The clerk told me that they didn't carry any of them except for arrowroot. Great… I decided to go to the store anyways to get the other stuff I needed… and low and behold, they carried all of the ingredients I needed except for kirsch. After a quick chat with the manager (hee hee), I was off to Beverages and More to find my kirsch (clear cherry brandy).
Dried cherries, cherry juice, sugar and a scraped vanilla bean boiled down to make a wonderful sauce that was thickened with powdered arrowroot. Cherries and orange peel were added in the end to make a lovely orange-scented chunky cherry sauce.  When the big dessert moment arrived, I heated the kirsch in a small pan, lit it on fire, and asked my husband to drizzle the flaming kirsch into the cherries!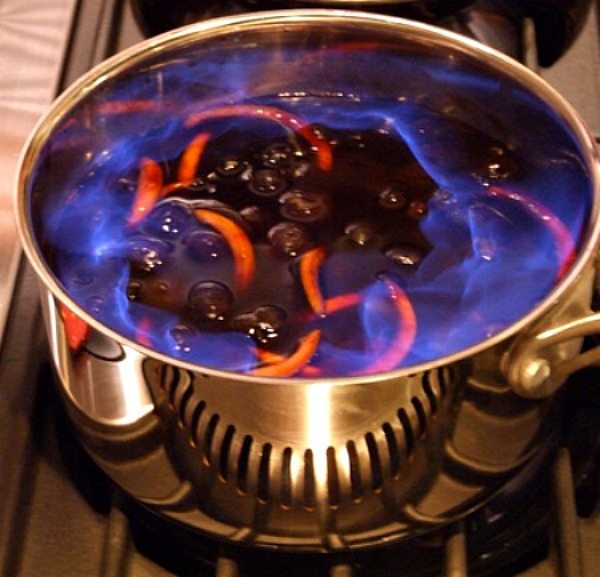 The flame lingered for a bit until it burned out on its own. Time to serve up the cherries!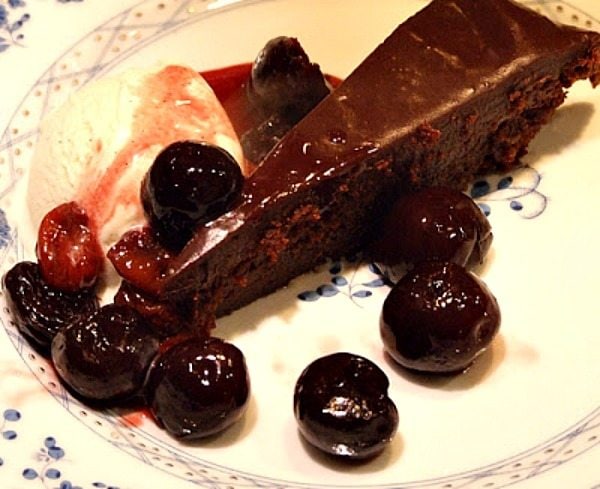 Another gal in our group brought a wonderfully rich European Chocolate Truffle Cake, and I brought some Homemade Vanilla Bean Ice Cream, so we served up a sliver of the cake, a scoop of the ice cream and a spoonful of the Cherries Jubilee! YUMMY! The cake was terribly rich and gooey and chocolatey, the ice cream was super decadent, and the cherries were the perfect complement to both. I recommend this as a flaming great dessert to have when you want to impress your guests!
Cherries Jubilee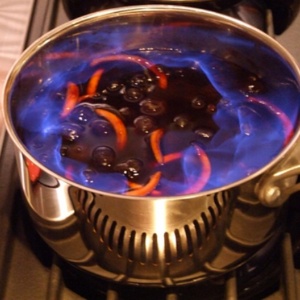 A lovely, elegant dessert!
Yield:
6 servings
Prep Time:25 min
Cook Time:15 min
Ingredients:
1 pound bag frozen dark sweet cherries, thawed
2 cups + 1 Tablespoon cherry juice
1/2 cup dried tart cherries
3 Tablespoons granulated sugar
1 whole vanilla bean, split lengthwise
1 Tablespoon arrowroot
1/4 cup thin matchstick- size strips orange peel (orange part only)
1/3 cup kirsch (clear cherry brandy)
1 quart vanilla or cherry- vanilla swirl ice cream
Directions:
1. Place sieve over bowl. Add thawed cherries; let drain. Pour drained juices into heavy medium skillet (set cherries aside). Mix 2 cups cherry juice, dried cherries and sugar into same skillet. Scrape in seeds from vanilla bean; add bean. Boil sauce until reduced to 1 1/2 cups, stirring occasionally, about 12 minutes.
2. Mix arrowroot with remaining 1 Tablespoon juice in small bowl. Whisk into sauce. Boil until thickened, about 1 minute. Discard vanilla bean. Mix in drained cherries and orange peel.
3. When ready to serve, heat kirsch in skillet over low heat. Remove from heat. Carefully ignite kirsch with match. Carefully pour flaming kirsch into sauce. Scoop ice cream into bowls. Spoon sauce over.
Tips:
*Arrowroot is a white powder that can usually be found in the baking aisle of your supermarket.
*Kirsch can be found at larger supermarkets and liquor stores.