I used to be addicted to Starbuck's Pumpkin Scones.  I'm not sure why… they're not terribly moist (pretty darn dry, in fact).  I think it was the icing on top that attracted me.  And it's probably more about the luxury of ordering something that looks like it should go well with my Pumpkin Spice Latte.  Well… I'm done with Starbuck's Pumpkin Scones. I'm actually done with the Lattes too, opting instead for my cheaper, at-home treat:  2 bags of steeped decaf English Breakfast tea with a packet of Spenda and a splash of milk.  And I've found a muffin recipe that compensates for the loss of the etherial Pumpkin Scone:  Whole Wheat Pumpkin Spice Muffins with Cinnamon Cream Cheese Glaze.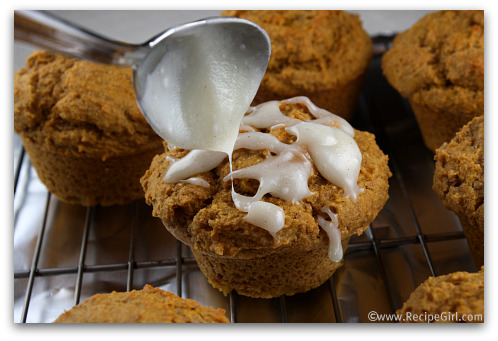 You may be thinking that you don't like muffins with frosting. Too sweet for a morning treat, you say? Really? Think cinnamon rolls… would you really want to eat a cinnamon roll without a large schmear cream cheese icing on top? I think not. You can, however, leave some of them plain (for those people who aren't fans of a glazey muffin). B.O.R.I.N.G.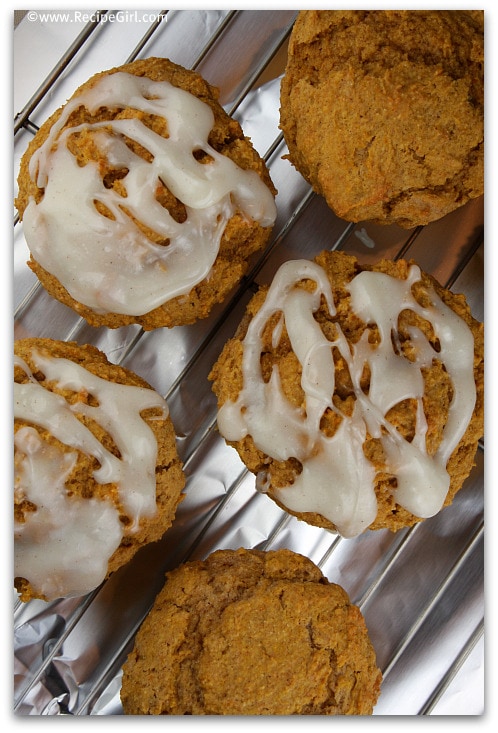 I had one of those people (Hi Mom!) in my house when I made these, so I made some with and some without.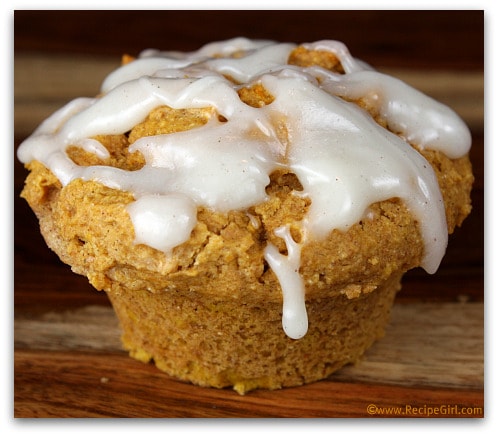 Now tell me, isn't that muffin just calling to you? It's saying, "Munch on me and you'll get a mouthful of moist, crumbly muffin with a smidgen of oozy, cream cheesey sweetness included in every bite." And those Starbuck's Pumpkin Scones I mentioned earlier… they got nothin' on these.
This recipe can be found here:  Whole Wheat Pumpkin Spice Muffins
(& it was adapted from one orginally found on Stephanie's Kitchen)