Three Bean and Beef Chili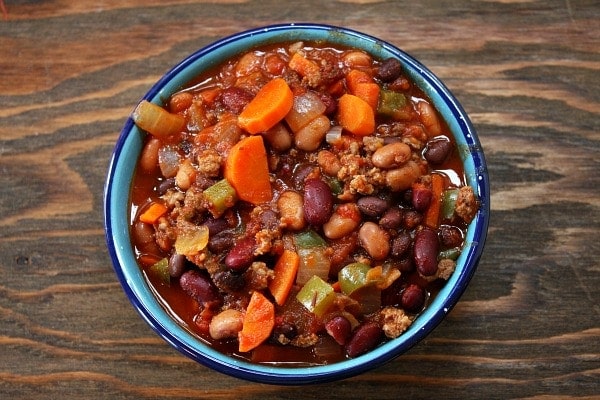 Yield: 8 servings (1 1/4 cups per serving)
Prep Time: 30 min
Cook Time: 60 min
Three Bean & Beef Chili
Having a big tub of chili around during the week is a great thing. It makes for a very filling and nutritious lunch! This dish is gluten-free adaptable- please see tips below the recipe...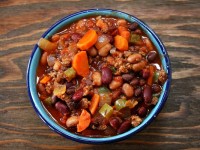 Ingredients:
1 Tablespoon olive oil
1 medium onion, diced (1 cup)
1 medium red or green bell pepper, diced (1 cup)
2 medium carrots, diced (1/2 cup)
2 teaspoons ground cumin
1 pound extra- lean ground beef (90% lean)
1 (28 ounce) can crushed tomatoes
2 cups water
1 canned chipotle chile in adobo sauce, seeded & minced
2 teaspoons adobo sauce from the can of chipotles
1/2 teaspoon dried oregano
salt & freshly ground black pepper
1 (15.5 ounce) can black beans, drained & rinsed
1 (15.5 ounce) can kidney beans, drained & rinsed
1 (15.5 ounce) can pinto beans, drained & rinsed
Directions:
1. Heat oil in large pot or Dutch oven over moderate heat. Add the onion, bell pepper and carrots, cover and cook, stirring occasionally until the vegetables are soft, about 10 minutes.
2. Add cumin and cook, stirring, for 1 minute. Add ground beef; raise the heat to high and cook, breaking up the meat with a spoon, until the meat is no longer pink. Stir in the tomatoes, water, chipotle and adobo sauce, oregano and salt and pepper. Cook, partially covered, stirring from time to time, for 30 minutes.
3. Stir in the beans and continue cooking, partially covered, 20 minutes longer. Season, to taste, with salt and pepper.
Tips:
*To prepare this recipe as GLUTEN FREE, just be sure to use a brand of Chipotles in Adobo Sauce that is designated as GF (La Costena brand is GF) and beans that are GF.
Nutritional Information per serving:
Serving size: 1 1/4 cups
Calories per serving: 311
Fat per serving: 9g
Saturated Fat per serving: 3g
Sugar per serving: 3.14g
Fiber per serving: 11.62g
Protein per serving: 22.5g
Cholesterol per serving: 36.85mg
Carbohydrates per serving: 26g
WW POINTS per serving:
Points Plus Program: 6 Old Points Program: 8
2 Responses to "Three Bean and Beef Chili"
Leave a Comment