Organic Banana- Zucchini Bread
This recipe has been featured in a post on The Recipe Girl blog: Deliciously Organic Banana Bread.
Yield: One loaf (8 to 10 servings)
Prep Time: 15 min
Cook Time: 60 min
Organic Banana- Zucchini Bread
This recipe comes from Carrie Vitt's Deliciously Organic Cookbook. Prepare it with all organic ingredients, or feel free to make substitutions if you prefer.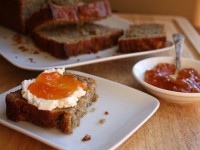 Ingredients:
3 Tablespoons unsalted butter
3 Tablespoons coconut oil
2 1/2 cups whole wheat pastry flour
1 cup whole cane sugar or Sucanat
1/2 teaspoon sea salt
1 teaspoon baking soda
3 medium very ripe bananas
1/2 cup grated zucchini
1/4 cup buttermilk
2 large eggs
1 teaspoon vanilla extract
Directions:
1. Preheat oven to 350 degrees F. and adjust rack to middle position. Butter a loaf pan.
2. Melt butter and coconut oil in a small saucepan. Cool slightly. Whisk flour, sugar, salt and baking soda in a large mixing bowl. Stir together mashed bananas, zucchini, buttermilk, eggs, melted oils and vanilla in a medium bowl. Pour wet ingredients into dry ingredients and gently stir until just blended.
3. Pour batter into the loaf pan and bake for 50 to 60 minutes or until golden brown and a toothpick pressed into the center comes out with a few moist crumbs attached. Cool for 10 minutes and then run a knife around the outside to loosen the edges. Turn loaf out onto a cooling rack and cool before serving.
Leave a Comment