This recipe has been featured in a post on The Recipe Girl blog: 
Healthy Challenge- How Do You Stay Motivated?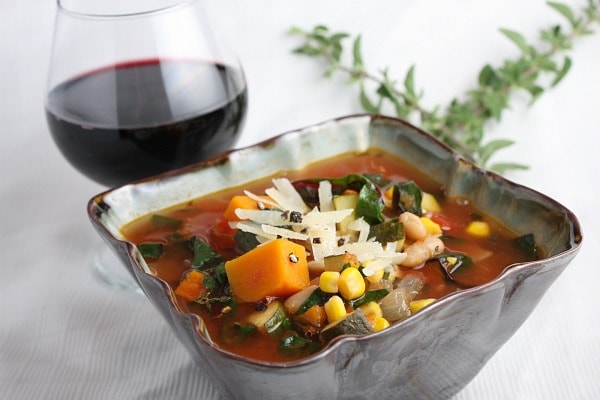 This low fat soup is rich in flavor, hearty and filling. It's a good healthy soup to start off the New Year or keep you warm on a winter's day.
Print Recipe
ITALIAN- STYLE VEGETABLE SOUP
www.RecipeGirl.com
2 tsp olive oil
1 medium sweet yellow onion, chopped
2 tsp chopped fresh oregano
4 cloves garlic, minced
3 cups peeled, seeded & chopped butternut or acorn squash
3 cups chopped zucchini (about 4 medium)
1 cup fresh or frozen corn kernels
Two 14.5-ounce cans petite diced tomatoes, drained
Three 14-ounce cans fat-free, low sodium chicken broth
One 15.5-ounce can white beans, rinsed and drained
1 bunch cleaned and chopped Swiss chard- leaves only- leave thick ribs out (about 5 ounces total)
1 tsp sea salt
1/2 tsp freshly ground black pepper
1/2 cup freshly grated Parmesan cheese
1. Heat oil in large pot over medium-high heat. Add onion to pot & sauté for a couple of minutes, until softened a bit. Add oregano & garlic; sauté 1 minute. Stir in squash, zucchini, & corn and continue to sauté a few more minutes until veggies begin to get tender. Remove from heat.
2. Place 1 can of (drained) tomatoes and 1 can of broth in a blender and process until smooth. Pour into the pot with the vegetables and return to heat. Stir in second can of (drained) tomatoes and 2 cans of broth. Bring mixture to a boil; reduce heat and simmer for about 20 minutes.
3. Add beans and Swiss chard to the pot and stir until chard begins to wilt (about 5 minutes). Remove from heat and stir in salt and pepper.
4. Ladle soup into bowls and sprinkle Parmesan on top of each individual serving.
Servings: 8
Nutrition Facts
Amount Per Serving
Calories 211
Calories From Fat (16%) 34
Total Fat 3.82g
Saturated Fat 1.42g
Cholesterol 5.50mg
Sodium 870.69mg
Potassium 1095.04mg
Carbohydrates 36.32g
Dietary Fiber 7.42g
Sugar 8.67g
Net Carbohydrates 28.90g
Protein 11.70g
WW Points: Points Plus: 5    Old WW Program: 5.5
Cooking Tips
*Substitution ideas… In the summer time, sub fresh yellow squash for the butternut and spinach for the Swiss chard. Add carrots and celery too if you'd like.