This recipe has been featured in a post on The Recipe Girl blog: Happy, Happy Hour on the Beach.
Yield: 2 1/2 cups (serves 16)
Prep Time: 20 min + time for refrigeration
Layered Greek Dip
This is SUCH an easy dip recipe to make- very unique with lots of flavors combined- and it was enjoyed by many at a family beach party.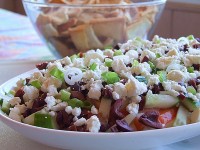 Ingredients:
1 (8 ounce) package cream cheese, softened (low fat is fine)
1 Tablespoon freshly squeezed lemon juice
1 teaspoon dried Italian seasoning
3 cloves garlic, minced
1 1/2 cups prepared hummus
1 cup chopped cucumber
1 cup chopped tomato
1/2 cup chopped pitted Kalamata olives
1/2 cup crumbled feta cheese (reduced fat is fine)
1/3 cup sliced green onions
pita chips and/or multigrain tortilla chips
Directions:
1. In medium mixing bowl, cream together cream cheese, lemon juice, Italian seasoning, and garlic with rubber spatula until smooth and well-combined.
2. Spread cream cheese mixture into deep 9-inch pie plate or oval platter. Spread hummus on top of cream cheese layer. Sprinkle on cucumber, then tomato, olives, feta, and green onions.
3. Cover and refrigerate for 2 to 24 hours. Serve with pita chips or tortilla chips.
One Response to "Layered Greek Dip"
Leave a Comment