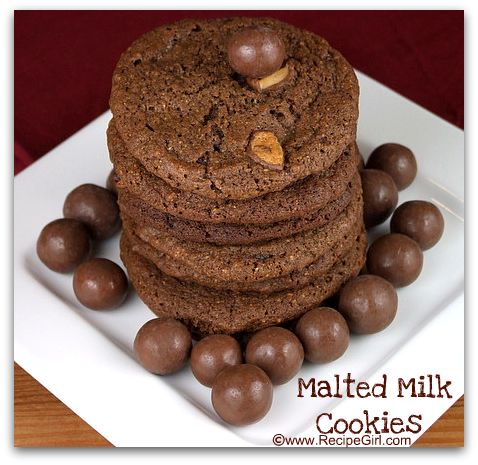 MALTED MILK COOKIES
www.RecipeGirl.com
1 cup butter, softened
¾ cup granulated sugar
¾ cup packed brown sugar
1 tsp baking soda
2 large eggs
1 tsp vanilla extract
2 ounces unsweetened chocolate, melted & cooled
2¾ cups all-purpose flour
½ cup instant malted milk powder
1 cup coarsely chopped malted milk balls
1. Preheat oven to 375°F.
2. Beat butter about 30 seconds. Add the sugars and soda; beat until combined. Beat in eggs, vanilla and melted chocolate. Beat in as much of the flour as your can with the mixer. Stir in any remaining flour and the malted milk powder. Stir in chopped malted milk balls.
3. Drop dough from rounded teaspoons 2½ inches apart onto an ungreased cookie sheet. Bake about 10 minutes or until edges are firm. Cool on cookie sheet for 1 minute. Transfer cookies to wire racks; cool.
Yield: About 3 dozen
Cooking Tips
To store, place in airtight container and cover- store at room temperature for up to 3 days. Or freeze for up to 3 months.
Recipe Source: Better Homes and Gardens
PRINT THIS RECIPE using your browser's 'print' function. It's automatically formatted to print recipe & picture only.
RATE THIS RECIPE[ratings]
One Response to "Malted Milk Cookies"
Leave a Comment