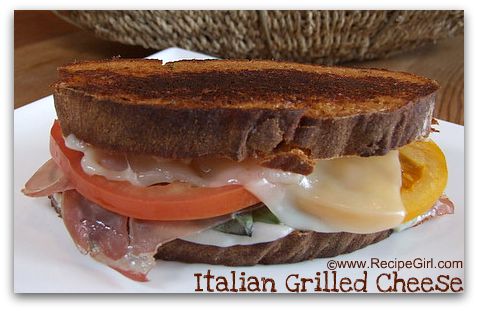 THE ITALIAN GRILLED CHEESE
www.RecipeGirl.com
Tomato- Basil Bread (or any other Italian bread)
softened butter
cream cheese
prosciutto
red and yellow tomato
fresh basil
provolone
1. Spread butter on bread slices. Turn over and spread the other side of one slice with cream cheese.
2. Heat skillet and place cream cheese slice butter-side-down in pan. Layer prosciutto, tomato, basil and provolone on top of the cream cheese. Top with 2nd slice of bread, butter-side-up).
3. Cover, and heat sandwich on low until lightly browned. Carefully flip and toast the other side.
4. Remove to cutting board. Let sit for a couple of minutes, then cut with a serrated knife and serve immediately.
Serves: 1
PRINT THIS RECIPE using your browser's 'print' function. It's automatically formatted to print recipe & picture only.
RATE THIS RECIPE[ratings]