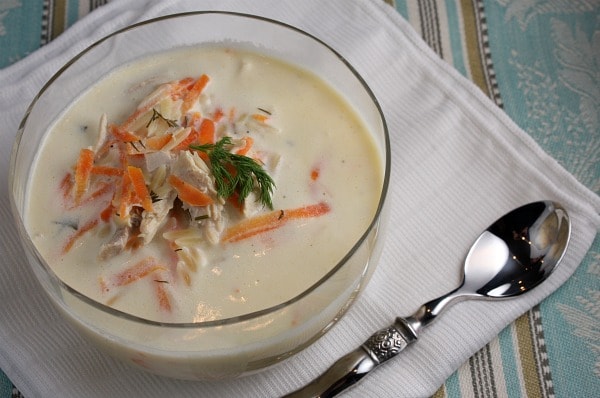 GREEK ORZO & CHICKEN SOUP
www.RecipeGirl.com
6 cups fat-free, less-sodium chicken broth
1 tsp finely chopped fresh dill
½ cup uncooked orzo (rice shaped pasta)
4 large eggs
1/3 cup fresh lemon juice
1 cup shredded carrot
¼ tsp salt
¼ tsp pepper
8 ounces chopped roasted chicken
1. Bring broth and dill to a boil in a large saucepan. Add orzo. Reduce heat, and simmer 5 minutes or until orzo is slightly tender. Remove from heat.
2. Place eggs and juice in a blender; process until smooth. Remove 1 cup of broth from pan with a ladle, making sure to leave out orzo. With blender on, slowly add broth; process until smooth.
3. Add carrot, salt, pepper and chicken to pan. Bring to a simmer over medium-low heat, and cook 5 minutes or until orzo is done. Reduce heat to low. Slowly stir in egg mixture; cook 30 seconds, stirring constantly (do not boil).
Servings: 4
Serving size 2 cups
Nutritional Information
Per Serving
Calories 271
Calories from Fat 72
Total Fat 8g
Saturated Fat 2g
Cholesterol 260mg
Sodium 1017g
Potassium 430mg
Carbohydrates 21.25g
Dietary Fiber 1.5g
Sugar 2.6g
Net Carbs 19.75g
Protein 28g
WW POINTS: 6.5
Source: Adapted from Cooking Light
PRINT THIS RECIPE using your browser's 'print' function. It's automatically formatted to print recipe & picture only.
RATE THIS RECIPE[ratings]