Creamy Chicken, Spinach & Mushroom Enchiladas
I'm teaming up with Paula Deen,
GoodBite.com
and Philadelphia Cream Cheese to present "
The Real Women of Philly
" campaign. Paula Deen is looking for the next big cooking stars, and enthusiastic home cooks are encouraged to submit their own cooking videos. $25,000 is at stake along with a chance to meet Paula Deen!
So what do you think… could you use $25,000? Go ahead and send in your video! To submit a video go to PaulaDeen.com.
One of my favorite recipes growing up was something my Dad used to make: asparagus enchiladas. To change things up a bit, I added cream cheese to Dad's sauce, replaced the asparagus with spinach, and tucked some chicken and mushrooms in there too. I think I've made Dad's recipe even better in creating: Creamy Chicken, Spinach & Mushroom Enchiladas.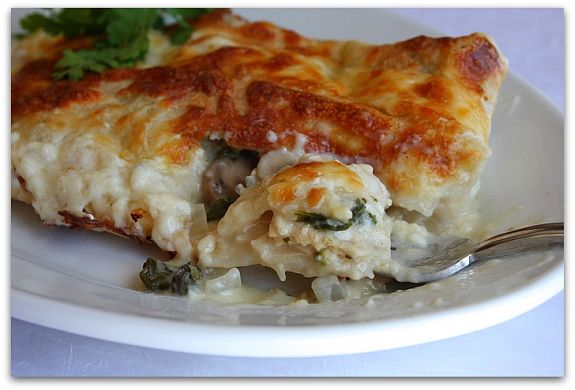 Check out my video below, where I'll show you how to make my new recipe.
Print Recipe
Creamy Chicken, Spinach & Mushroom Enchiladas
www.RecipeGirl.com
sauce:
½ cup butter
½ cup all-purpose flour
3 cups chicken broth
8 ounces sour cream
4 ounces cream cheese
½ cup green taco sauce
enchiladas:
12 (8-inch) flour tortillas
4 cups cooked, shredded chicken (about 2 large breasts)
10-ounce package frozen chopped spinach, thawed & squeezed dry
8 ounces sliced mushrooms
1 large shallot, finely chopped (about ¾ cup)
1 pound (16 ounces) grated Monterey Jack Cheese
1. Preheat oven to 425 degrees F. Spray two 9×9 pyrex dishes (or 1 large) with nonstick spray.
2. Prepare sauce: In a medium saucepan, melt butter over medium heat. Whisk in flour and cook, stirring 1 minute. Gradually add broth and cook, stirring until thick (5 minutes). Whisk in cream cheese until melted. Stir in sour cream and taco sauce. Let cool.
3. Assemble enchiladas: Lay out tortilla on work surface. Spread 2 Tablespoons Jack cheese down the middle, then ¼ cup chicken, a sprinkle of chopped shallots, a Tablespoon of spinach and a few mushroom slices. Spoon 2 Tablespoons of the sauce on top of the mixture. Roll and place seam-down, 6 enchiladas in each dish. Spoon remaining sauce over rolled enchiladas, then sprinkle with remaining Jack cheese.
4. Bake 25 to 30 minutes, or until lightly browned and bubbly.
Serves 6
Tips:
*It's perfectly okay to use light sour cream and low fat cream cheese in this recipe. You'll still get the same, creamy result.
*This recipe freezes well. Divide the enchiladas into 2 pans, prepare through step 3, cover and freeze. Let thaw in refrigerator overnight and then bake, as directed.
19 Responses to "Creamy Chicken, Spinach & Mushroom Enchiladas"
Leave a Comment