This recipe has been featured in a post on The Recipe Girl blog: Fudge Nut Layer Bars- Christmas Cookies in March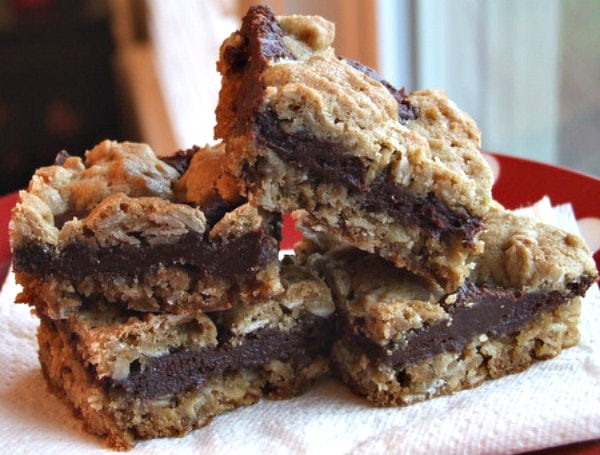 Yield: 30 bars
Prep Time: 20 min
Cook Time: 25 min
Fudge- Nut Layer Bars
This recipe has been a RecipeGirl family favorite for years and years. We always make a couple of batches of these to include with our holiday baking marathons.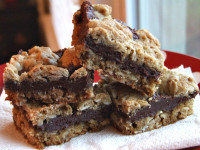 Ingredients:
1 cup semi-sweet chocolate chips
1/2 cup sweetened condensed milk
1 tablespoon butter
1/4 teaspoon salt
1/2 cup walnuts, finely chopped
2 teaspoons vanilla extract, divided
1 1/4 cups all-purpose flour
1/2 teaspoon baking soda
1/2 teaspoon salt
1/2 cup (1 stick) unsalted butter, softened
1 cup brown sugar, packed
1 large egg, unbeaten
1 1/2 cups quick cooking oats
1/4 cup finely chopped walnuts
Directions:
1. Preheat the oven to 350 degrees F. Spray a 9x9-inch or 11x7-inch pan with nonstick spray
2. Melt first four ingredients in the top of a double boiler or carefully over low heat (or microwave). Remove from heat and add 1/2 cup walnuts and 1 teaspoon vanilla. Set aside.
3. Sift together the flour, baking soda and salt. Set aside.
4. Use an electric mixer to cream together the butter and brown sugar. Mix in the egg and 1 teaspoon vanilla. Stir in the sifted dry ingredients and the oats.
5. Press 2/3 of the mixture into the bottom of the prepared pan. Spread with the chocolate filling mixture. Crumble the remaining batter over the filling and sprinkle with the walnuts.
6. Bake 25-30 minutes, or until lightly browned. Cool completely and cut into bars.
Source: RecipeGirl.com (Mom's recipe box)
5 Responses to "Fudge- Nut Layer Bars"
Leave a Comment