Lemon- Almond Cookie Brittle
This recipe has been featured in a post on The Recipe Girl blog: Lemon- Almond Cookie Brittle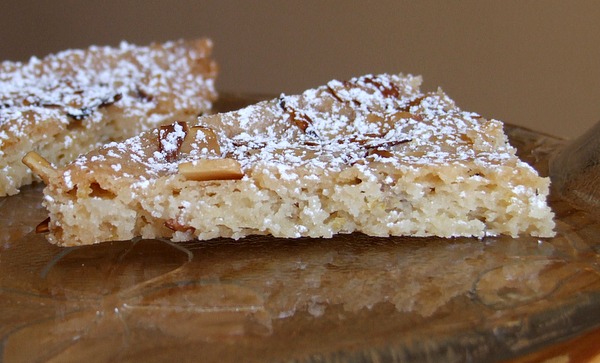 Yield: 2 dozen pieces
Prep Time: 20 min
Cook Time: 20 min
Lemon- Almond Cookie Brittle
We love this unique cookie recipe. Kiddos have fun breaking it into chunks.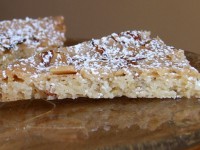 Ingredients:
3/4 cup butter
3/4 cup granulated white sugar
1/8 teaspoon salt
1 teaspoon vanilla extract
1 1/2 cups all-purpose flour
1 1/2 teaspoons finely grated lemon zest
1 cup coarsely chopped toasted sliced almonds
sifted powdered sugar (optional)
Directions:
1. Preheat oven to 350°F.
2. Beat butter in a large mixing bowl with an electric mixer on medium to high speed for 30 seconds. Add sugar, salt and vanilla; beat till combined, scraping sides of bowl occasionally. Beat in as much as you can with the mixer. Stir in remaining flour, lemon zest, and 1/3 cup of the almonds with a wooden spoon.
3. Press dough evenly into the bottom of an ungreased 13x9x2-inch baking pan. Sprinkle remaining almonds over the top; press lightly into the surface.
4. Bake for about 20 minutes or until the top is golden. Cool in pan on a wire rack. If desired, sprinkle with powdered sugar. Break into chunks.
Tips:
*To freeze, break cooled cookie into chunks. Place in a freezer- safe container, and freeze up to 1 month. To serve, thaw in container at room temperature for 15 minutes. If desired, sprinkle with powdered sugar.
Source: RecipeGirl.com (Adapted from Better Homes and Gardens)
Leave a Comment