Here is a simple trifle recipe with layered berries, cake and a sweetened whipped cream:  Layered Berry Trifle.  Click below to watch a quick video showing you how to make this recipe, then scroll to the bottom of this post to print out the complete recipe.
This is a great dessert to make when you have access to delicious, juicy fresh berries!
It's such a pretty dessert for Easter, Mother's Day, 4th of July or summer barbecues!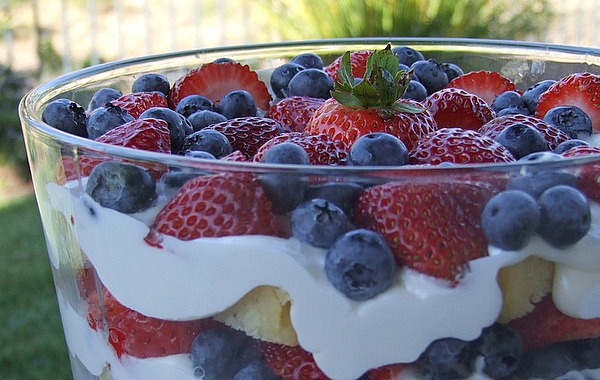 This Layered Berry Trifle is an easy-to-throw-together dessert.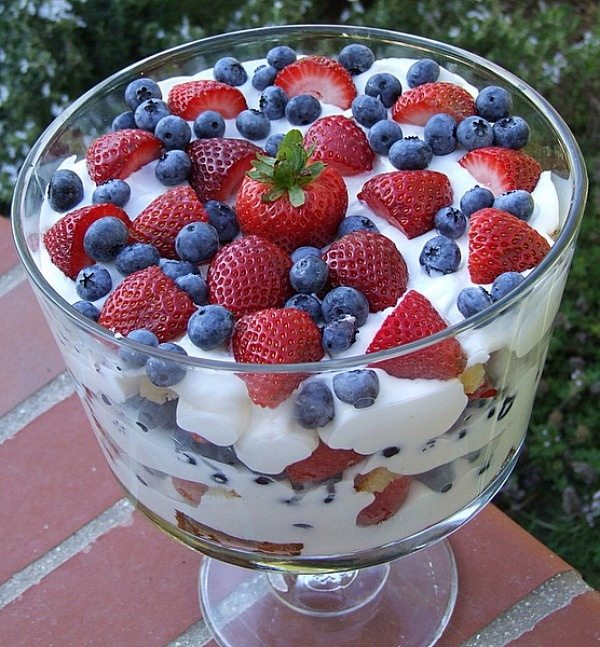 You don't have to own a trifle bowl (though it's very pretty if you do!), but if you can find some sort of pretty, tall glass bowl- that works too.
The recipe layers store-bought pound cake (or homemade if you're so inclined) that has been brushed with lemon-syrup, a sugared cream cheese-whipped cream, and any berries that you're diggin' at the moment.  Blueberries and strawberries work perfectly.  Add raspberries to create a triple berry trifle!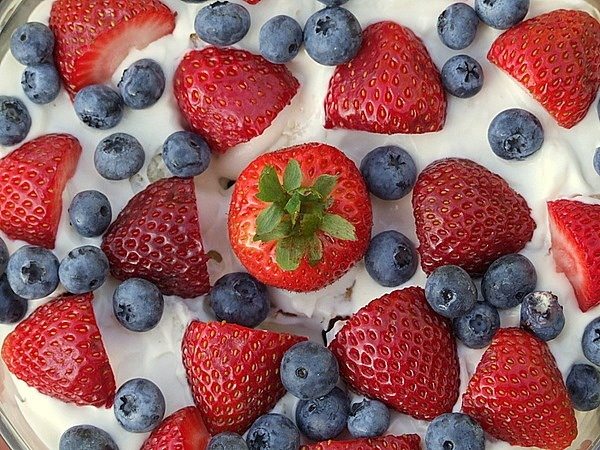 It's fresh. It's simple. It's so good. Make it a little less evil by using lowfat cream cheese and fat-free pound cake.
Yield: 6 to 8 servings
Prep Time: 25 minutes
Cook Time: 2 minutes
Layered Berry Trifle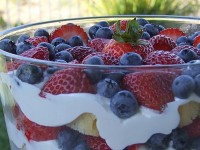 Ingredients:
SYRUP:
1/4 cup granulated white sugar
1/4 cup freshly squeezed lemon juice
1/4 cup water
LAYERS:
12 ounces pound cake or butter loaf (store bought ok)
8 ounces cream cheese, at room temperature
1/3 cup granulated white sugar
1 cup heavy whipping cream
3 cups fresh blueberries
3 cups fresh strawberries
Directions:
Prepare the lemon syrup: In a small saucepan, bring the sugar, lemon juice and water to a boil over medium heat. Stir to dissolve sugar completely. Let cool.
Slice the cake into 3/4-inch slices. Then brush over both sides of each cake slice. Quarter each slice.
Beat the cream cheese with sugar on high speed until light and fluffy. Reduce the speed to medium and slowly add the cream. Continue beating until the mixture resembles soft whipped cream.
Arrange half of the cake pieces in the bottom of a glass serving bowl or dish (2-quart size is sufficient). Spoon half the cream-cheese mixture over the cake in dollops; spread to the sides of the dish. Scatter half of the blueberries and strawberries on top. Repeat layering with cake, cream cheese and berries. Pile additional strawberries on top.
Cover and refrigerate until chilled (about an hour). You may also refrigerate overnight.
Tips:
For a lower fat version, try using fat-free pound cake and reduced-fat cream cheese.
Try substituting raspberries for strawberries, or use all strawberries, or get creative with your berries!
SOURCE: RecipeGirl.com
Here are a few more trifle recipes you might enjoy:
9 Responses to "Layered Berry Trifle"
Leave a Comment