Oven- Roasted Cauliflower with Garlic, Olive Oil and Lemon Juice
This recipe has been featured in a post on The Recipe Girl blog: Oven- Roasted Cauliflower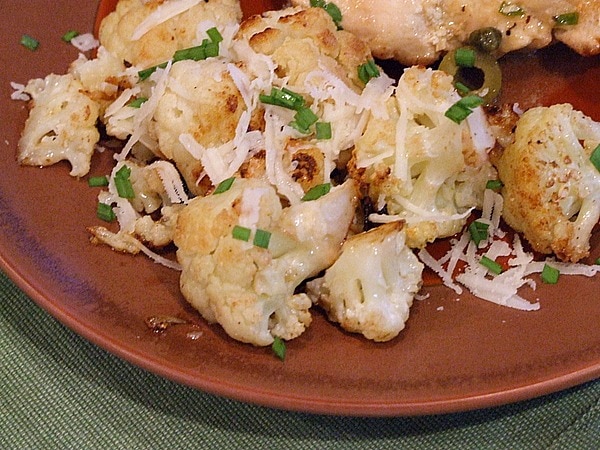 Yield: 6 servings
Prep Time: 15 min
Cook Time: 20 min
Oven- Roasted Cauliflower w/ Garlic, Olive Oil & Lemon Juice
The roasting process really makes the flavor in this dish come to life. It's my favorite way to eat cauliflower!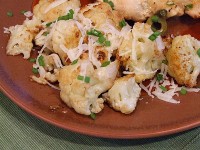 Ingredients:
6 cups cauliflower florets, about 1 1/2-inches in diameter (from 1 large cauliflower)
2 + tablespoons + extra-virgin olive oil
1 tablespoon sliced garlic
2 tablespoons freshly squeezed lemon juice
1 teaspoon kosher salt
1/2 teaspoon freshly ground black pepper
2 tablespoons freshly grated Parmesan cheese
chopped chives, for garnish
Directions:
1. Preheat oven to 500°F.
2. Place the cauliflower florets in a large sauté pan or a roasting pan. Drizzle the olive oil over the cauliflower, and season with the garlic, lemon juice, salt and pepper. Place the sauté pan in the oven and cook for 20- 25 minutes, stirring occasionally to ensure even roasting.
3. Remove from oven and sprinkle with Parmesan. Garnish with chopped chives and serve immediately while still warm.
Tips:
*If you have a misto spritzer, you might wish to spritz the cauliflower with olive oil rather than drizzling.
2 Responses to "Oven- Roasted Cauliflower with Garlic, Olive Oil and Lemon Juice"
Leave a Comment