Creamy Oven- Baked Mashed Potatoes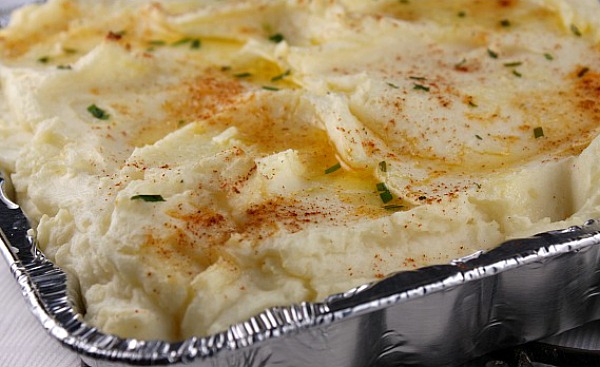 Yield: 12 servings
Prep Time: 25 min
Cook Time: 35 min
Creamy Oven- Baked Mashed Potatoes
I like to make these potatoes ahead of time and keep them in the refrigerator. Bring them to room temperature before you bake them. They turn out nice and creamy. Another option is warming them in the crockpot (if you're lacking oven space)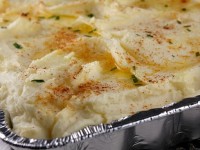 Ingredients:
10 large potatoes, peeled, washed and cut in half
One 8-ounce package cream cheese
1 cup sour cream
garlic salt, to taste
1 tablespoon butter, chopped into small pieces
GARNISH:
chopped chives and paprika, optional
Directions:
1. Boil the potatoes in a large pot of water until tender. Drain, transfer to a large bowl and mash. Add all other ingredients and beat with an electric mixer until fluffy. Transfer the potatoes to a large, buttered casserole dish. Top with dots of butter, chopped chives and paprika.
2. Preheat oven to 350 degrees F. Bake potatoes for 15 minutes, or until they begin to brown on top.
Tips:
*Make ahead instructions: Prepare the recipe and place in a dish with garnishes on top. Cover with plastic wrap and refrigerate until ready to heat. Let sit at room temperature for at least an hour before baking. Remove plastic wrap, and bake as directed.
*If you're lacking oven space, warm these up in a crockpot instead.
*It's' perfectly ok to lighten this recipe up a bit by using low fat sour cream and cream cheese.
7 Responses to "Creamy Oven- Baked Mashed Potatoes"
Leave a Comment