These bite sized apple cider doughnut holes are made with concentrated apple cider and tossed in cinnamon sugar for a tasty autumn treat.
Apple season is my favorite. Apples so are so versatile. They're great for sweet, savory, and liquid consumption. There are many places that have an abundance of apple orchards where you can pick your own apples or even press your own apple cider! I'm sharing one of my favorite ways to enjoy apple cider: apple cider doughnut holes!
Apple Cider vs. Apple Juice:
There's a lot of debate over the difference between apple cider and apple juice. In this recipe, I am using apple cider. Not hard cider or the non-alcoholic sparkling cider. In this case, we are using apple cider made from unfiltered raw apple juice. It's generally a little cloudier and a tad darker in color. Do not confuse this with "spiced apple cider" which is infused with spices like cinnamon and nutmeg for extra flavor.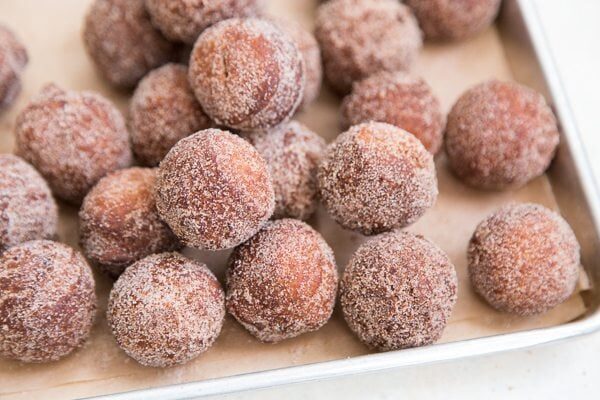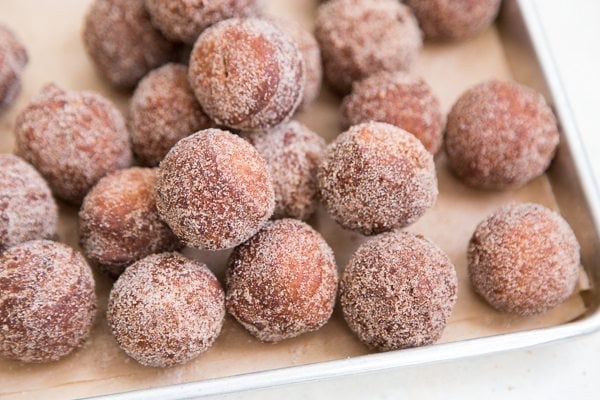 How to make Apple Cider Doughnuts:
To intensify the apple flavors, I slowly simmer 1 cup of apple cider until becomes reduced to 1/2 cup of concentrated apple cider liquid. The apple flavors will greatly depend on the quality of your apple cider. You'll only need one cup for this recipe, so go ahead and splurge on the good stuff!
The dough recipe is straight-forward and easy to make. You can mix the dough together by hand using a sturdy spatula, or whip it even faster using a stand mixer. The dough will be quite soft and sticky. Do not add additional flour. The dough requires at least an hour of chill time in the fridge. During this time the dough will stiffen up a bit and become more manageable. If you're pressed for time, make the dough the day before and let it chill in the fridge for up to 24 hours.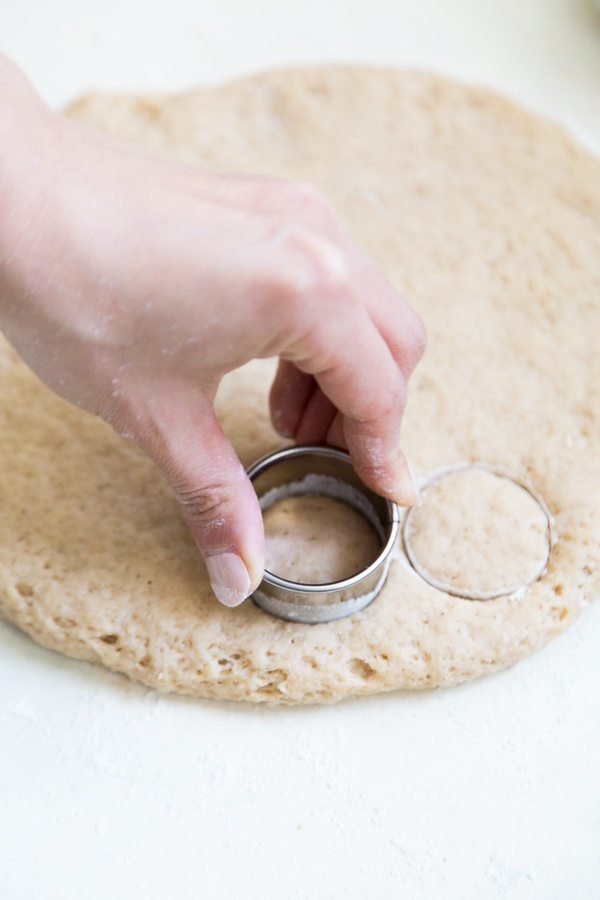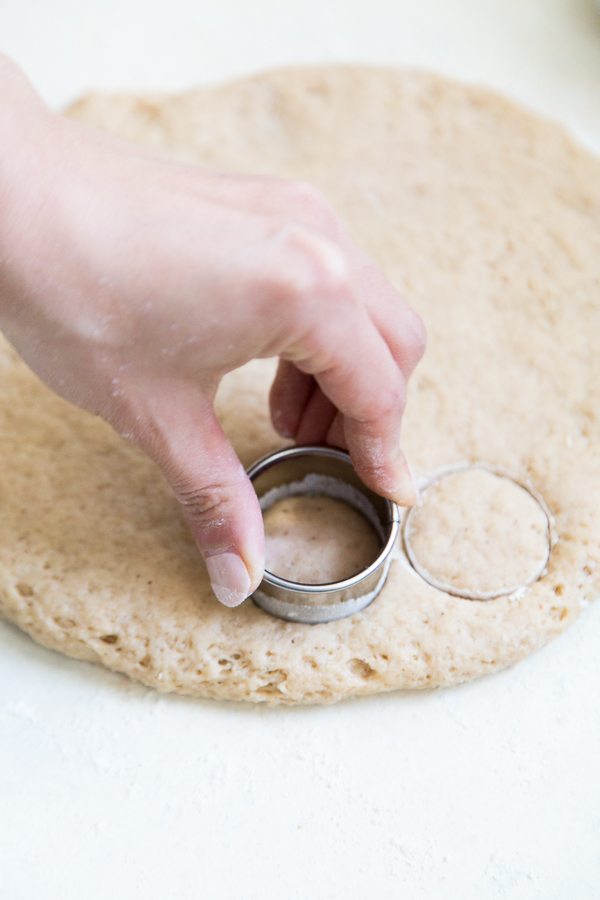 I use a 1-1/2 inch round cutter to punch out about 2 dozen doughnut holes. Do not use a cutter smaller than this size. It will result with very dense doughnut holes. If you're not into the bite-sized doughnut holes, free feel to stamp out standard sized doughnuts using a 3-1/2 inch round doughnut cutter to make full sized Apple Cider Doughnuts.
The chilled dough will be slightly sticky. Simply dust your work surface with a little flour to prevent sticking. Be sure to also dust your round cutters between uses.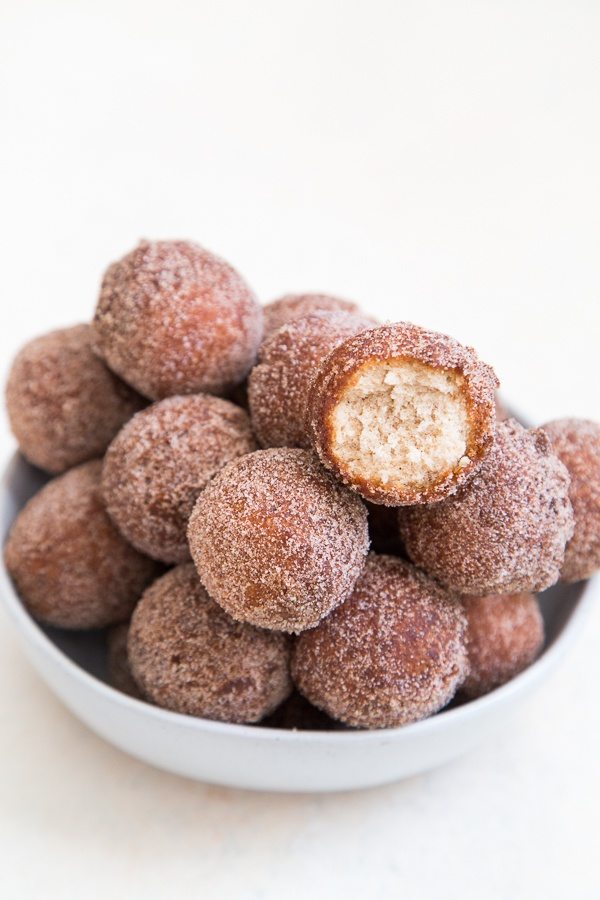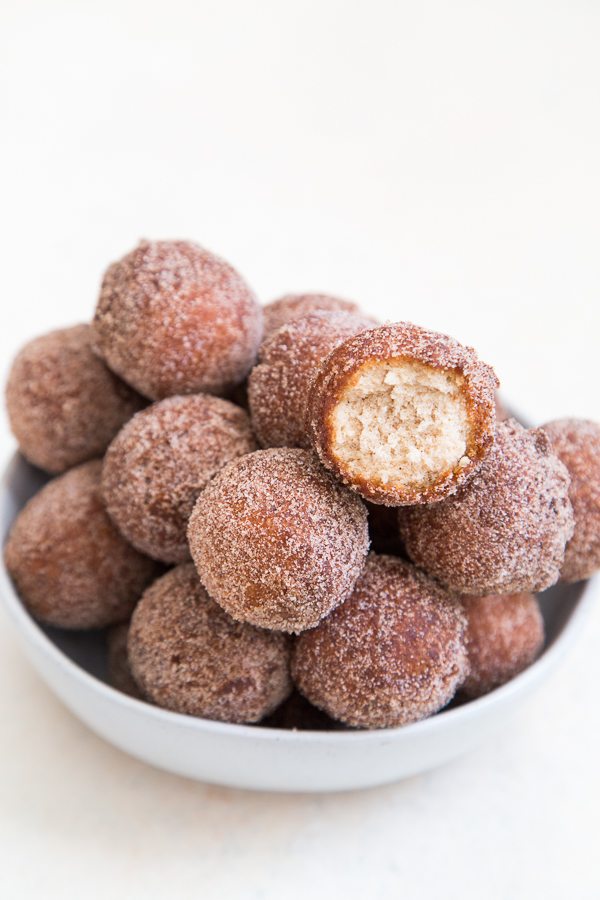 I prefer to fry using shortening. Most doughnut shops using shortening, too. The resulting doughnuts will feel less greasy and they will hold for much longer than when you fry using vegetable oil. It's also helpful if you use a candy thermometer to pinpoint the right temperature of the oil for frying.
After frying, fresh apple cider doughnut holes get tossed in cinnamon sugar. Because these doughnuts contain no yeast, they are more cake-like in texture. They're best eaten warm, a few minutes after cooking. Grab a cup of apple cider, coffee, or tea and enjoy!
Here are a few more breakfast treats you might enjoy:
Apple Cider Doughnut Holes
A totally delicious fall doughnut treat!
Recipe Details
Servings:
24
doughnut holes
Ingredients
DOUGHNUTS:
1

cup

apple cider

¼

cup

buttermilk

1

large

egg

2½

cups

all purpose flour

1

tablespoon

cornstarch

1

teaspoon

baking powder

1

teaspoon

baking soda

½

teaspoon

fine sea salt

¾

teaspoon

ground cinnamon

½

teaspoon

ground nutmeg

½

cup

granulated white sugar

1

tablespoon

vegetable shortening or unsalted butter

(softened)

vegetable shortening or vegetable/canola oil,

for frying
COATING:
½

cup

granulated white sugar

1

tablespoon

ground cinnamon
Instructions
Pour the 1 cup of apple cider into a small saucepan. Set over medium heat and bring to a boil. Lower the heat to a simmer and allow the mixture to reduce to ½ cup. The cooking time will vary from 10 to 15 minutes. Remove from heat and allow the concentrated apple cider to cool.

In a small bowl, whisk together the cooled apple cider, buttermilk, and egg. Set aside.

In a large bowl, whisk together the flour, cornstarch, baking powder, baking soda, salt, cinnamon, nutmeg and sugar. Add half of the liquid mixture and stir to combine. Add the remaining liquid and stir until the dough starts to form. Add in the shortening (or softened butter) and mix until well incorporated. The dough will be very sticky. Do not add additional flour.

Cover the dough with plastic wrap, allowing the plastic wrap to rest directly on top of the dough. Chill in the fridge for 1 hour, and up to 24 hours.

Attach a candy thermometer to a large heavy-bottomed pot (such as cast-iron or Dutch oven). Fill the pot about 3 inches deep with vegetable shortening or oil. Set over medium heat. Bring the frying liquid to a temperature of 360 degrees F. Cut the doughnut holes while the oil heats.

Transfer the chilled dough to a floured work surface. Lightly flour the top of the dough and pat or roll the dough into a thickness of ½-inch. Using a floured 1½-inch round cutter, stamp out the doughnut holes. Transfer to a baking sheet. Gather the scrap dough, knead together, and re-roll to stamp out additional holes.

Brush off any excess flour from the doughnut holes. Carefully place 4 to 5 doughnut holes into the hot oil. Do not overcrowd the pot. Cook for 60 to 75 seconds on each side, until golden brown in color. Drain the cooked doughnuts on a wire rack or paper towel-lined baking sheet. Keep an eye on the candy thermometer and adjust the heat accordingly to maintain a constant cooking temperature.

While the doughnut holes are still warm, toss in a cinnamon sugar mixture to create a coating on each doughnut hole. These are best enjoyed the same day they are cooked.
Notes
It's best to use a candy thermometer to maintain proper cooking temperatures.
Frying in vegetable shortening will result with a crispier doughnut. They will also feel less greasy than oil-fried doughnuts.
Sacrifice a few doughnut holes to determine the exact length of time the dough needs to cook. Use a timer for keep consistent.
Nutrition
Serving:
1
doughnut hole
,
Calories:
171
kcal
,
Carbohydrates:
20
g
,
Protein:
2
g
,
Fat:
10
g
,
Saturated Fat:
2
g
,
Polyunsaturated Fat:
3
g
,
Monounsaturated Fat:
4
g
,
Trans Fat:
1
g
,
Cholesterol:
8
mg
,
Sodium:
101
mg
,
Potassium:
49
mg
,
Fiber:
1
g
,
Sugar:
9
g
,
Vitamin A:
17
IU
,
Vitamin C:
1
mg
,
Calcium:
18
mg
,
Iron:
1
mg