Have you ever tried to make banana cookies? Those wonderful, ripe bananas with their sweet, majestical flavor… unfortunately turn a cookie into something that is more reminiscent of banana bread than a cookie. It's tough to create a banana cookie recipe that is a good, solid cookie. Martha Martha's staff did it though in her Martha Stewart's Cookies book.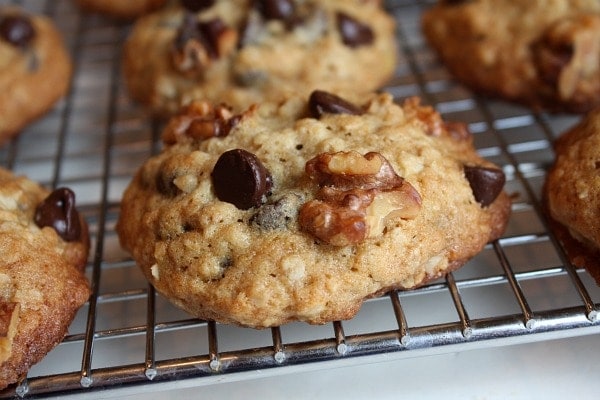 They created a banana cookie recipe that I only messed with slightly: Banana- Walnut Chocolate Chip Cookies. They contain both regular flour and wheat flour, as well as oats, and only a cup of mashed banana. Maybe it's the chunks that help… the chunks of lightly toasted walnut and chocolate chips, but this cookie is more like a cookie than any banana variety that I've had before.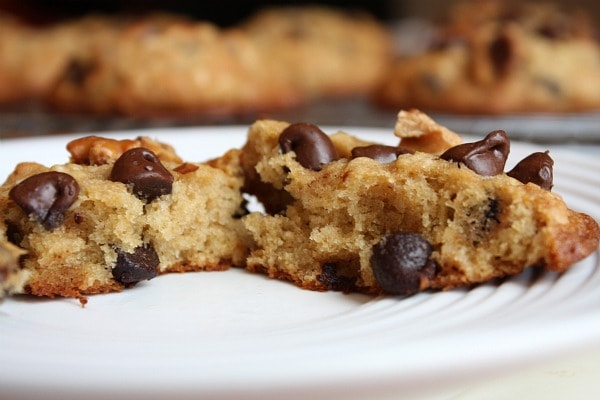 Sure, you can see some cake-like texture in there. It's not a crunchy cookie by any means. I found it to be a cookie on the softer (but not cakey), sort of 'medium-firm' side of things.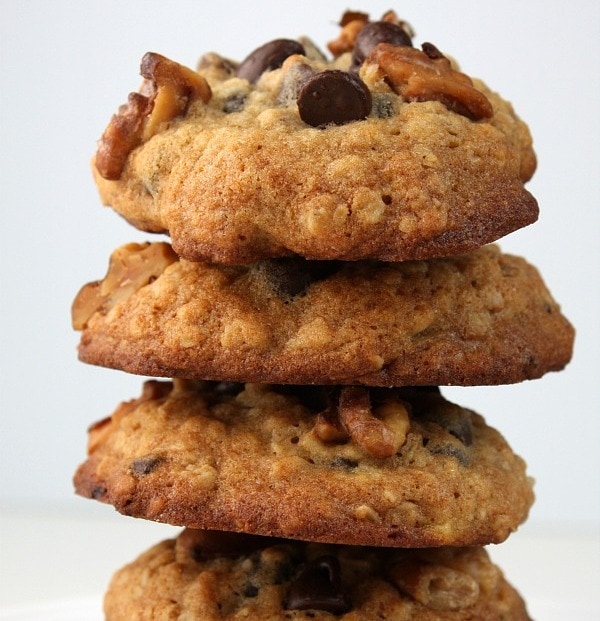 As far as the flavor, they're definitely a chocolate chip cookie with a hint of banana in them… not overwhelmingly banana.  They froze well too. I stuck them in individual zip bags and threw them in the freezer for my kiddo's lunch.  Taste testers of this recipe gave it a huge thumbs up.
Next time you have a couple of bananas going south on your countertop, mash 'em up and make some cookies with them instead of the ubiquitous banana bread. Leave out the walnuts if you're not a nut family.
This recipe can be found here: Banana- Toasted Walnut Chocolate Chip Cookies.
Other Banana cookies on the blogs that you may wish to check out:
Gluten Free Banana Cookies by Gluten-Free Goddess
Banana Oatmeal Cookies by Genesis of a Cook
Banana- Maple Oatmeal Cookies by Fat-Free Vegan Kitchen
Peanut Butter- Banana Oatmeal Cookies by Baking Bites
Banana- White Chocolate Toffee Cookies by Playing House