Broccoli with Toasted Garlic Crumbs is a great side dish for tonight's dinner. Steamed broccoli is topped with pan-toasted garlic panko breadcrumbs.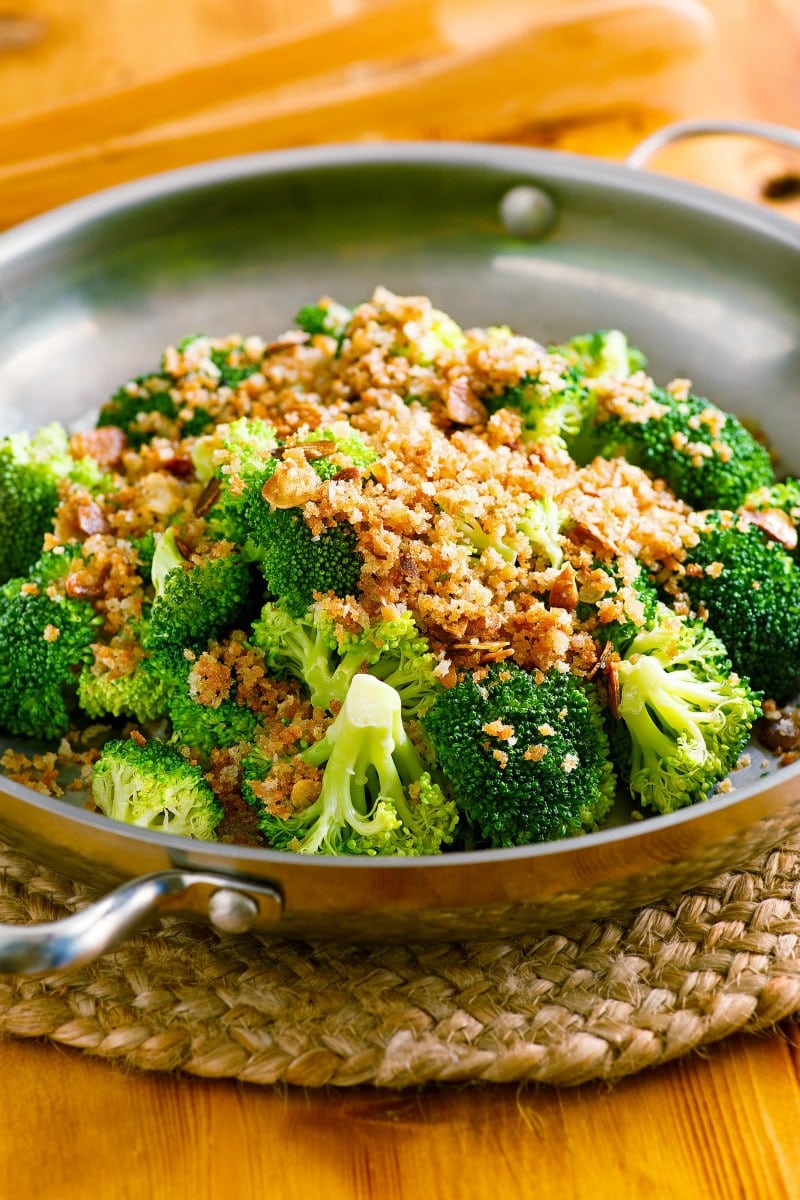 Many might agree that broccoli is pretty delicious on its own. Most people just steam it, add some butter and salt, and serve it with dinner. In this recipe, you'll steam the broccoli, but then it's topped with something that will make it more appealing!
Sliced garlic is sautéed in olive oil (releasing the delicious scent of garlic into your kitchen!). Panko breadcrumbs are added to the pan and cooked with the garlic and olive oil until they are golden and toasted. A little lemon zest is stirred in at the end, and it makes a fabulous topping for your steamed broccoli!
About broccoli:
Broccoli belongs to a family of vegetables called cruciferous vegetables, and its close relatives include brussels sprouts, cauliflower, and cabbage. Most people eat the flowering head of broccoli, though the stems of broccoli are completely edible too. It may be eaten both cooked and raw. The most common type of broccoli is technically called Calabrese broccoli, named after Calabria in Italy.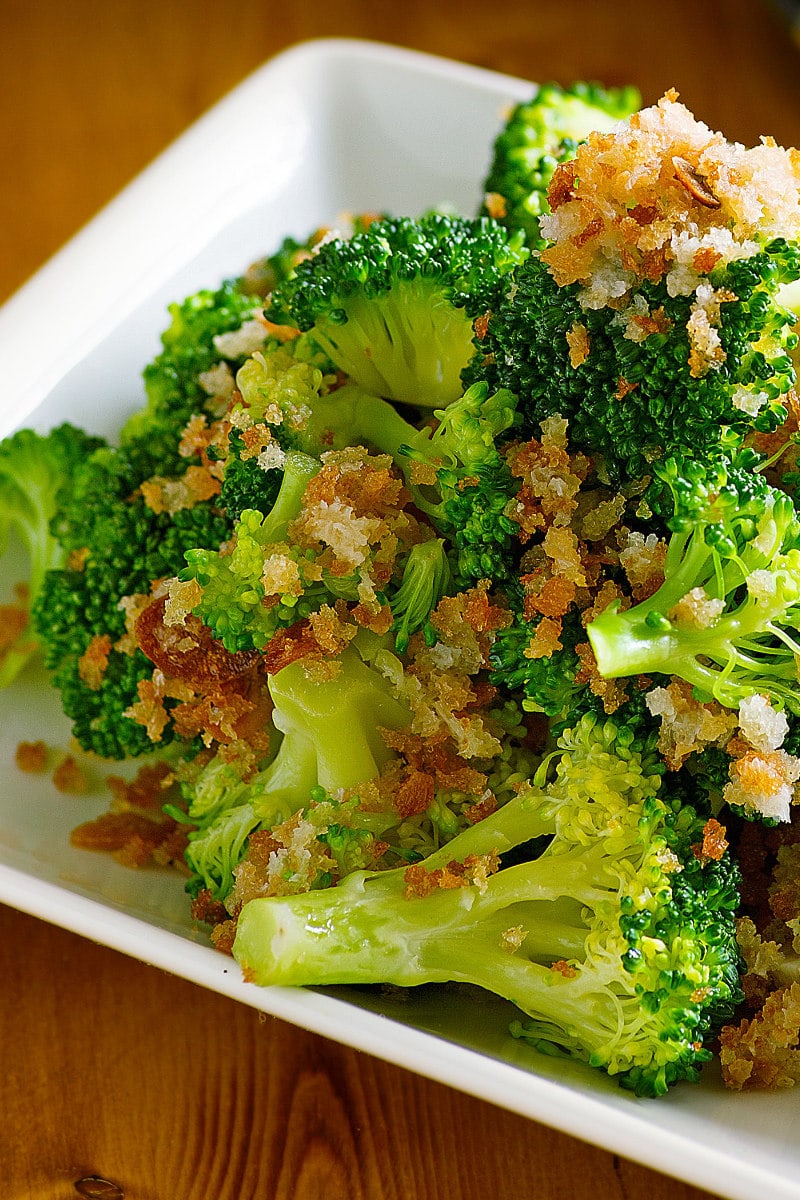 Is broccoli healthy?
Broccoli is low in calories and it's rich in vitamins and minerals. Broccoli is a great source of vitamins K and C, a good source of folate (folic acid) and also provides potassium and fiber. Don't boil your broccoli! Boiling broccoli in water can kill its nutritional value by up to 90%.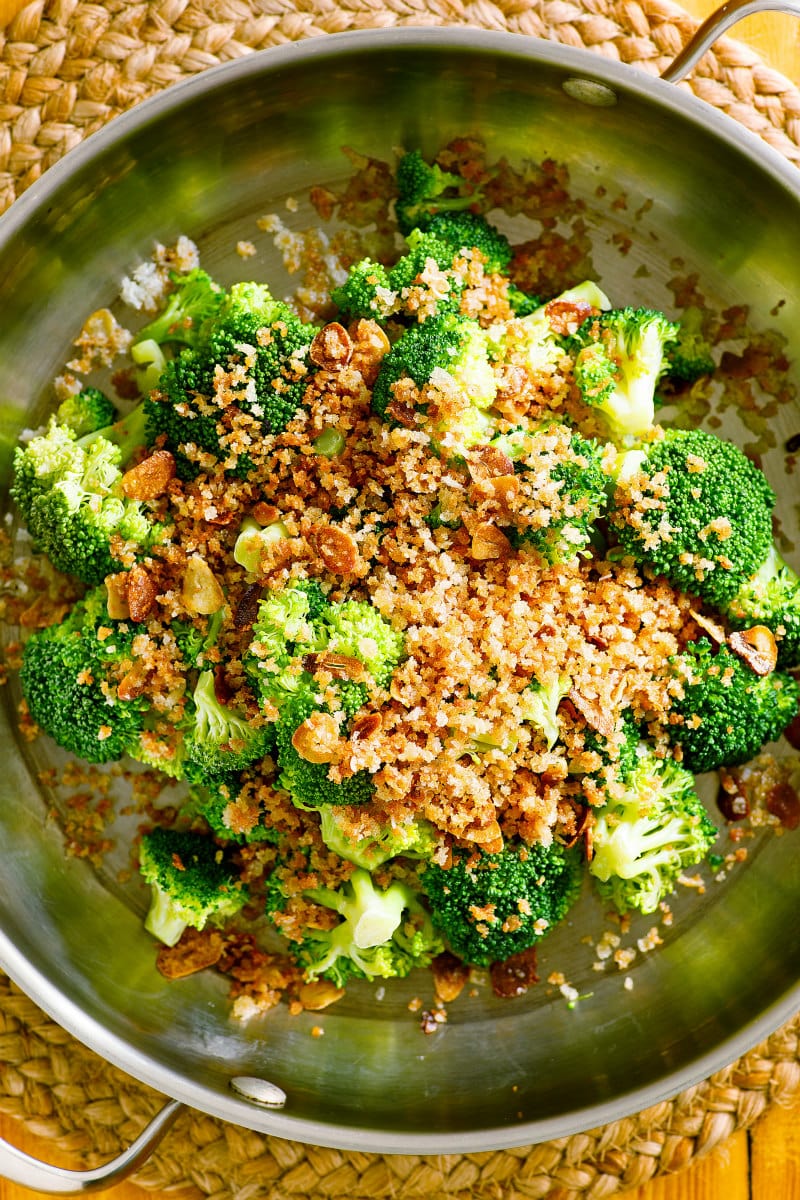 What is the best way to eat broccoli?
Steaming, roasting, microwaving or sauteing help broccoli to retain both its nutritional value and flavor. In this recipe for Broccoli with Toasted Garlic Crumbs, the broccoli will be steamed.
How to steam broccoli:
If you steam broccoli correctly, it will retain its bright green, vibrant color. You'll need a pot with a steamer basket. Fill the pot with one inch of water and add broccoli florets to the basket. Bring the water to a boil, put the lid on and steam. 3 minutes will result in broccoli that is crisp-tender. 8 minutes will give you tender broccoli. I like to steam it somewhere in the middle of that timing. If it's bright green and you can stab it with a fork, it's done!
How to steam without a steamer basket:
Epicurious has this suggestion: Fill a medium pot with 1/2 inch of water, place three golf ball–sized balls of aluminum foil on the bottom, rest a heat-proof plate on top of the foil balls, cover the pot, and bring the water to a boil. Add vegetables to the plate, cover, and steam until crisp-tender.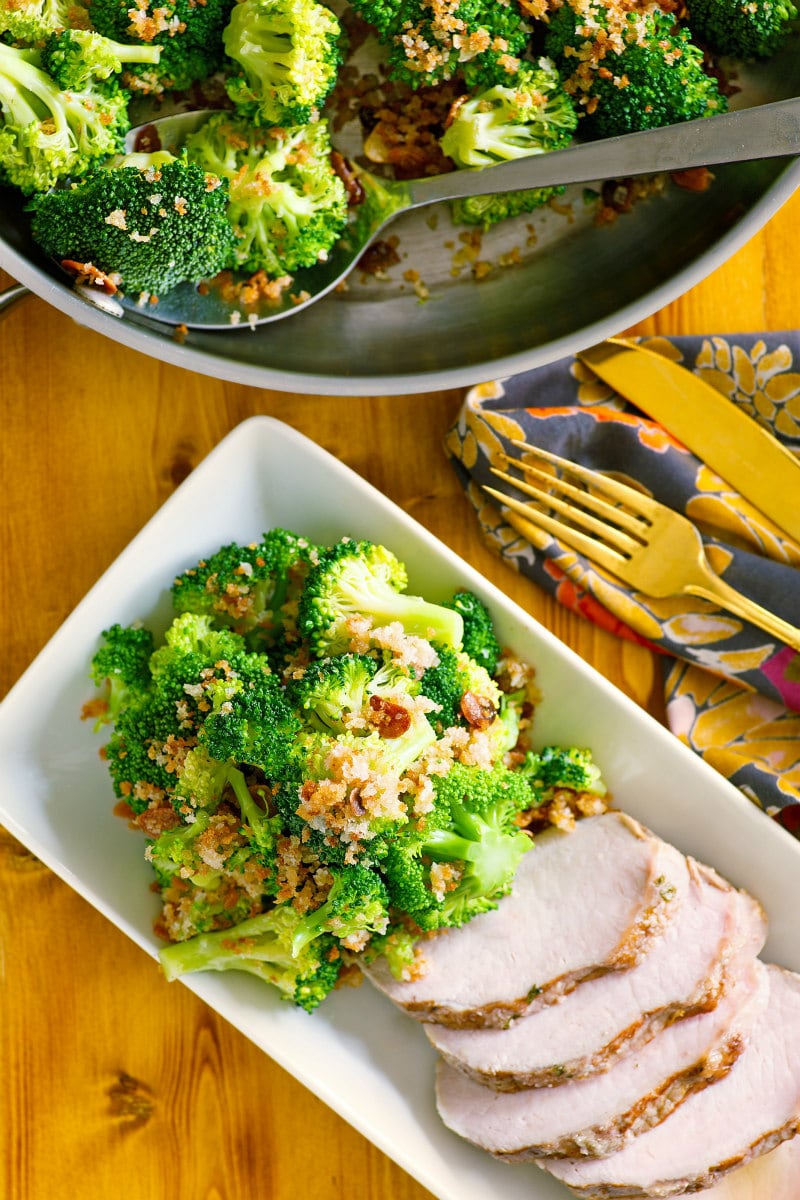 Looking for something good to complete your dinner when making Broccoli with Toasted Garlic Crumbs? I recommend Parmesan Crusted Chicken, Maple Glazed Pork Tenderloin or Blue Cheese and Mushroom Stuffed Beef Tenderloin.
Here are a few more broccoli recipes you might enjoy trying:
If you happen to be following the Weight Watchers WW plan, you'll find a link to the WW Points on the recipe card below.
Broccoli with Toasted Garlic Crumbs
Great way to jazz up broccoli!
Recipe Details
Ingredients
1½

pounds

broccoli,

trimmed and cut into 2 to 3-inch wide florets (5 inches long)

4

cloves

garlic,

very thinly sliced

⅓

cup

olive oil

⅔

cup

Panko breadcrumbs

¼

teaspoon

salt

¼

teaspoon

pepper

½

teaspoon

finely grated lemon zest
Instructions
Put 1-inch of water in a 5-quart wide heavy pot, then put a steamer basket inside pot and bring water to a boil. Add broccoli and steam, covered, until just tender, 8 to 10 minutes.

Meanwhile, cook garlic in oil in a 12-inch heavy skillet over moderately low heat, stirring occasionally, until pale golden, about 5 minutes. Stir in panko, pepper, and salt, then increase heat to moderate and cook, stirring occasionally, until crumbs are golden, about 3 minutes.

Remove form heat, stir in zest. Transfer broccoli with tongs to crumb mixture in skillet and toss to coat.
Notes
Panko breadcrumbs can be found in your market's Asian food section.
Nutrition
Serving:
1
serving
,
Calories:
174
kcal
,
Carbohydrates:
13
g
,
Protein:
4
g
,
Fat:
12
g
,
Saturated Fat:
1
g
,
Sodium:
183
mg
,
Potassium:
379
mg
,
Fiber:
3
g
,
Sugar:
2
g
,
Vitamin A:
705
IU
,
Vitamin C:
102
mg
,
Calcium:
69
mg
,
Iron:
1.2
mg