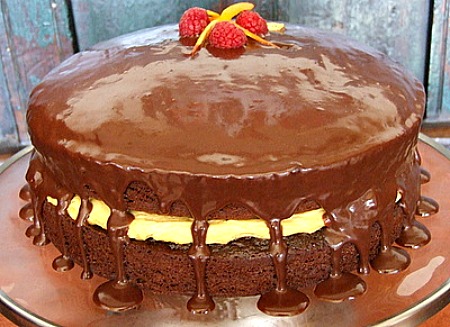 Chocolate Harvest Cake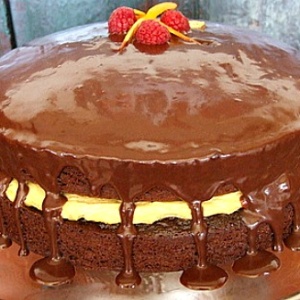 This cake is drizzled with the best glaze and it makes a wonderful fall dessert.
Yield:
14 servings
Prep Time:30 min + cooling time
Cook Time:35 min
Ingredients:
CAKE:
1 cup buttermilk
1 cup water
2/3 cup canola or vegetable oil
2 cups granulated white sugar
2 large eggs
1 teaspoon baking soda
1/2 teaspoon salt
2 cups all-purpose flour
3/4 cup unsweetened cocoa powder
PUMPKIN CREAM FILLING:
One (8-ounce) package cream cheese, softened
1/3 cup unsweetened pumpkin puree
1/4 cup granulated white sugar
1/4 teaspoon ground cinnamon
GLAZE:
1/2 cup whipping cream
4 ounces semi-sweet chocolate, chopped
CAKE TOPPERS:
seedless red grapes, whole blackberries or raspberries, toasted hazelnuts, shredded orange peel
Directions:
1. Preheat oven to 350°F. Grease and flour two 9-inch round baking pans; set aside.
2. Prepare cake batter: In an extra-large bowl combine buttermilk, water, oil, sugar, eggs, baking soda, and salt. Using a large wire whisk, whisk until well combined. Add flour and cocoa powder; whisk vigorously until smooth. Divide batter between prepared pans.
3. Bake for 30-35 minutes until top springs back when lightly touched in center. Cool in pans on a wire rack for 10 minutes. Remove from pans and cool completely.
4. Prepare filling: In a medium bowl, whisk together cream cheese, pumpkin, sugar, and cinnamon until thickened. Place one cake layer on plate. Spread filling over top. Top with second cake layer.
5. Make glaze: In a saucepan bring whipping cream just to boiling over medium-high heat. Remove from heat. Add chocolate (do not stir). Let stand 5 minutes. Stir until smooth. Cool 15 minutes or until slightly thickened. Pour over cake, allowing glaze to drip down sides. Chill until set, about 30 minutes. Top with desired toppers.
Tips:
*When you flour the pans, mix the flour with a little bit of cocoa powder. This will help your cake to not have white flour residue.