Are you looking for an excuse to plan a dinner party in November? Sharing food with friends and family is such an important part of holiday get-togethers. One way to slow down, forget about our busy lives, and a perfect way to entertain busy people, is to host a Friendsgiving Dinner Party.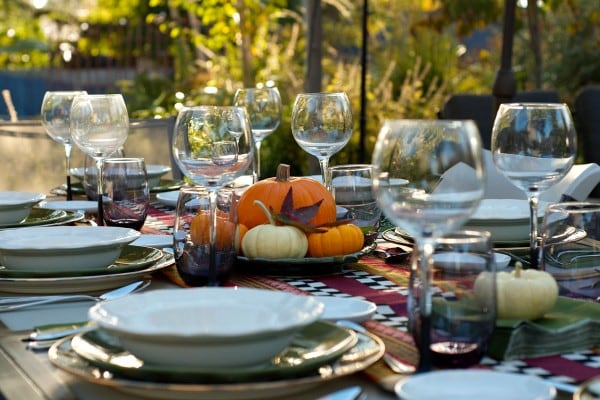 This type of party generally includes folks who aren't able to travel over the holidays, or do not have a place to go for a holiday meal—but it can also be a fun way to host a gathering anyway—to enjoy the beauty of friends and fall before the holidays ever begin!
I've found more and more people are inspired by and interested in cooking these days, so the option to make the meal "potluck" is a creative way for all the guests to be involved in the menu! As the host, you can offer a "free-style," bring what you want, potluck-style meal, or you can use the menu ideas below, offering specific food items for your guests to bring.
It only takes a little work to get the party started, like getting out invitations, planning the menu, and setting a pretty table.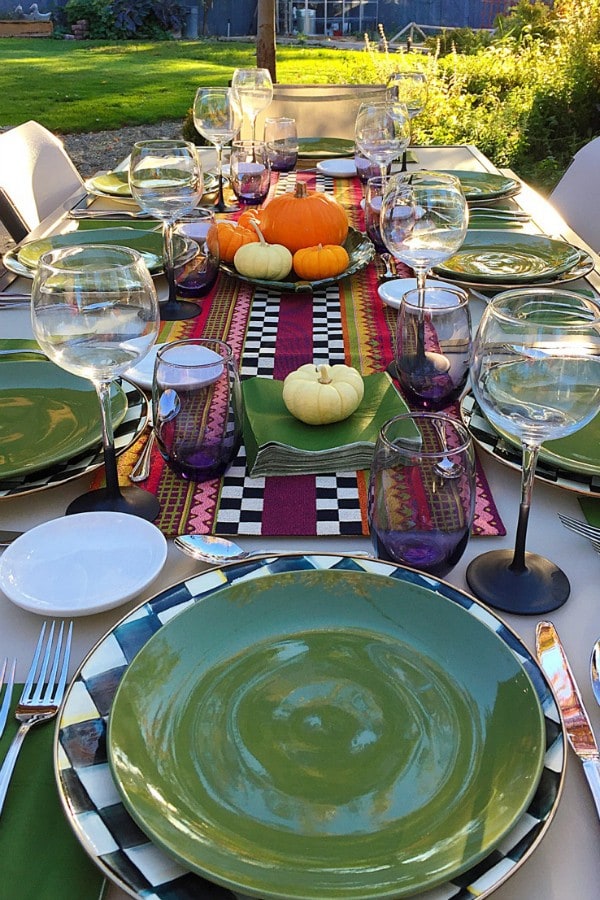 Set the table.
Whether inside or out, the fall colors are so vibrant right now. Keeping a color theme of black, white, purple, green, and orange, using pumpkins for the centerpiece is perfect!
MacKenzie-Childs' black and white Courtly Check chargers and table runner.
Dollar Store green plates, paper napkins, and purple wine glasses used for water.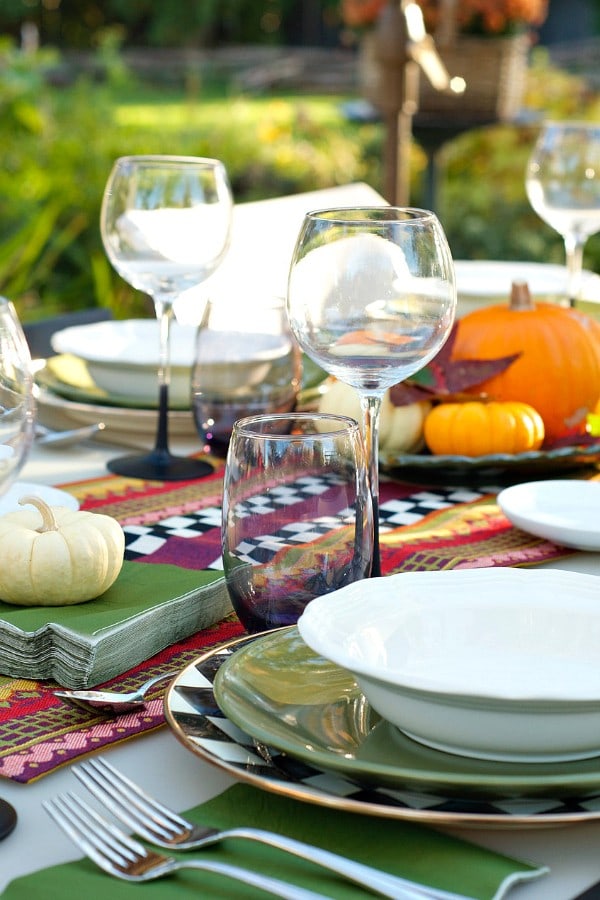 Mikasa chalkboard wine glasses, where each guests writes their name on the base of the glass with chalk. Don't forget the soup bowls and silverware!
Make sure everyone is seated comfortably around the table and that you have enough chairs.
Gathering leaves, pumpkins, enjoying the stunning fall colors in the outdoors, or moving the party inside, this fall-inspired table is inexpensive and easy to set!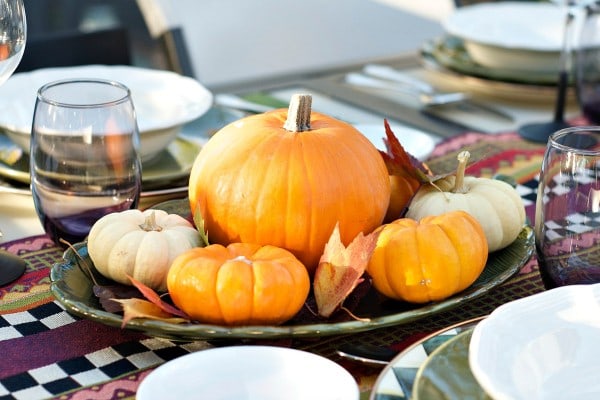 Plan the menu.
You can plan the party by having each guest bring a potluck "surprise" dish, setting a "potluck table" potluck buffet off to the side, where guests can help themselves before sitting down to feast.
Or, you can plan the menu, asking each guest to bring a designated dish, serving the food buffet style.
The secret for the host is to choose the items that YOU want to cook, for example the main dish, or the "bird," and then fill in the rest of the slots on the menu.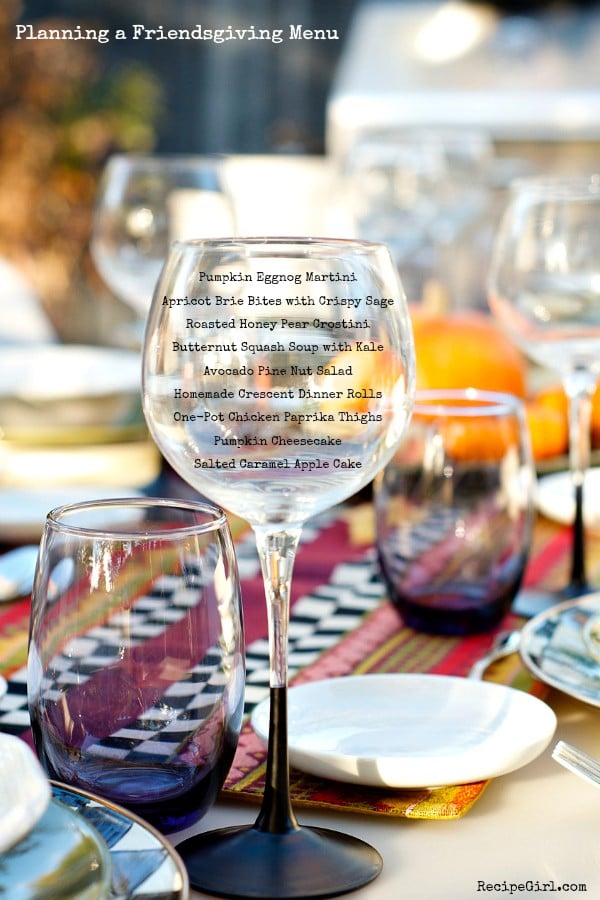 Potluck menu.
I hope you'll enjoy this easy menu idea today for a simple Friendsgiving Dinner Party!
It's easy! Oh, and don't forget the drinks!
Keep it simple with drinks. You can always set up a BYOB bar, where guests bring their favorite drinks, but quite honestly, this can get a little crazy.
Stick to 3 drinks, such as water, wine, and a signature holiday drink.
Set up a side table or area next to the table for overflow. Don't forget to have a couple of desserts. Most people like to sample a little of each!
Signature drink.
Appetizers.
Apricot Brie Bites with Crispy Sage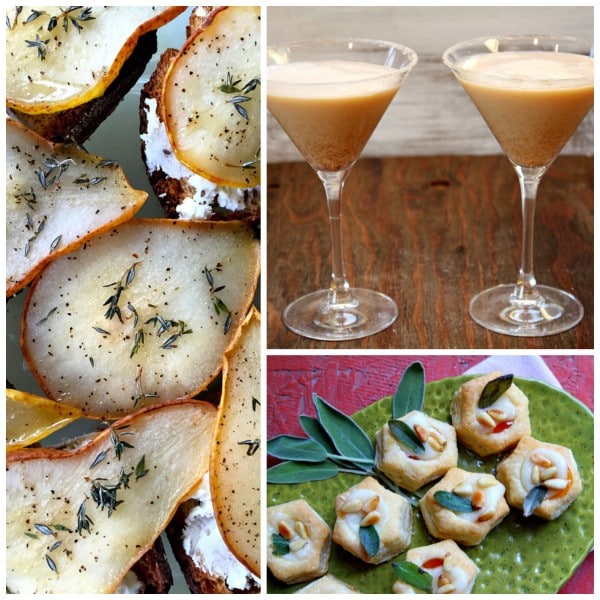 Soup.
Butternut Squash Soup with Kale
Salad.
Rolls.
Homemade Crescent Dinner Rolls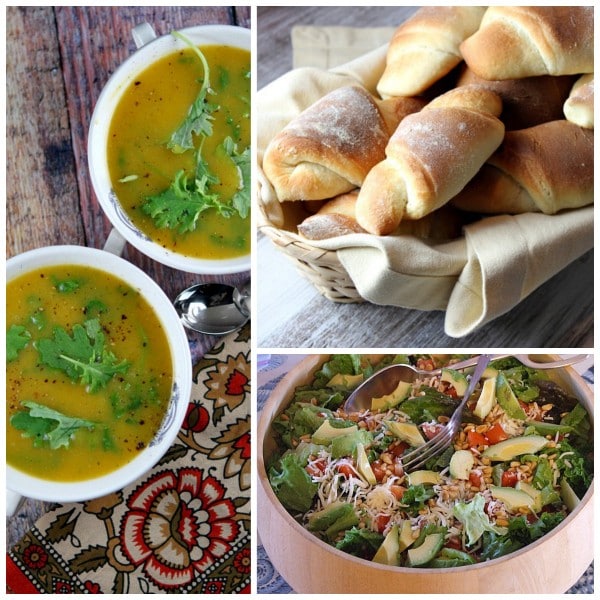 Main dish.
One-Pot Chicken Paprika Thighs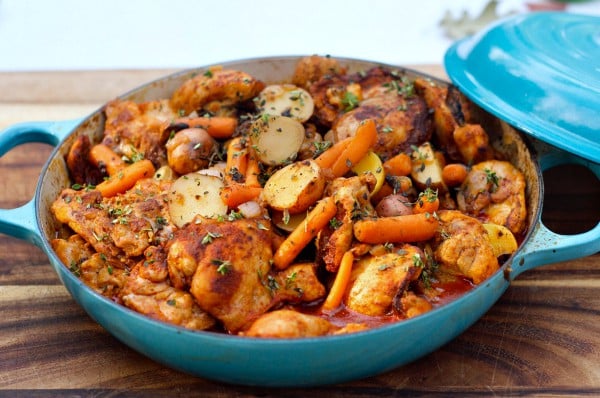 Desserts.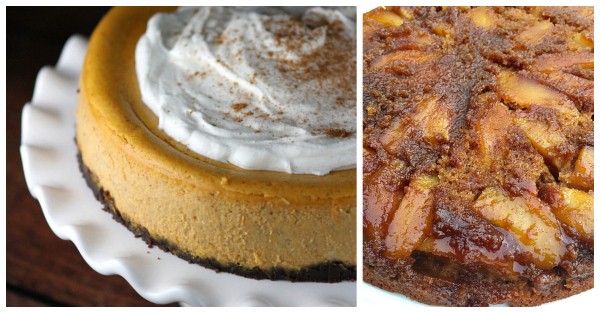 Tips to keep in mind.
If you're planning a potluck, encourage simple dishes that are easy to transport, require very little assembling, and can come to the party already heated! It's okay to let your guests help with dishes when the party is over. Sometimes hanging out in the kitchen is where you really get to know your guests.
There's very little work in planning a Friendsgiving Party! What I try to remind myself is to sit back, enjoy the people around the table, savor the flavors and beauty of the season, and experience a heartfelt gratitude for all.
*To view and print the recipes shared above, just click the recipe titles.