If you're looking for a new way to prepare your pork tenderloin, you will want to try this Grilled Pork Tenderloin with Hoisin Sesame Sauce.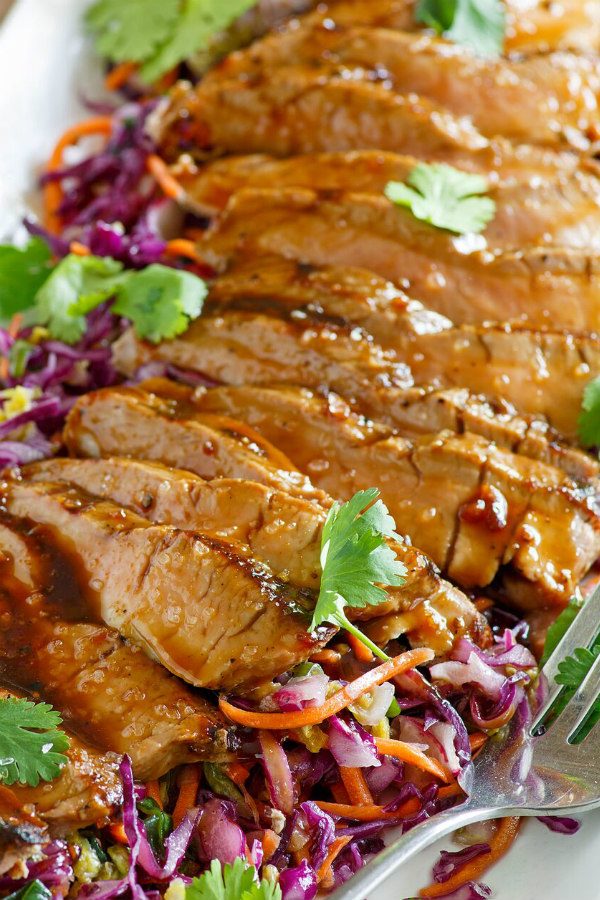 I make pork tenderloin for my family for dinner quite often.  Usually I just bake it since it's so easy to do.  Grilled pork tenderloin is actually a really delicious way to make it though, and I often forget that I can cook it that way.
How do you grill pork tenderloin?
Pork tenderloin is a long, thin cut of pork.  It's the most tender part of the animal.  It tends to be a little bit thick for traditional grilling, so the best way to grill pork tenderloin is to butterfly it.  Don't be afraid of butterflying because it's super easy to do.  Just lay the pork tenderloin on a cutting board and slide a knife horizontally to make a cut almost all the way to the edge but not cut all the way through.  Then you can open it up so it's one big piece of pork.  This will ensure that the pork will be cooked through more evenly because when it's butterflied it will be more of an even thickness all the way across.
In this recipe, you'll butterfly the pork before adding the marinade.  The marinade will have a chance to get all over the pork when it's cut open like that.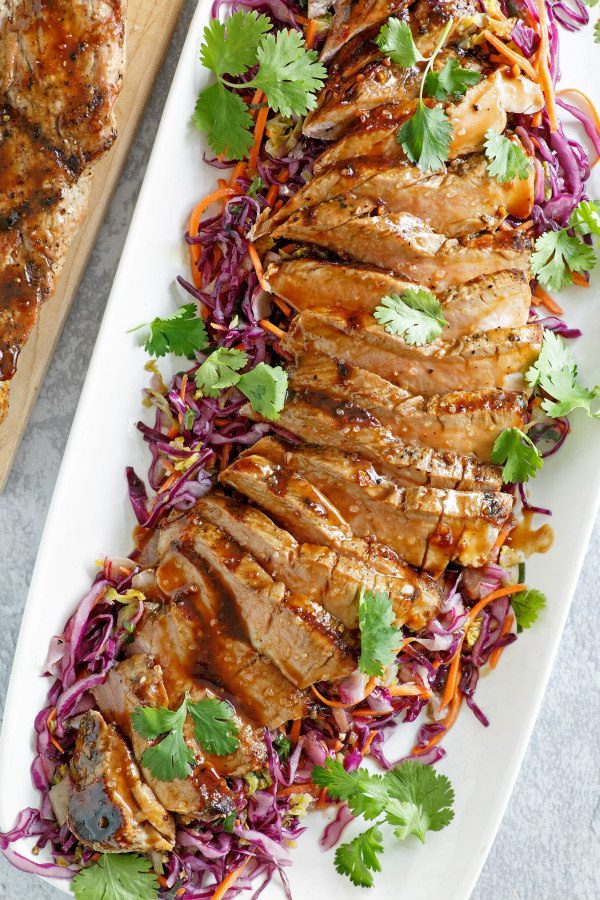 What I really love about this grilled pork tenderloin is the sauce.  It's a hoisin sesame sauce.  You'll use some of it for the actual marinade to get that delicious flavor working into all of the nooks and crannies of the pork.  Then you'll use the rest of the sauce to brush onto the pork after it's done grilling.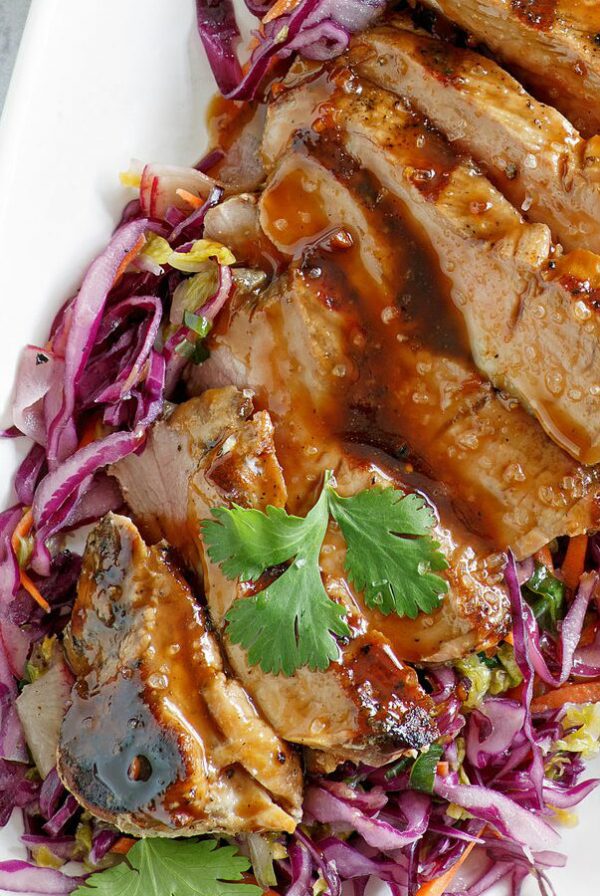 A sprinkle of fresh cilantro completes the meal.  Photos above show it served on a bit of red cabbage for color.  This is completely optional, but it sure is pretty.  I'm totally confident that you're going to love this grilled pork tenderloin recipe.  It's so good!
If you're looking for more recipes using pork, you might enjoy my Root Beer Pulled Pork or this Gingery Ramen Pork.  Maple Glazed Pork Tenderloin and Pork Fajita Bowls are also delicious pork recipes.
Grilled Pork Tenderloin with Hoisin Sesame Sauce
This is a delicious way to make pork tenderloin!
Recipe Details
Ingredients
1

cup

hoisin sauce

3

tablespoons

honey

2

tablespoons

dry sherry

1

teaspoon

sesame oil

2

pounds

pork tenderloin

2

tablespoons

chopped fresh cilantro
Instructions
Combine hoisin sauce, honey, sherry and sesame oil in a small saucepan. Bring to a boil, stirring constantly. Reduce heat to low and cook until slightly thickened, about 2 to 3 minutes. Remove from heat and cool. Remove 1/3 of the sauce and set aside.

Trim pork tenderloins of all fat and silverskin. Butterfly the pork by cutting down the center lengthwise to within 3/4-inch of the bottom. Press pork open and flatten. Brush all over with 1/3 of the sauce. Cover and refrigerate to let marinate for 4 to 6 hours.

Preheat the grill, and make sure it is well greased. Remove the pork from refrigerator and let stand 15 minutes at room temperature. Grill about 6 minutes per side, or until internal temperature reaches 145. Let pork stand 5 minutes while reheating the leftover sauce. Serve the pork drizzled with the remaining sauce and sprinkle with cilantro.
Notes
*To bake this tenderloin, 375 for 25 to 30 minutes. Brush 1/2 of marinade on top in beginning and 1/2 on top when you take it out.
*Use peanut or vegetable oil on the grill only- not cooking spray. You'll have better success with not burning your meats.
*If you are preparing this recipe as GLUTEN-FREE, just be sure to use a brand of hoisin sauce that is known to be GF.
Nutrition
Serving:
1
serving
,
Calories:
389
kcal
,
Carbohydrates:
34
g
,
Protein:
39
g
,
Fat:
9
g
,
Saturated Fat:
2
g
,
Cholesterol:
119
mg
,
Sodium:
983
mg
,
Potassium:
778
mg
,
Fiber:
1
g
,
Sugar:
25
g
,
Vitamin A:
10
IU
,
Vitamin C:
0.2
mg
,
Calcium:
28
mg
,
Iron:
2.4
mg